With the temperature dropping, you might be looking to invest in some extra layers for your bed. That's where bedspreads, blankets and throws come in.
Not only do they provide the extra warmth needed to get through colder nights, they also help to bring some warmth to your bedroom too.
But what is the difference between them and which one is right for you?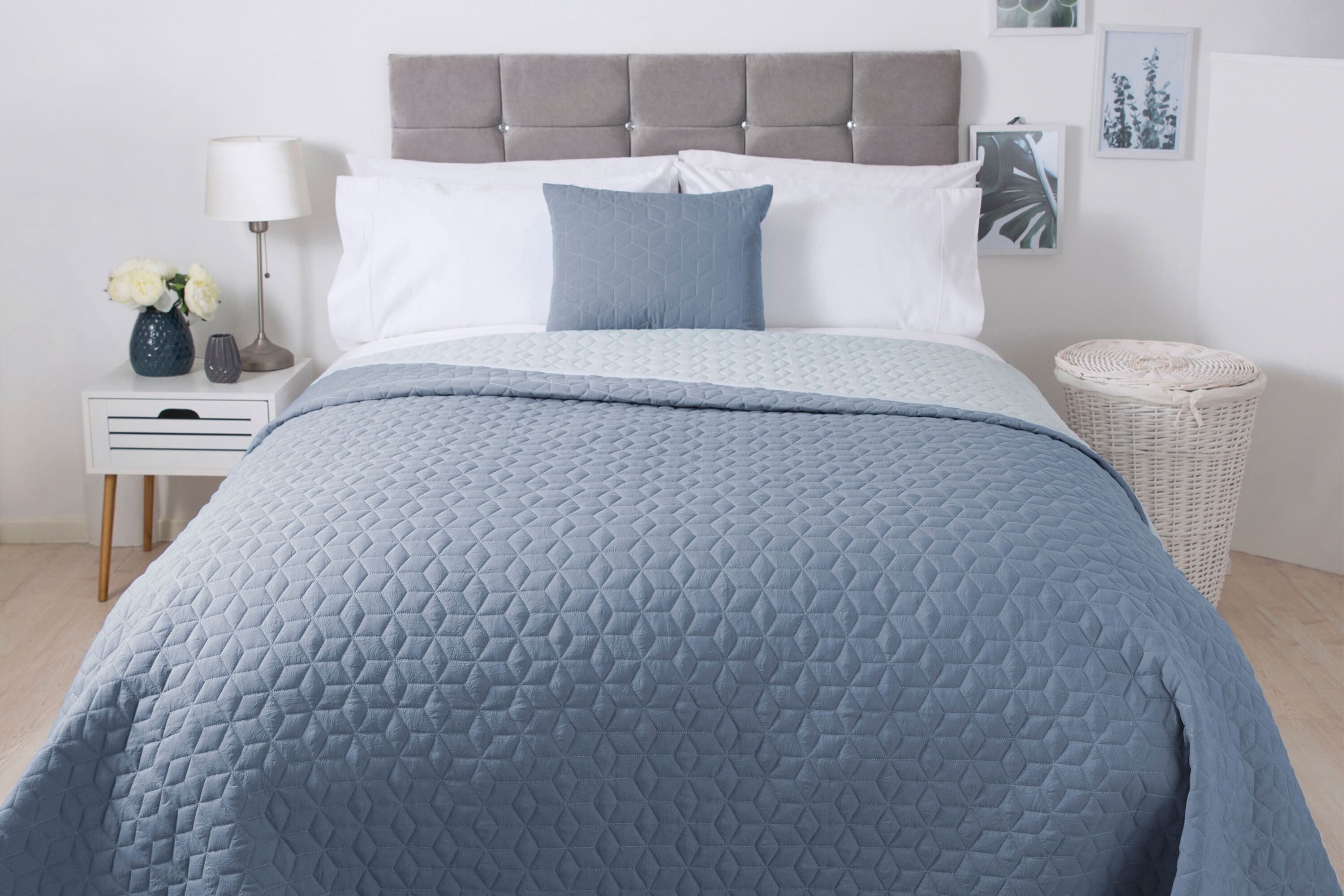 What is a bedspread?
A bedspread is a decorative, versatile and practical companion to the duvet. This lightweight, quilted cover often spans the whole of the bed, hangs over the edges and can be adjusted however you prefer. Once draped over, they're usually folded back from the top to about a half way down the bed. This makes for more of a statement if you want to add a pop of colour in contrast to your otherwise white bedding.
They can be used either as an additional layer on top of the duvet or to look good, provide extra warmth in winter or used alone in summer to help you stay cool. Bedspreads come in many different ­materials, patterns and colours, so there's plenty of choice. Our Panama Bedspread comes in Duck Egg, Grey and Natural, for example. Just make sure you only tumble or drip-dry it, use a warm iron, wash colours separately and wash before use.
What is a blanket?
A blanket is another accomplice to the duvet, but in a slightly different way. Blankets used to be used solely for temperature control when simply turning the heating on wasn't an option, with the number of layers determined by the season. While they still offer warmth now, they too have evolved as decoration.
Blankets are a tad smaller than bedspreads. While they don't cover the whole bed, they still cover your whole body – just enough for delivering the comfort they're known for. They're also typically folded across just the bottom half or quarter of your bed, not taking up as much space as the bedspread.
Our Heat Holders Snuggle Up Blanket is the perfect option for warmth and cosiness. The luxurious Heatweaver fur-like thermal fleece comes in a generous size, allowing you to really wrap it around you on lazy bed days.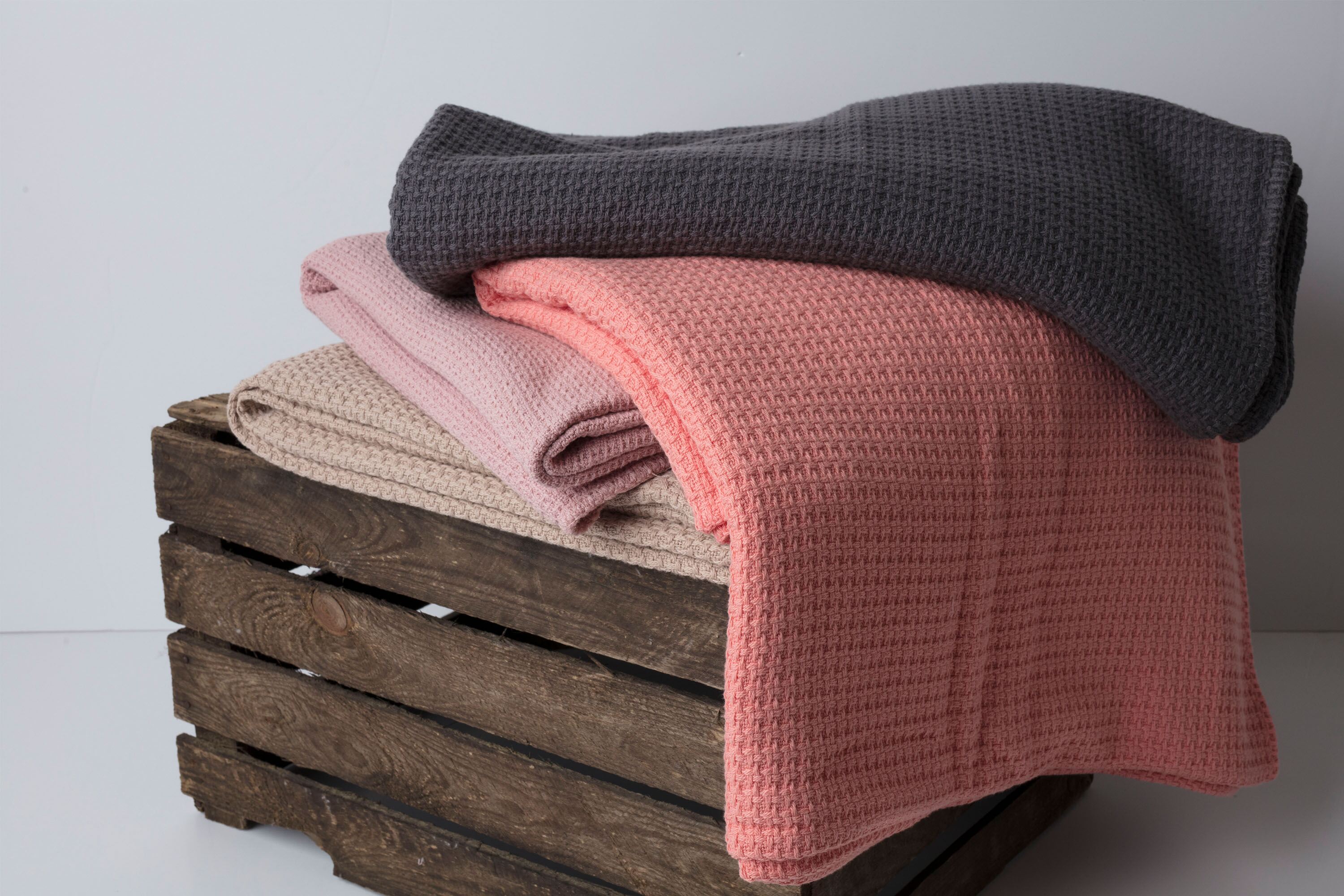 What is a throw?
Also offering comfort and style, a throw does what it says on the tin – throw it on the bed so it's ready and waiting for you when you need it. The difference between a throw and blanket is that throws are even smaller, which makes them perfect for something extra to snuggle up to, protect a chair with or place for a pet to rest on.
Our Bamboo Throw can be used for all of these things, as well as offering environmentally friendly style. Made from 100% bamboo, it's sustainable and renewable, while also being silky, supremely soft and offering all the benefits of being hypoallergenic. However, if you're after something that can be more easily washed (hence the pets on the bed), our 100% cotton Waffle Throw can be thrown in the washing machine at 40C.
What is the difference between a bedspread, throw and blanket?
While they all are designed for extra warmth, comfort and style, here's a quick recap of the key differences:
Bedspread:
- Lightweight, quilted
- Can cover all of the bed
- Can be used with a duvet in winter and alone in summer
Blanket:
- Covers all of your body
- To be used with a duvet
Throw:
- Smaller than a blanket
- Has a variety of purposes
Now you know the difference between a bedspread, throw and blanket, why not browse the rest of our bedroom accessories?