Table of Contents
Airbnbs are a great way for travellers to find affordable and high-quality accommodation in towns and cities worldwide.
They can also be an excellent way for people with additional space, properties, or those that aren't using their property for a while to make some extra money by making it available for vacation rentals.
Setting up an Airbnb is a relatively straightforward process, but certain things must be considered to ensure your guests enjoy their stay and your property remains in good condition.
One significant thing to consider is your Airbnb bedding. How many bed sheets are needed? What quality of bed sheet is needed? What colour? We will cover all of these questions and more in this article.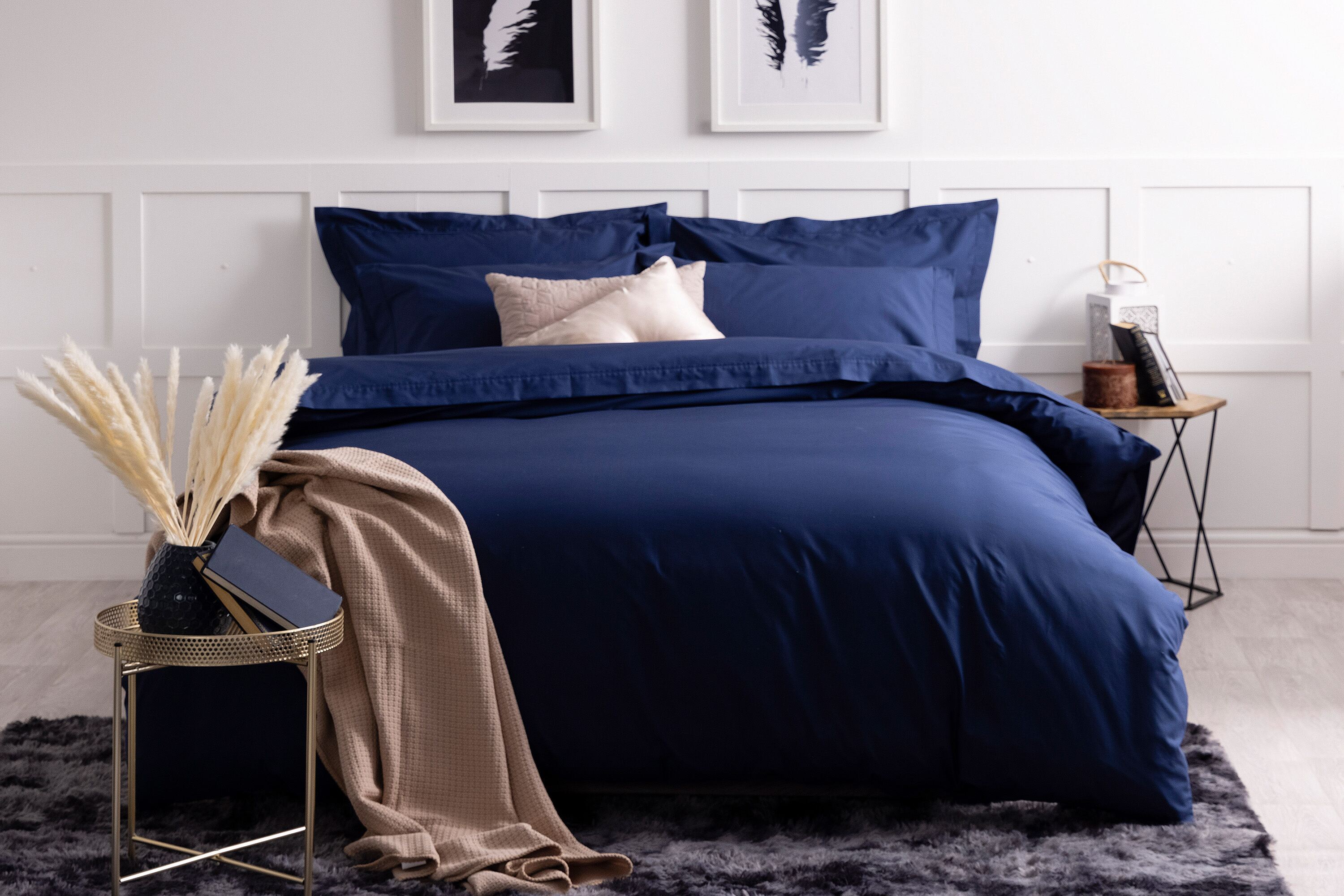 Why Bed Sheets Are Important For An Airbnb
Airbnb bed sheets are important because people want to know they are staying in hygienic accommodations and want the bed to be fresh and clean.
Like a hotel, many people will sleep in the same Airbnb beds, so ensuring they are adequately cleaned and fresh is essential.
What To Look For When Buying Bed Sheets For An Airbnb
A vacation rental can be an excellent way to earn some extra income, but there are responsibilities you must take care of to ensure the property is well maintained.
The following factors should be considered when selecting the best bed sheets and bedding options for Airbnb.
Type
When selecting bed sheets for an Airbnb rental, the type will make a difference to convenience when cleaning, making the bed, and for the user experience.
Using a flat sheet looks great, but it can be time-consuming to make the bed. Fitted sheets are more convenient and are less likely to come away at the corners when you choose the correct size.
Size
Choosing the right size bedding is essential to appearance and functionality. Bed sheets must be the right size, and ensuring the duvet, duvet covers, and other bedding fit the bed will help create a luxurious sleeping environment.
For more details, visit the Belledorm size guide, where you will find all the relevant measurements for sheets and bedding. Putting single bed sheets on queen beds is one sure way to annoy guests.
Material
Choosing the right material is a case of juggling affordability with durability and washability. These factors will be important when selecting the right bedding for Airbnb and vacation rentals.
Cotton sheets
Cotton is a common choice because cotton sheets are a durable, hypoallergenic option. However, budget cotton bed sheets aren't always the most comfortable, while Egyptian cotton sheets are an excellent alternative but can be more costly. The best sheets for Airbnb rentals should be comfortable and luxurious, but you can't afford to spend more money than you're earning, especially if you don't have many guests.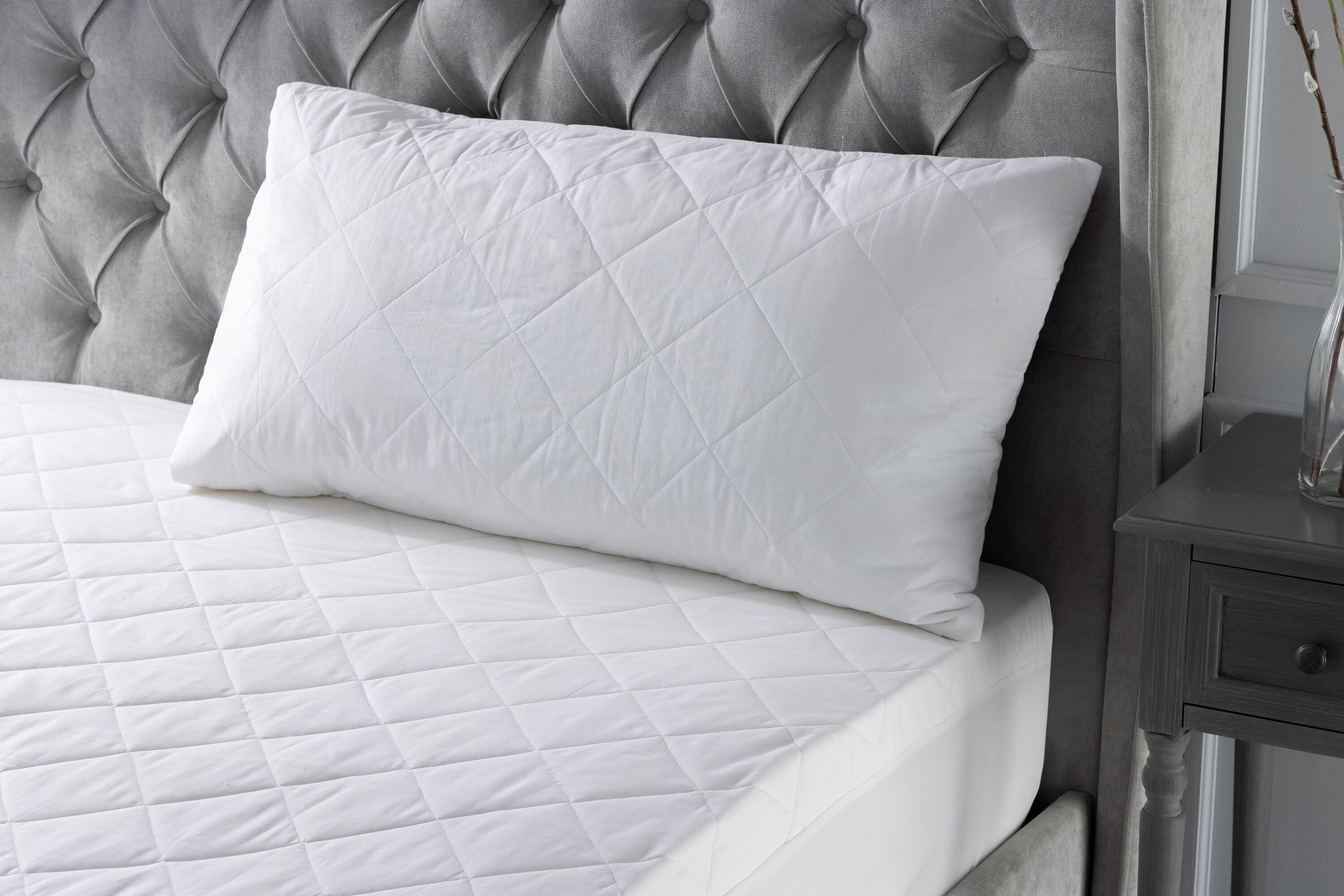 Silk sheets
Silk bedding is surprisingly durable, hypoallergenic, wrinkle resistant and can help to regulate body temperature. Unfortunately, you will have to take a bit more care when washing.
Bamboo sheets
Anyone looking for an eco-friendly option might do well with bamboo. These sheets are moisture-wicking, antibacterial options that feel similar to Egyptian cotton without the same high cost. They are typically machine washable as well, making them a convenient choice.
Microfibre sheets
Microfibre sheets are made from a synthetic material that is easy to clean and wrinkle-free. They are durable and are one of the most affordable options. This is perfect for vacation rental hosts that don't want to spend a fortune replacing sheets regularly.
Thread count
The thread count of material refers to the woven threads found per square inch of fabric.
A higher thread count will typically result in a more durable, longer-lasting sheet. However, this can create a heavier sheet that is not as comfortable.
Low thread counts tend to wear more quickly, so finding a middle ground will help you to find bed sheets that are more comfortable but will withstand several uses.
A thread count of between 200 and 500 will typically allow an Airbnb host to provide comfort affordably with sheets that will last.
Colour
The colour of bed sheets and bedding will depend on the style and decor of the property, as well as personal preferences.
White sheets are the most common as they provide a neutral, fresh appearance for the bedroom. Other popular colours include grey and beige.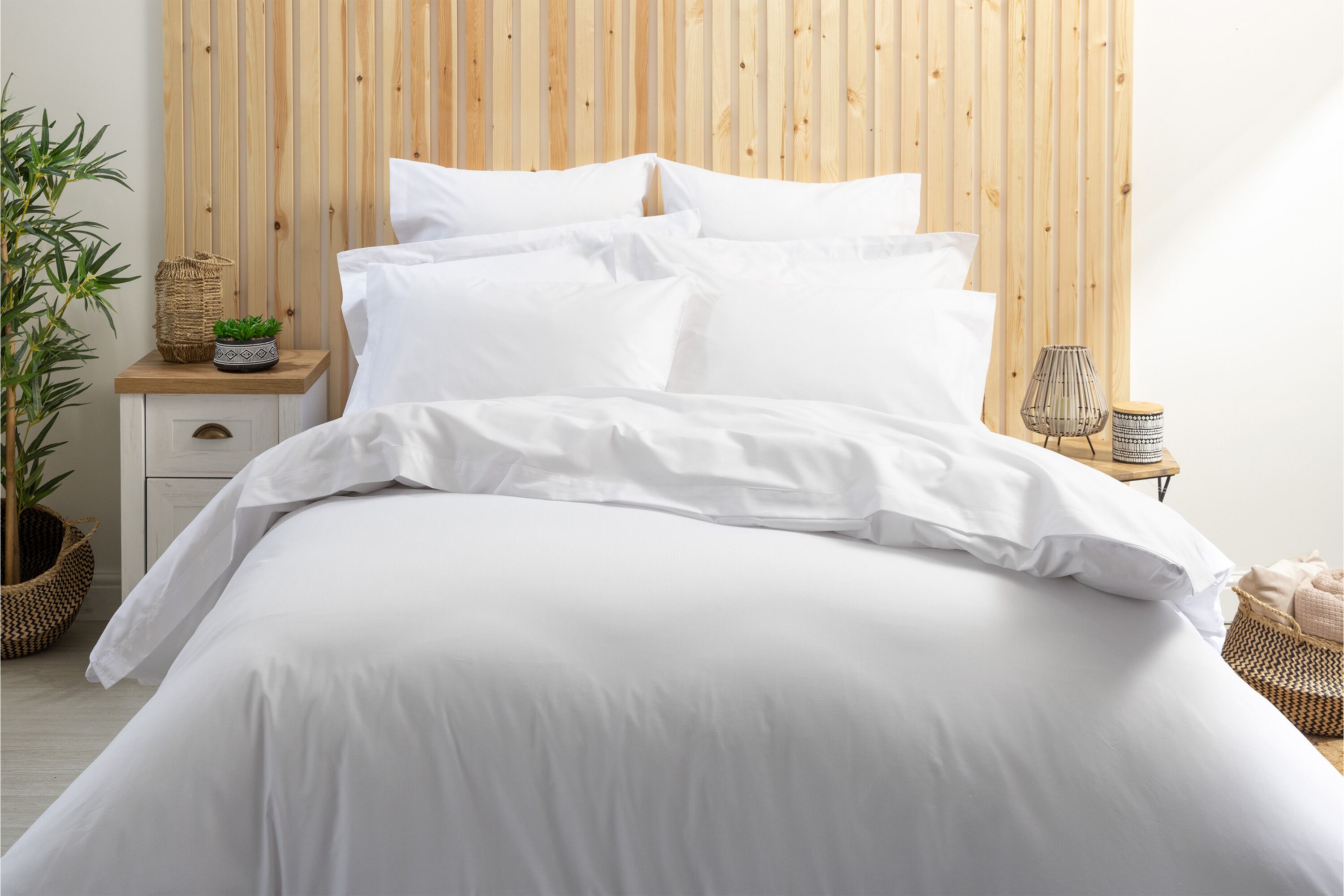 Maintenance
The time and cost associated with cleaning and maintaining an Airbnb property are important factors worth considering. Bedding and bed sheets must be clean and look good, or your guests will leave poor reviews.
Bed sheets that can be machine-washed and dried offer significant convenience, but they must be durable to allow frequent washing and use. It is far more difficult to maintain white sheets than it is for darker ones.
Price
Always replace damaged or stained bedding, whether you use a fitted or flat sheet or buy sheet sets for your property. Trying to repair sheets can look unprofessional, so ensuring you can afford to replace sheets when necessary is essential regularly.
Buying the cheapest sheets means replacing them more often, and your guest might have an uncomfortable sheet. Finding a middle ground where the sheets are affordable, durable, and comfortable without breaking the bank is advisable.
Belledorm Bed Sheets And Bedding
Providing sheets, duvet covers, pillows, and other accessories for your Airbnb guests is essential. Thankfully, you can find an extensive range of high-quality products here at Belledorm.
Explore a range of materials, including bamboo, cotton, sateen, Egyptian cotton, and brushed cotton.
There is also an extensive range of sizes and styles of fitted sheets, flat sheets, pillowcases, valances, and more.
The excellent range of mattress and pillow protectors and toppers will help to prolong the life of your bedding.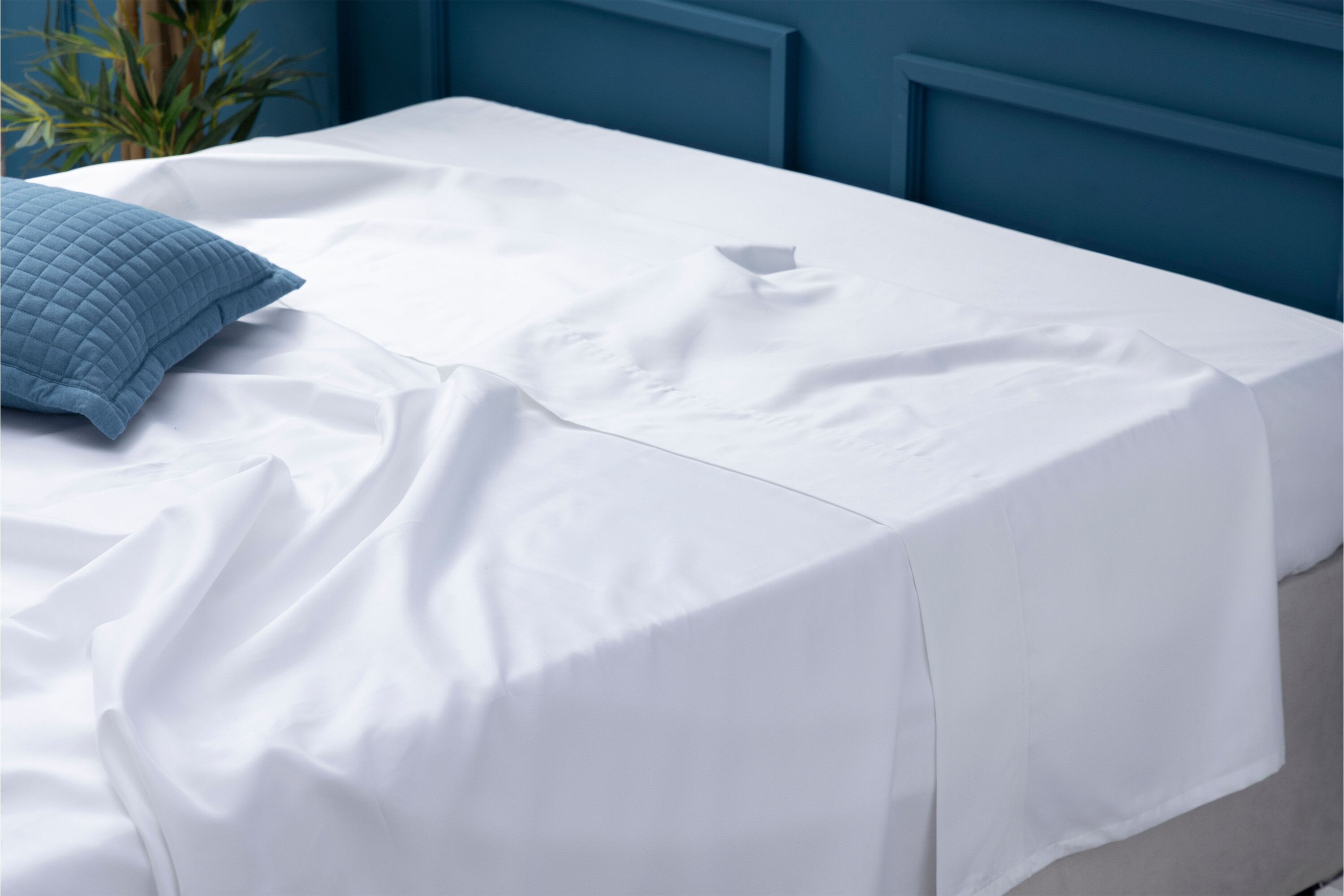 FAQs
How often should Airbnb sheets be replaced?
While bedding and sheets in the home should only be replaced every few years or when they start to show signs of wear. Airbnb sheets might need to be replaced more often.
Depending on the sheet's quality and the property's occupancy rate, you might need to change sheets every six and twelve months.
You should replace stained or damaged sheets immediately, and it will be down to you whether this charge is passed on to the customer if the damage is deemed beyond general wear and tear.
How many sets of sheets are best for an Airbnb?
Airbnb properties should have between two and three sets of sheets for every bed in the property.
This precaution will allow for regular circulation and ensure you have replacements in place if any become worn or damaged.
Should I buy hypoallergenic bed sheets for an Airbnb?
Hypoallergenic bedding can be a great idea as you will not know what allergies your guests may have. Playing it safe with bedding designed to minimise the risk of allergic reactions will help to create a safer environment.
Antimicrobial bedding is another excellent option that helps to reduce bacteria growth, odours, and stains.
How do I get wrinkles out of bed sheets?
Choosing bed sheets with wrinkle-free properties can help to make it easier to keep your property's bedrooms looking clean and fresh.
Bedsheets that do wrinkle can be gently spritzed with water to help reduce wrinkles. You could also iron your sheets before your guests arrive to ensure they look good.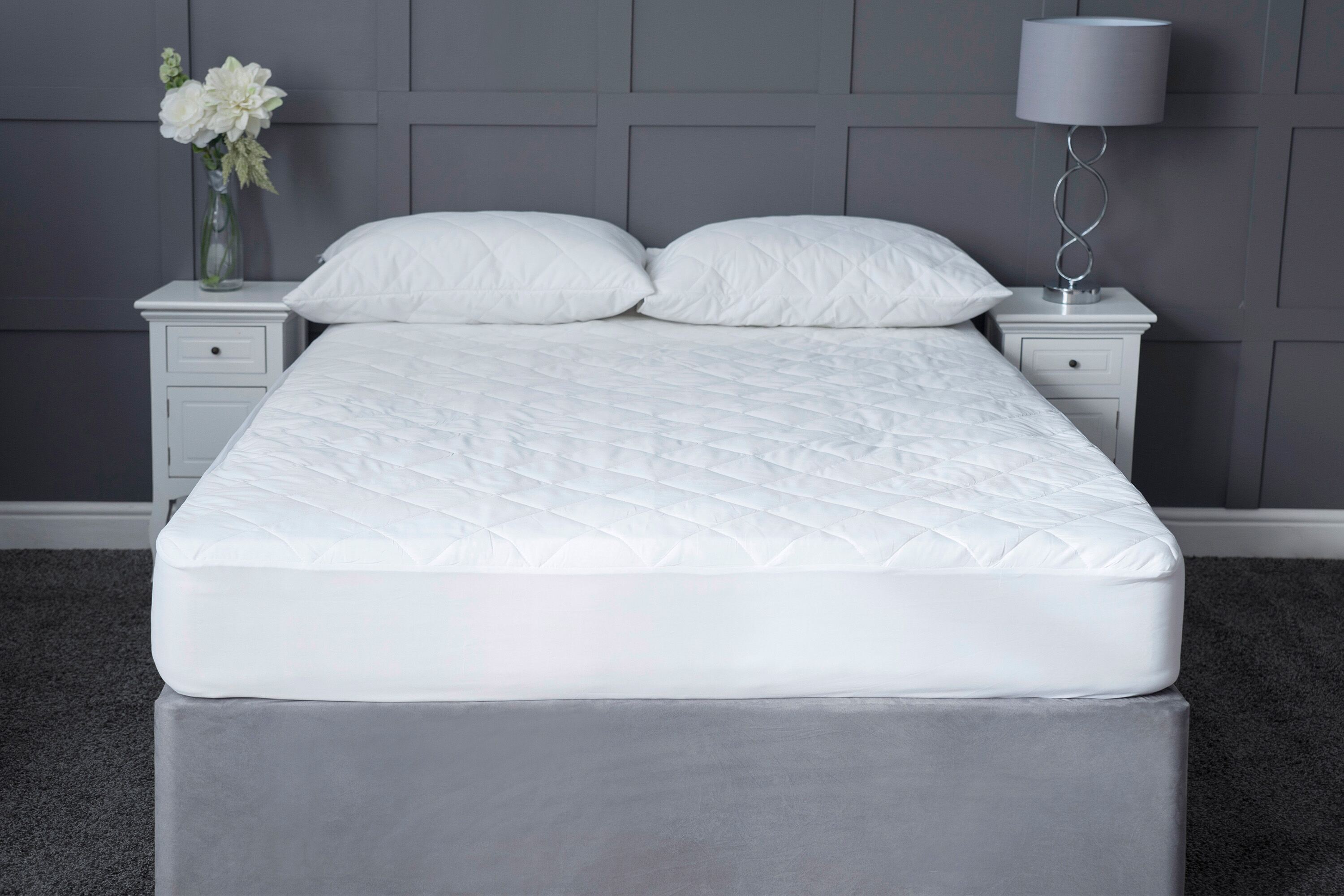 Should I use a mattress protector in an Airbnb?
Out with the bedframe, your mattress can be the most expensive investment in your bedroom. Choosing the right mattress will also have to determine the comfort of the person sleeping on it.
One excellent way to prolong the life of your mattress is by investing in a mattress protector. A mattress protector will help extend the mattress's life by preventing wear and keeping it fresh.
Mattress protectors also help to protect the person sleeping on it from germs and allergies caused by dust mites and bacteria. As much as we don't like to think of it, mattresses can become breeding grounds for bacteria and dust mites, and Mattress protectors significantly reduce this capability.
You will also help to keep the mattress protected from stains. Spills and sweat can happen, and ensuring your mattress is covered minimises the risk of stains.
Finally, a good mattress protector will provide additional comfort, ensuring your guests enjoy a good night's sleep.
Final Thoughts
Whether you want crisp white sheets or a soft jersey cotton, Belledorm offers a range of excellent bedding solutions for property owners to explore. With a collection of styles and sizes, as well as different materials and thread counts that suit all budgets, you will find the perfect Airbnb bedding options right here.
Durable bedding will allow multiple uses without looking bad or needing to be replaced. When bedding does need to be replaced, affordability will be a significant factor. As well as being able to afford necessary replacements, you will have to ensure the bedding is comfortable and easy to maintain.
Machine washable, wrinkle-free sheets with a mid-range thread count will typically provide the kind of durability and comfort suitable for Airbnb bedding.
Find our latest and exclusive discount codes at Wethrift belledorm.