Table of Contents
Have you ever made your bed and struggled to get the corners to fit? Or maybe you've woken up to a bunch of fabric around your head or feet because your fitted sheet has come loose. That's because your bed sheet size can make a big difference to how well your bed linen fits your mattress!
With plenty of sizes, materials, and factors to consider when picking out the right bed sheet, you can easily become overwhelmed. That's where this handy guide comes in. With steps to measure your bed and find the perfect bed sheet size, you'll have a more peaceful sleep in no time.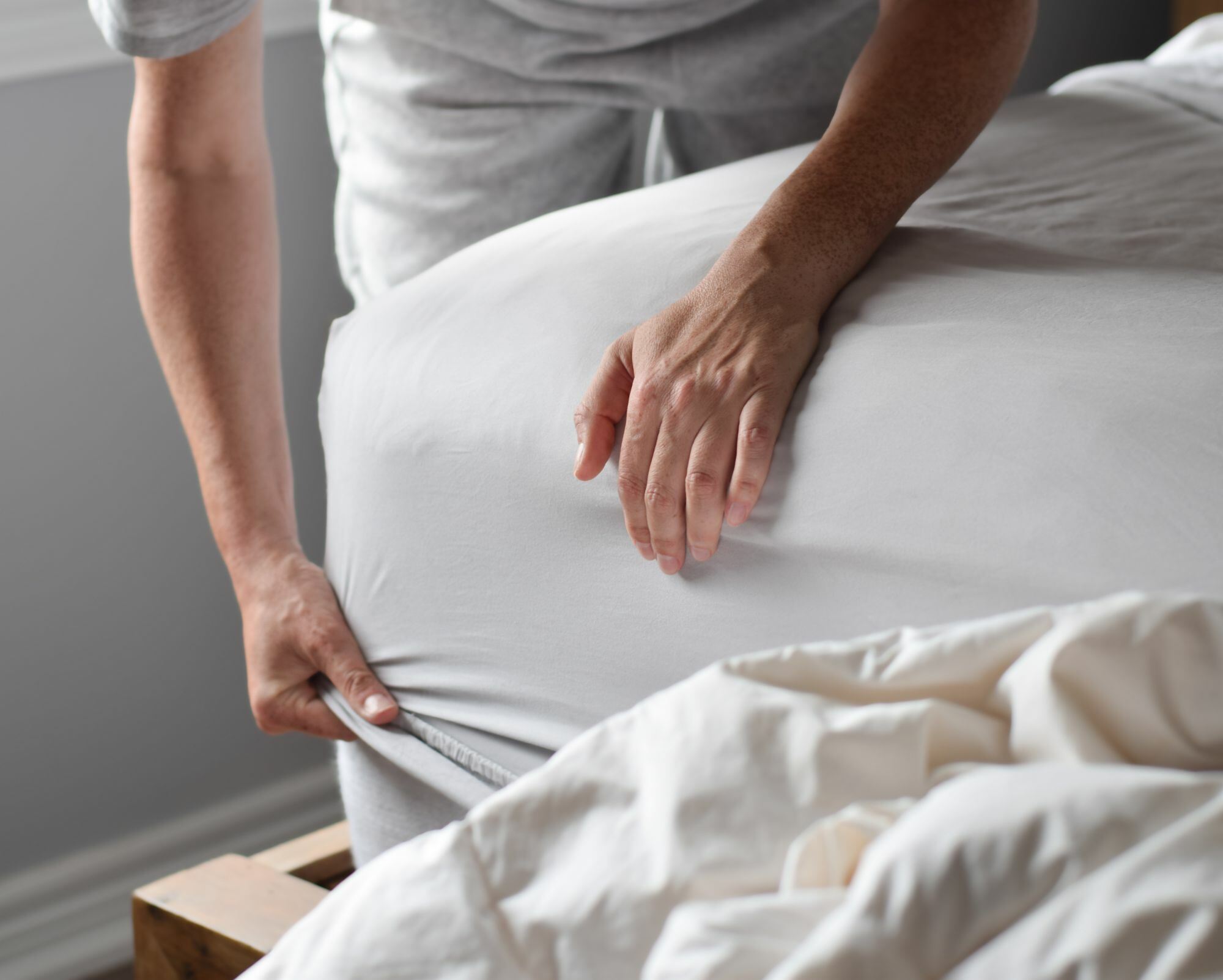 How To Measure Your Bed For Fitted Sheets
When you buy fitted sheets, they need to fit your bed correctly. If you don't buy the correct size, the corners of your sheet may come loose and bunch up underneath you. This can be uncomfortable and ruin your sleep, so it's best to find the perfect fit from the get-go.
Bed sheets that are too small can also cause the pocket depth on each corner to strain and they may eventually tear. When they're too big, you'll experience creasing and loose bed sheets which can be just as uncomfortable as the bunching.
Rather than struggle with various sizes and the problems that come with incorrect sizes, it's best to measure your bed and find the right sheet sizes. You can do this by following these easy steps:
How To Measure Your Bed For Flat Sheets
Like fitted sheets, you can measure your bed in the same way to find the perfect fit. You should start by removing your duvet covers and any other bed linen you have on your bed.
Still, there are a few things you'll need to consider when you're using flat sheets. Bed sheet sizes are important to get a good night's sleep, as the wrong size can make for a lumpy and uncomfortable bed!
Firstly, you'll need to remember that flat sheets are made to be longer than your mattress. So, when you buy a king-size flat sheet for your king-size bed, it will be slightly longer than a standard mattress. It should have enough length to tuck securely beneath your mattress without creating creases or wrinkles or pulling too tightly.
On the other hand, some people enjoy having a longer flat sheet that hangs over the sides of their beds. If that's what you're after, then you may want to buy an even bigger sheet to accommodate the size.
Additionally, it's possible to buy flat sheets that may be too small for your bed. In this case, you won't be able to tuck the excess fabric beneath your mattress and the sheet may slide off or be uncomfortable. So be sure to measure your bed and buy a flat sheet that is slightly longer than your mattress.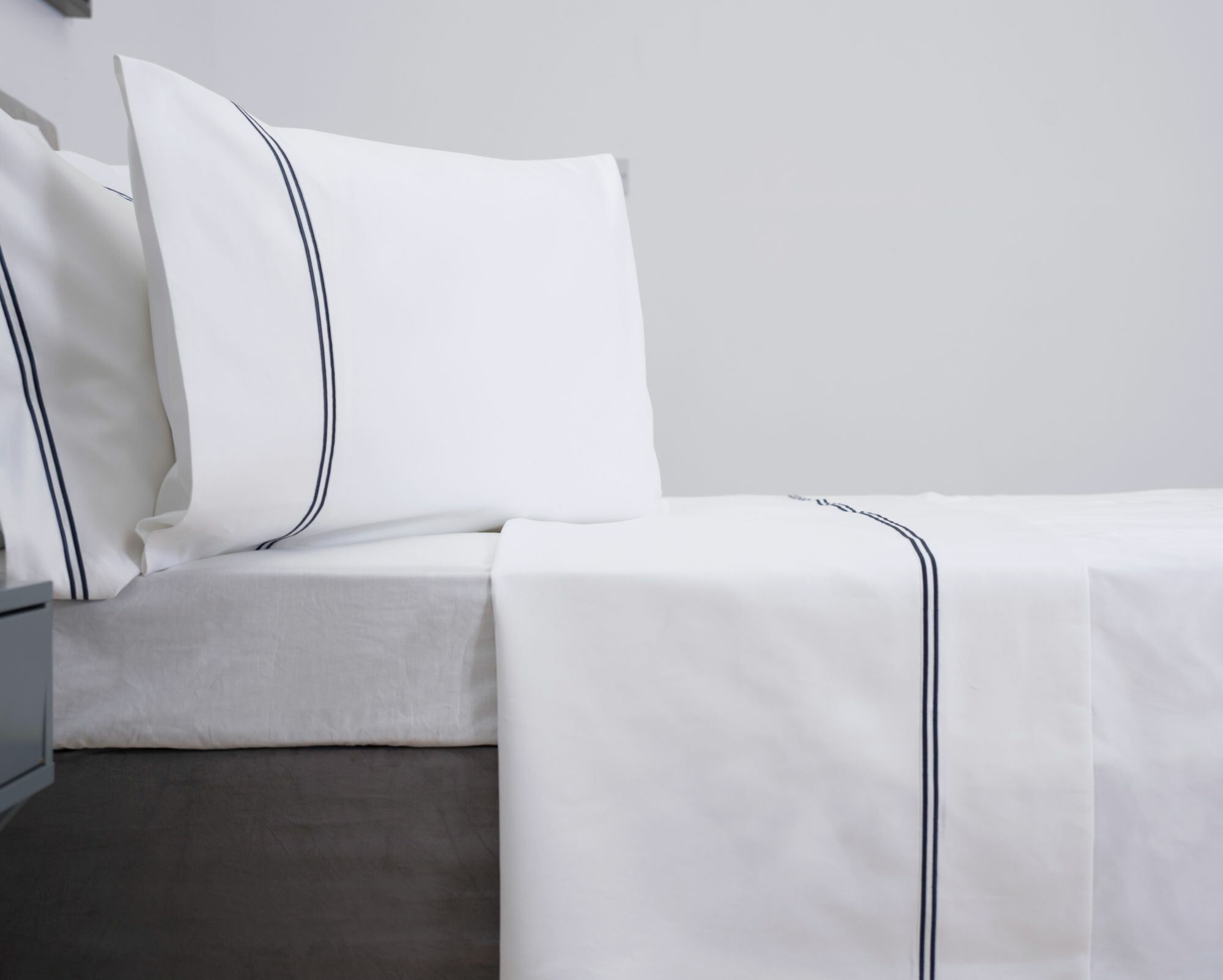 Understanding Sheet Sizes
When it comes to bed sheet sizes, you always need to pick the right one for a comfortable fit. But sheets come in a variety of sizes to accommodate different mattress depths and dimensions, which can make finding the perfect fit a little trickier.
To help make the choice easier, here are the most common sheet sizes and how they correspond to mattress sizes:
Twin beds: Twin-size bed sheets are designed to fit a standard twin mattress, which measures around 99 centimetres wide by 190 centimetres long

Double beds: A standard double bed sheet (also known as a full-sized bed sheet) is designed to fit a standard mattress. This is around 137 centimetres wide by 190 centimetres long

Queen beds: A queen-sized bed sheet fits queen mattresses around 150 centimetres wide by 205 centimetres long

King-size beds: A king-size bed is around 193 centimetres wide and 205 centimetres long, and requires a king-size sheet

California king beds: California king beds or super king beds are some of the biggest standard beds available, although they are less wide than king beds. They measure around 182 centimetres wide and 213 centimetres wide. This means they need a California king-size bedsheet
It's important to remember that all of these mattresses barring the California king and king-sized beds come in XL sizes, and will need the corresponding XL sheets to fit correctly. If you have an unusual mattress size, you may also need to order custom sheets to fit your bed.
Factors To Consider When Buying Sheets
Material
Sheets are available in a variety of materials, including bamboo, cotton, linen, silk, and synthetic materials. Each material has its own properties and benefits, but they can also affect how your sheet fits. Some materials fit more snugly than others, while others are looser and can cause wrinkles and bunching. You should also take note of how to care for each of these materials.
Care
Different materials not only fit differently but need specific care as well.
For example, fitted sheets made of cotton are prone to shrinking when they are washed. However, a synthetic flat sheet may not shrink when it is put through the tumble dryer. When sheets shrink, they may become too short to tuck beneath your mattress, so be sure to choose carefully. Plus, you always follow the washing instructions for your sheet.
Fit
When you measure your mattress, it's important to factor in any other bedding like a mattress topper or pad. This can affect the fit of your sheet and can cause strain on your sheet if the topper is too thick.
When the sheet is too short because of bulky bedding, it will cause the same problems as a sheet that is too small. Instead, it may be a good idea to size up to keep your sheets fitting properly. For example, if you buy fitted sheets for twin beds, you may need to buy a twin XL bed sheet to accommodate a mattress topper.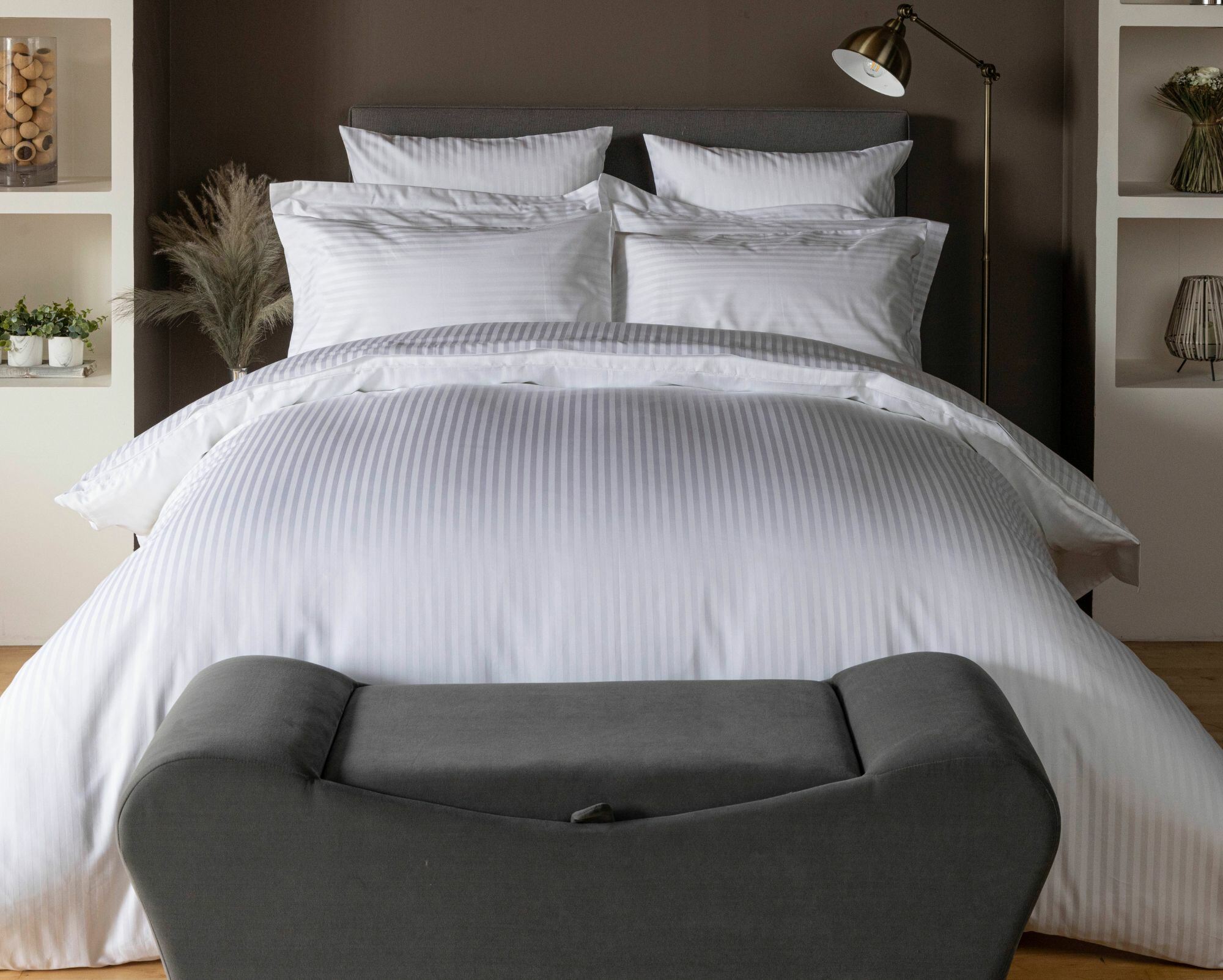 FAQs
How much bigger should a fitted sheet be than the mattress?
As a general rule of thumb, your fitted sheet should always be deeper than your mattress depth. So, if your mattress depth is around 25 centimetres thick, your fitted sheet should be at least 30 centimetres deep. Standard bed sheets may not always fit your mattress size correctly, which is why it's important to measure your mattress beforehand.
If your sheet is the same depth or shorter than your mattress, it may pull up from the corners and bunch up. This can be frustrating when you're trying to sleep, and - most importantly - very uncomfortable! So it's important to get a bed sheet that is at least 5 to 8 centimetres longer than your mattress.
Should you buy sheets a size bigger?
No matter what bed sheet you buy, it should always be slightly bigger than your mattress size. This is to ensure that your sheets can tuck beneath your mattress and create a smooth, sleek surface when you're sleeping. It prevents bunching and creasing, and can also make it easier to make your bed! To find the ultimate bed sheet sizes, you should always measure your mattress.
Are double and full sheets the same size?
Yes, double and full sheets are the same size. Although they may have different names, they are used to describe the same size bed sheets. So if you've been searching for the perfect double sheet, you can just as easily find a full sheet that meets all of your needs.
Final Thoughts
Picking the perfect bed sheet size is the best way to make your bed more comfortable and inviting. By taking the time to consider the factors that go into finding the best sheets, you'll be able to spruce your bed up for the better. So why not start by using this guide to measure your mattress and change your sleep for the better?