Table of Contents
Finding the right bedding can be challenging. Many boxes need to be ticked when buying new sheets, including colour, style, material, size, durability, and washability.
Finding out more about the individual elements that make up your bed will help you enjoy high-quality, comfortable bedding that promises a great night's sleep.
This article will explore everything you need to know about the fitted sheet and answer any questions you might have about them.
Your bed sheets are an integral part of how your bed will look and feel, so understanding the different options and who they might suit will help you make an educated decision when shopping for bed linen.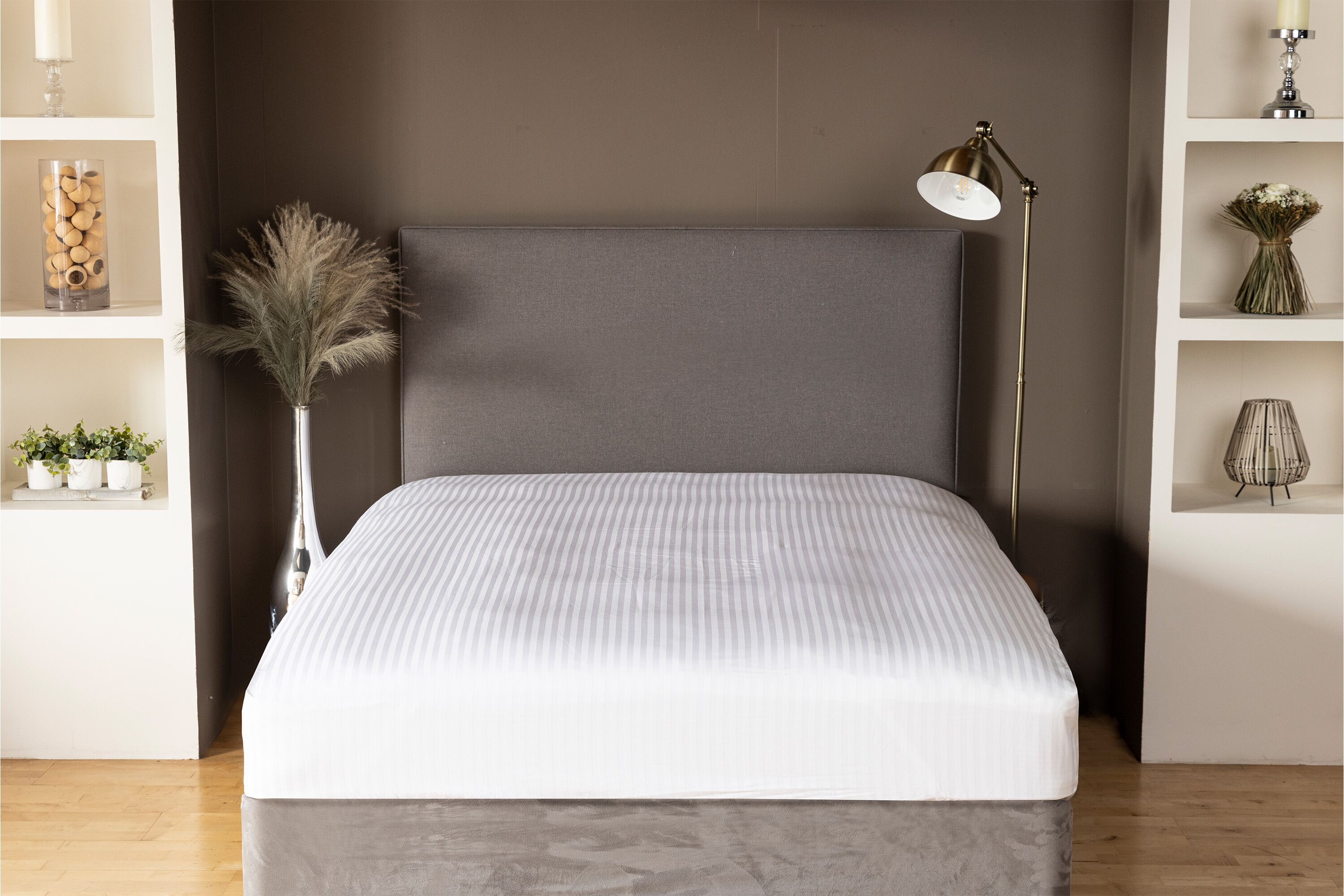 What is a Fitted Sheet?
A fitted sheet is a sheet that covers the mattress, mattress topper, or mattress protector. Fitted bed sheets are also known as bottom sheets and are the sheets you sleep on top of.
Fitted sheets will be designed with corners sewn in, all at belledorm are elasticated.
The benefit of a fitted sheet is that they are made to fit mattresses and stay in place overnight. You will not need to learn any folding or tucking techniques when making your bed with a fitted sheet.
Things to Consider When Buying a Fitted Sheet
The best type of fitted sheet is one that fits your bed, is comfortable, and suits your needs. This can mean that different bed sheets suit different people.
Because of this, you should consider the following factors before investing in new, high-quality bed sheets. You will be able to find the perfect bed linen by making sure the sheets you choose tick all the right boxes and suit your needs.
Size
Arguably the most important factor to consider when buying new bed sheets is the size. Selecting the wrong-sized bed sheets means they won't fit your bed properly and could come loose during the night.
Loose sheets can be annoying, cause you to get tangled, or bunch under you, leading to an uncomfortable and disturbed night's sleep. Ensuring you get a restful night's sleep is linked to improved physical health, mental health, and productivity, so it is essential that your bedding is suitable.
The following UK fitted sheet size guide will help you find the perfect-sized bed sheets for your bed.
Standard UK Fitted Sheet Size Guide
Single bed fitted sheet size - 90 cm x 190 cm x 30 cm

Double bed fitted sheet size - 140 cm x 190 cm x 30 cm

King bed fitted sheet size - 150 cm x 200 x cm x 30 cm

Super King bed fitted sheet size - 180 cm x 200 cm x 30 cm
Depth
If you have a deep mattress or use a mattress topper or a mattress protector, this should be taken into consideration when shopping for the correct fitted sheet size. Deep-fitted bed sheets are available to ensure they fit beneath the mattress for a secure hold.
Deep-Fitted Bed Sheet Size Guide
Single bed fitted sheet size - 90 cm x 190 cm x 34 cm

Double bed fitted sheet size - 140 cm x 190 cm x 34 cm

King bed fitted sheet size - 150 cm x 200 cm x 34 cm

Super King bed fitted sheet size - 180 cm x 200 cm x 34 cm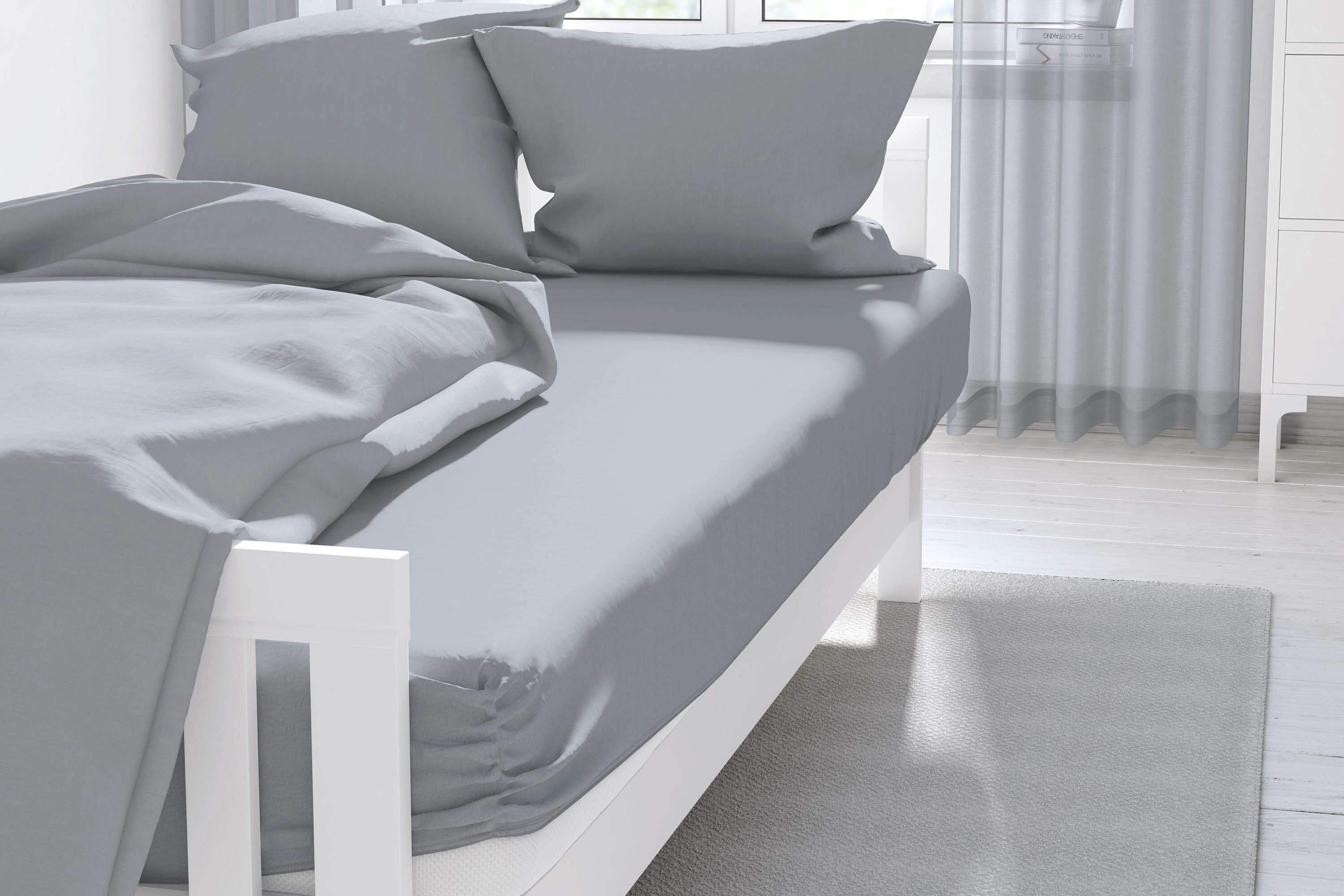 Style
The style of your bedsheets will be completely down to personal taste. The colour or pattern shouldn't make a difference to the size or comfort but should be selected to compliment the duvet cover.
White and white variations are the most popular sheet colour. White bed sheets can offer a clean, crisp, and welcoming look that will typically complement most other colours.
Patterned sheets aren't as common, and this is because they are typically covered. However, patterned fitted bed sheets can look great with a monochrome duvet and pillows to add a bit more life and colour to the bed.
Material
Taking the time to research and choose the right bed sheet material is something a lot of people overlook. Different materials offer a different feel and can even help to regulate body temperature.
The following fitted sheet material guide will help you choose the best bed sheets to guarantee you a good night's sleep.
Cotton Bed sheets
Cotton is the most common sheet fabric because of its versatility and durability. Anyone looking for organic cotton bed sheets will have plenty of choices.
Cotton is typically breathable and convenient for washing. There are many different types of cotton bed sheets to consider when shopping for bedding. These include;
Pima cotton is grown in the United States, Australia, and Peru and is favoured because it has stronger and longer fibres. This results in a more durable fabric.
Pima cotton fibres are finer than traditional cotton fibres, making them softer with a smooth texture. Another benefit of having soft and strong fibres is they don't wrinkle as easily as other fabrics, and they are less likely to fade over time.
Pima cotton is a very breathable fabric, essential for hot summer months or those that are prone to overheating during the night.
The biggest downside of Pima cotton is its availability and cost. As it is only grown in three countries, it is not as readily available, resulting in a relatively high price.
Supima Bed sheets
Supima is trademarked cotton grown exclusively in the United States. The name Supima means "Superior Pima".
Supima is a softer and fluffier material than Pima but still offers all the great benefits that Pima Cotton does.
Supima is even rarer than Pima and accounts for under 1% of the world's cotton grown every year. Because of this, it is expensive, and you could expect to pay as much as twice the price of Pima cotton.
When buying sheets, you should consider the cost and durability. It might seem a better deal to go for cheaper sheets, but if you have to replace them more often, there is no real value for money.
Supima sheets offer comfort and durability, so they can be worth the investment when buying new sheets.
Flannel sheets can be made with synthetic fibres, wool, or fibre blends but are most commonly made using cotton.
After the fabric is woven, it is then brushed to give it a fuzzy texture. This technique of brushing flannel sheets is called "napping".
Flannel sheets are warm and cosy and are best for the winter. They are available in checked and tartan patterns, as well as block colours.
They are typically recognised as being durable sheets, and while the breathable material shouldn't hold moisture, it does trap body warmth.
Flannel sheets are also an affordable option. This is good considering they are typically only used over the winter and replaced with lighter, cooler bedsheets when the weather is warm.
If you find sheets that are labelled as 100% Cotton, they will typically be upland cotton sheets.
Upland cotton sheets are an affordable option that is made from cotton that is now grown around the world.
Upland cotton is not as good a quality as Egyptian or Pima cotton. This is because the fibres are shorter and rougher. This makes the sheets less comfortable than other options and less durable.
Brushed cotton sheets are a smooth and cool option that is finished by using a brushing technique.
Brushed cotton sheets are incredibly comfortable and breathable. Brushed cotton is also seen as an excellent option for hot sleepers or anyone suffering from skin problems because it is soft, cooling, and wicks moisture from the body.
Egyptian cotton is considered to be the finest cotton, and this will be reflected in the price you pay for high-quality bed sheets.
Cotton is grown in the fertile soil around the Nile Delta, where the plant's slow growth helps produce long, fine fibres.
The length and fineness of the fibres provide soft, smooth fabrics. Egyptian cotton bed sheets help to moderate body temperature, keeping the user cool in the summer and warm in the winter.
You would be mistaken for thinking that finer, softer fibres would be less durable than other options. In fact, Egyptian cotton bed sheets are long-lasting and durable.
High-quality Egyptian cotton sheets are one of the more expensive bedding options you can select, but they can provide great value. You will be able to use Egyptian cotton sheets all year round, and their durability means you won't have to replace them as often as other sheets.
Jersey bed sheets are warm sheets that were traditionally made with wool. They are now more commonly made with cotton or cotton blends.
Jersey cotton sheets are made so one side is fluffy and the other is smooth. They are durable sheets that are warm and very comfortable.
They are best for the winter months as they aren't very breathable. Air and moisture don't escape easily, making them unsuitable for the summer.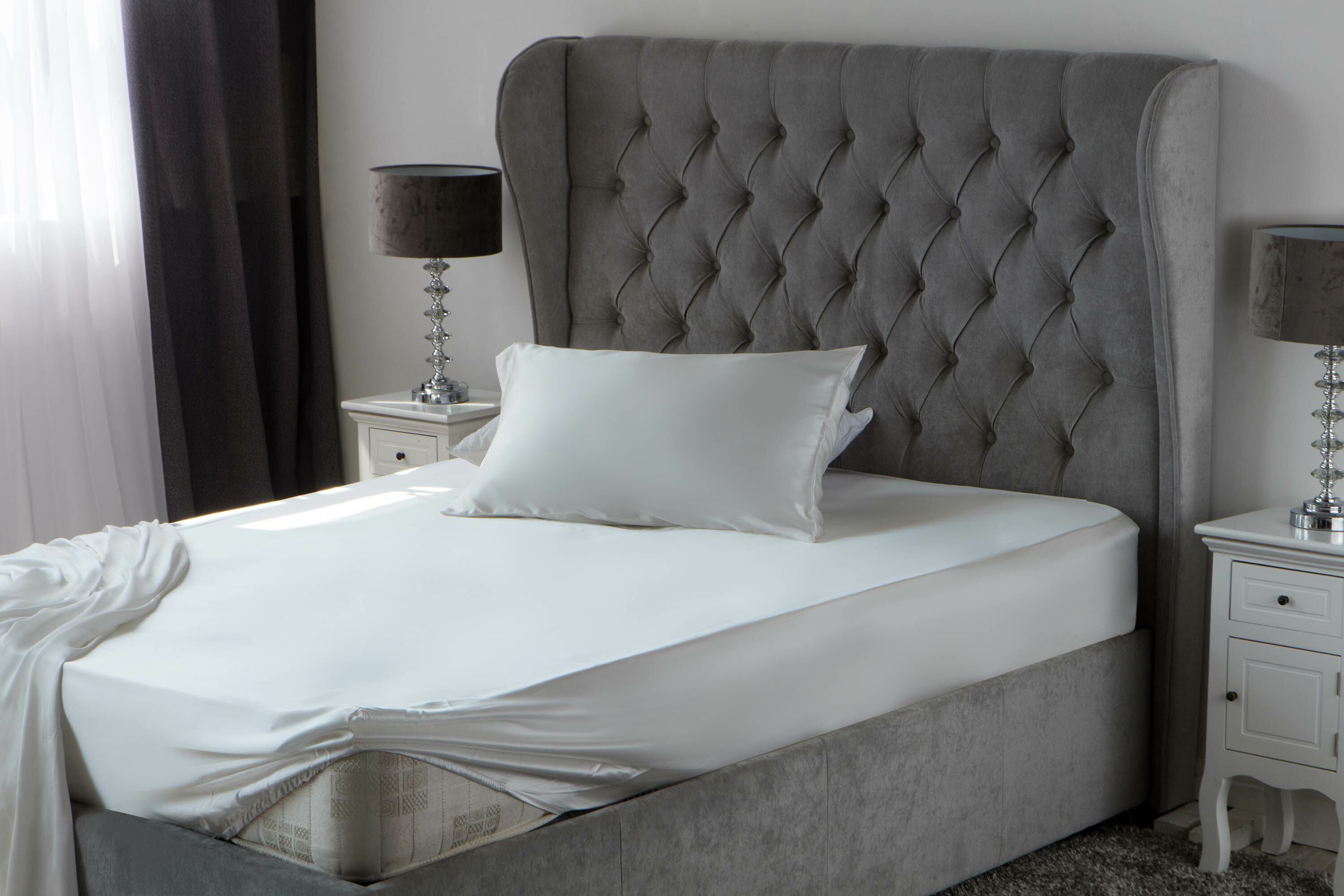 Polyester sheets are cool, smooth, and lightweight. The synthetic, man-made material is ideal for bedding as it is less likely to shrink in the wash and doesn't wrinkle as much.
Polyester sheets are typically affordable and are considered to be a relatively breathable material. They are not as breathable as natural fibres, so they fall somewhere in between the high-quality cotton materials like Egyptian and Pima cotton and the heavy flannel and jersey options.
They are a popular option because of their low price point, durability, and convenience. They are easy to clean, and most will be machine washable. Fading is minimal with polyester bedding.
Bamboo is probably more associated with being a strong wood that is the favourite meal of pandas! However, bamboo sheets have grown in popularity in recent years and are seen as one of the more environmentally friendly options.
While the best bamboo bed sheets have a smaller carbon footprint than cotton, chemicals are required to treat the fibres derived from them. Modal, Lyocell, and Rayon are the most common fabrics that come from bamboo.
As well as creating different materials, they are also weaved in different ways. The most common bamboo sheet weaves include;
Twill - A twill weave uses diagonal ribs that run parallel to one another. You might recognise this as being the same weave used to create denim. Twill can be relatively textured and less smooth than other bamboo sheet types.

Percale - The matte finish of the percale weave is created using a one-over, one-under thread pattern. They do wrinkle easily but are a breathable fabric that is ideal for the summer.

Sateen - Sateen provides a silky finish that is wrinkle-resistant and is better for retaining heat. The finish is achieved by a one-under, three- or four-over thread weave.
Bamboo bed sheets are typically durable, soft, and breathable but can be expensive. There is a chemical process involved that should be considered if you are buying bamboo sheets purely for environmental reasons.
Tencel Bed sheets
Like bamboo sheets, Tencel sheets are made from fibres that come from wood. In this case, it is typically eucalyptus, but other woods can be used. The brand name of Tencel is owned by the Austrian brand Lenzing Fibres.
Tencel fibres are created by pulping the wood and dissolving it in a solvent. This is then pushed through tiny holes to create the fibres that can then be spun.
The main differences between different Tencel sheets come from the different fabrics produced. The most common Tencel fabrics include;
Tencel Modal - Beachwood is used in this process to create a soft, smooth material.

Tencel Lyocell - The fabric produced by this process is known for its moisture-wicking functionality. It is also a durable and soft material that uses a sustainable wood source. In order to improve their environmental credentials, solvents are also reused in this process.

Tencel Blend - Blending modal and lyocell fibres with each other and other materials creates materials that are moisture-wicking and can moderate body temperature.
There are a lot of benefits of using Tencel bed sheets, including the soft, durable, and breathable fabric you will get. They are a relatively eco-friendly option but can be expensive.
Linen Bed sheets
Bedding can often be referred to as bed linen, and that can lead to confusion. Linen is a fabric made from the flax plant and dates back thousands of years.
The complicated production means it is an expensive option, but high-quality linen sheets can be durable, soft, cool, and breathable, making them worthwhile.
Linen sheets can be used all year round as they can work to insulate the body during winter, and they are also breathable and wick moisture from the body in the summer.
The best linen bed sheets are easy to wash and care for and are considered one of the most sustainable fabrics for your bedding.
Microfibre
Microfibre bed sheets are silk-like as they use thin fibres to create the fabric. Microfiber is designed to regulate temperature and wick moisture away.
The sheets will feel like wither silk or velvet if they are brushed to raise fibres.
Microfibre is a durable material that repels liquids, helping to prevent stains. Cleaning and maintenance are easy and convenient, making them a popular choice.
While most bed sheets will come with a thread count, which we will discuss later, microfibre sheets are judged in terms of grams per square metre. For a high-quality microfibre sheet, you should look for a GSM of over 100. Sheets with GSMs below 90 will be lower in quality.
Satin
Satin sheets are typically made from man-made materials, including nylon and polyester. Silk can also be used, and the feeling of the material is smooth, like silk.
The two most common types of satin bed sheets include;
Charmeuse Satin - Charmeuse satin is a finely woven polyester that is most similar to satin lingerie. Bed sheet fabric is heavier than lingerie satin but still lighter than other options.

Bridal Satin - Using either polyester or acetate, bridal satin is the most silk-like.
Silk and satin pillowcases are often used to ensure hairstyles are not disrupted while sleeping.
The cost of satin bedding can be relatively high, but this will depend on the thread count. Different sheets will also have different care instructions, with some being easy to manage.
Silk is naturally produced by silkworms, and of all the natural fibres in the world, it is the strongest. The thin strand is just a tenth the width of human hair and is graded depending on its quality. The highest quality of silk is 6A.
Sold by its weight (known as momme), 22 to 25 momme is generally considered to be a suitable weight for bedding to ensure a quality finish and affordable price.
Silk is extremely smooth and cool to the touch, and it has a great ability to regulate the body's temperature.
While silk doesn't absorb water well, it does contain wicking qualities to keep the user dry during the night.
In terms of care, silk can be machine washable depending on the momme. Care instructions should be checked before buying.
Another benefit of using silk bedding is that it is naturally hypoallergenic and prevents dust mites, mould, and bacteria growth. Silk bedding can also help with hairstyles by reducing frizziness and friction.
Silk sheets are more durable the higher the momme. This can surprise consumers that might see silk as being fragile and difficult to care for.
The production of silk emits significantly less carbon than cotton, doesn't use pesticides, relies on natural rainwater, and is one of the most sustainable fabric production models.
While the cost of silk is typically high, the quality and durability can make it a worthy bedding investment.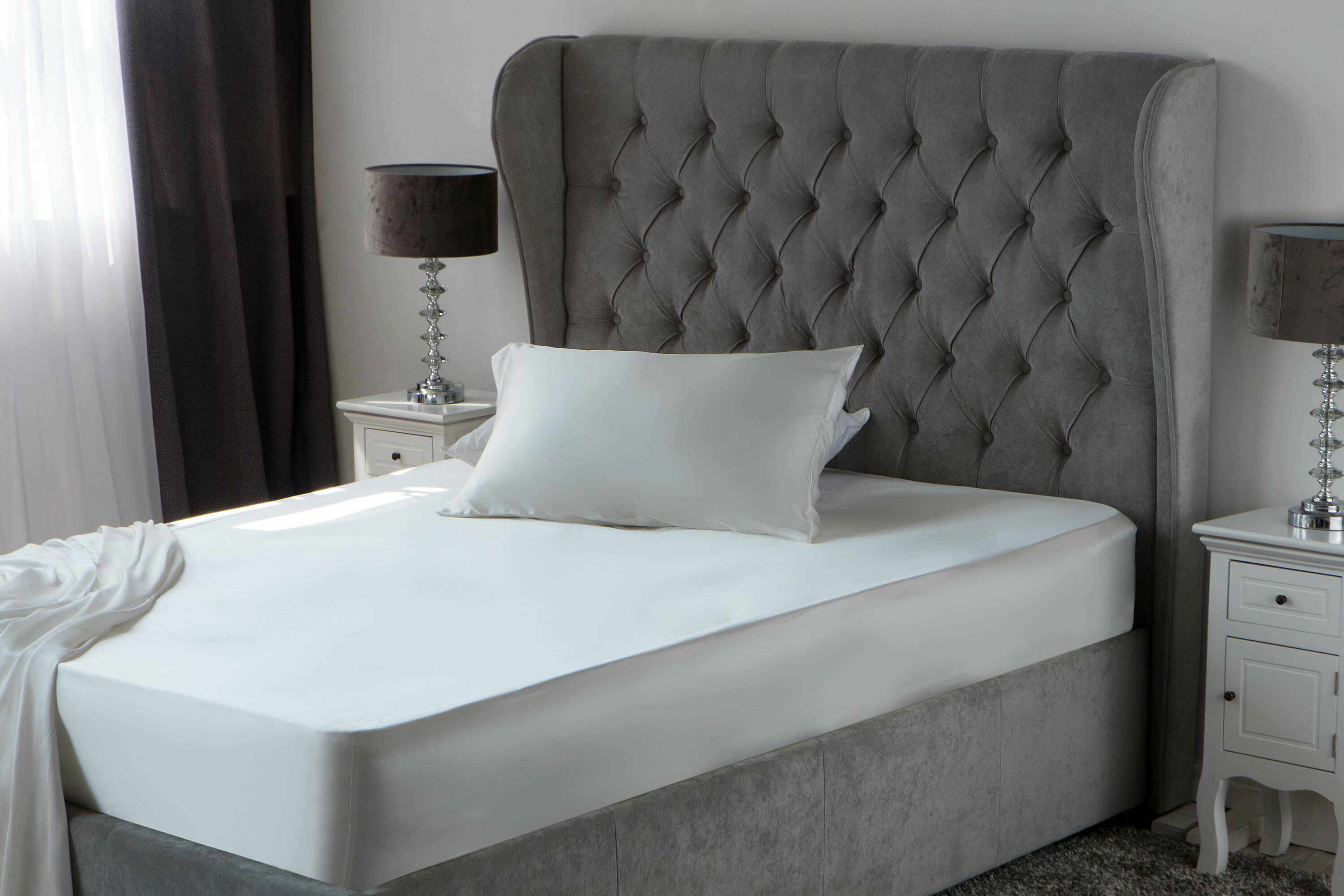 Thread Count
You might have heard about a thread count in relation to bed sheets without being sure of what it meant. A thread count is how many threads are woven within a square inch of fabric.
While this can be an important factor when choosing your bedding, you will also have to think about the type of weave and quality of fibre.
You might see some guides advising on minimum thread counts, but this can be deceiving without taking into account the fabric type.
A higher thread count will, in some cases, give you a denser, more durable fabric and can even give a high-quality feel, so it shouldn't be completely disregarded.
The thread count of a sheet will also affect the cost, so you should aim to get the best thread count for your budget.
The following guide will give you a general idea of thread count ranges to aim for.
Percale Weave Thread Count Range - 200 to 400 thread count

Linen Sheets Thread Count Range - 80 to 140 thread count
Some sheets below these ranges can still provide great quality, so they shouldn't be ruled out. You might be looking at sheets that don't provide you with a thread count and instead use GSM as a measurement. GSM, or grams per square metre.
This can help with different materials that have thicker fibres as they would be shown as having a lower thread count.
The following GSMs for fabric are typically suitable for bed sheets;
Linen GSM Range - 170 to 190

Microfiber GSM Range - 90 to 120

Jersey GSM Range - 150

Flannel GSM Range - 170
Weave Type
As well as the colour, style, size, GSM, thread count, and fabric type of bed sheets, you will also have to check the weave type if you want to be 100% sure about the sheets you are buying.
The weave of a sheet is as important as the fabric when it comes to how thick, sturdy, or soft it feels. Here are the most common bed sheet weave types;
Percale Weave
A percale weave is a straightforward one-over, one-under weave. This creates a breathable, lightweight fabric with a matte finish. You will get a crisp look that is breathable and perfect for warm weather and hot sleepers.
This style of weave isn't wrinkle-free, so hanging or removing sheets from dryers can help minimise this.
Sateen Weave
Sateen weaves are not the same as satin sheets despite the similarity in name. Unlike the one-under, one-over weave of percale sheets, sateen sheets have one-under, three-over pattern.
This gives them an excellent smooth finish.
They do lack the durability of percale sheets and are easier to snag, but they provide more warmth, making them ideal for the winter months and cold sleepers.
Twill Weave
Like denim, a twill weave has a two-under, two-over pattern that leaves a diagonal finish. This also results in a thicker weave that is less prone to wrinkles.
The heavier weave makes them strong and durable, and another added bonus is how well they hang.
Jersey Weave
A jersey weave is actually a knit rather than a weave. It results in a soft, stretchy, and more casual-looking bed sheet.
Dobby Weave
A dobby weave is created on a dobby loom. They can contain patterns, stripes, or dots.
Patterned Weave
Like the dobby weave, a patterned weave will have a pattern woven into it. They will typically be traditional damask or brocade patterns. Patterned bedsheets offer a vintage, luxurious finish but can be expensive.
How To Put A Fitted Sheet On A Bed
Putting a fitted sheet on your bed is easy. Follow these simple steps to easily make your bed.
Step 1
First, locate the tag inside the sheet. The tag will usually have washing instructions and should be in the bottom right corner.
Step 2
Now you know which way up the sheet should be, you can start putting it on. You should always start at the corner with the most difficult access. This could be a corner against a wall or a bedside table. This will typically be at the head of the bed.
Step 3
Lift the mattress slightly and securely hook the elasticated corner under so the sheet fits snuggly around the corner.
Step 4
Move around the bed hooking the corners under the mattress corners. Ensure the sides are pulled down to cover the mattress's sides and that all four corners are fully covered.
Step 5
Ensure the bed sheet is smooth. This should happen naturally as the sheet will be fitted securely and stretched across the mattress. If the bed sheet is crumpled or has excess material, it may be too big. Alternatively, if the sheet is too small, you will struggle to cover the corners and sides of the mattress.
FAQs
How do you fold a fitted sheet?
We have already talked you through how you put a fitted sheet on a bed, but one of the most commonly asked bedding questions is how do you fold a fitted sheet?
Stuffing it in a cupboard means that when you go to put it on a bed, it will likely be crushed and creased. Being able to fold it neatly will help you enjoy fresh, crisp sheets the next time you make your bed.
First, make sure the elastic is facing you. Then take the two bottom corners and fold them up. Fold them all the way into the top corners, aligning the seams.
Fold the sheet again to create a long rectangle. The sheet size will make a difference, and you may have to fold it more than once.
You should now have a relatively thin rectangle. From there, you should fold the left side into the centre, then the right side.
Taking your time and smoothing the sheet with your hand as you go is key to getting a nice crisp fold.
Can I use a flat sheet instead of a fitted sheet?
Flat sheets can be a great alternative to fitted sheets if you don't have any clean ones available. Flat sheets can be a bit more challenging to put on a bed neatly, but there are plenty of guides to help you get a nice, neat bed.
Flat sheets are a handy piece of bedding to have as they can be used as a bottom sheet or between you and the duvet cover. A flat sheet can also be useful for hot sleepers during the summer as it can be used as an alternative to a duvet or quilt to sleep under.
How often should I wash my fitted sheets?
You should wash your fitted sheets every 1 to 2 weeks.
Regularly cleaning your bedding is essential. This is because every night, dead skin, saliva, and sweat will find their way onto your bedding.
Final Thoughts
When it comes to bed linen, we have a huge choice right here at Belledorm, including Egyptian cotton with a 400 thread count, Pima, percale, cotton and much more.
Finding the best luxury bed sheets is easy when you shop with us, but there will always be various factors that can affect your decision.
Your bed and mattress size, the time of year and temperature, your preferred style and feel, and whether you want an eco-friendly option will all come into it.
We hope our guide has made it a bit easier for you to find the best quality bed sheets so you can enjoy a good night's sleep on your brand-new bedding.