Table of Contents
Your bed is typically the most used piece of furniture in your home. As well as spending around 8 hours a day (or night) in your bed, the importance of getting a good night's sleep can't be underestimated.
Your physical and mental health, recovery from injuries, productivity, and energy levels are all impacted by the kind of sleep you get.
Because of this, it is vital that you choose the right bed, mattress, pillows, and other bedding to ensure you get the most from your rest.
That being said, nobody wants the most important piece of furniture in a room to look ugly, so your personal preferences should also play a part in the bed sheets you choose.
This article will look at the difference between fitted and flat sheets to help you make an informed decision.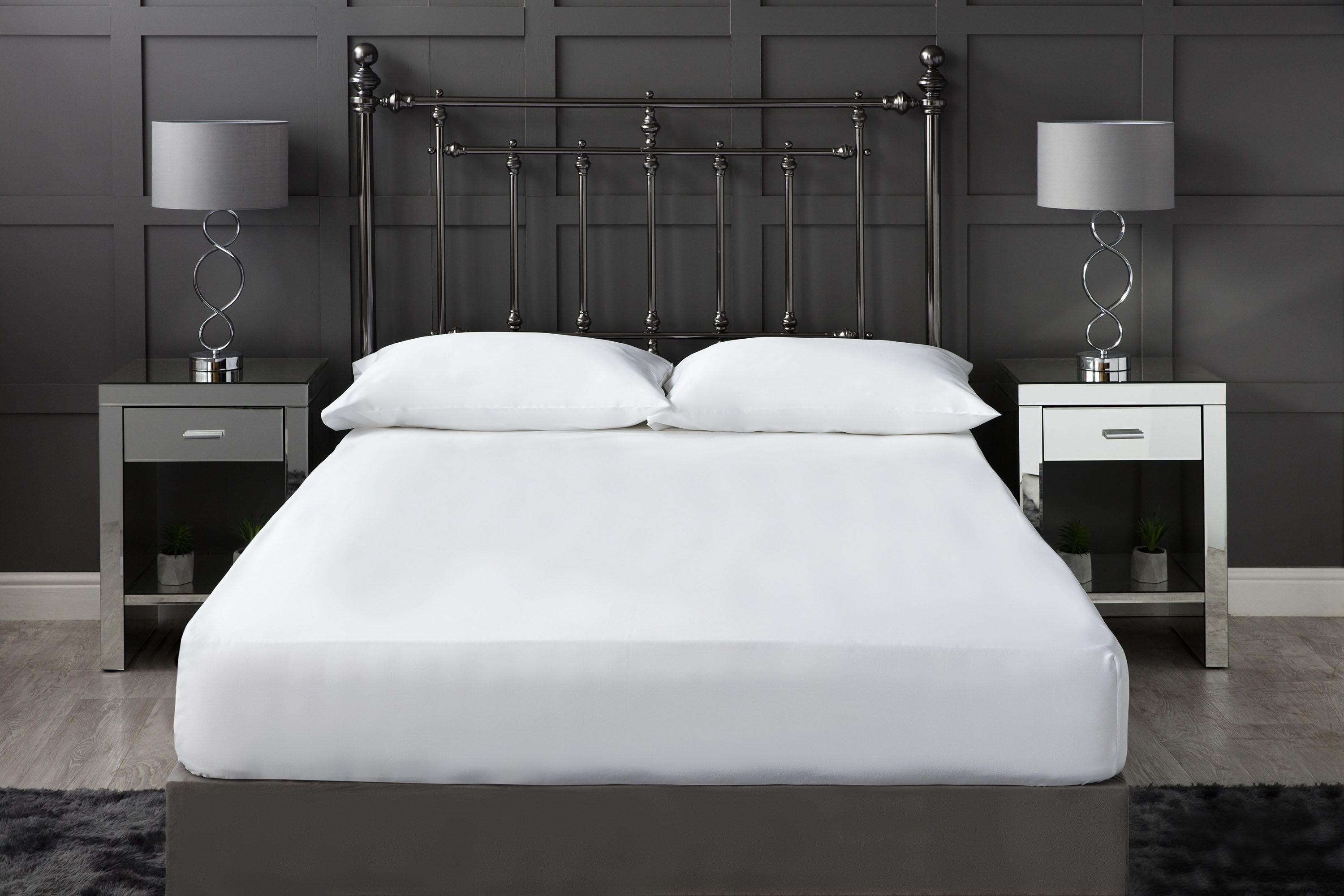 What is a Fitted Sheet?
Fitted sheets are used to cover the mattress or mattress protector, adding another level of protection and making it easier for you to keep your bed clean.
The fitted sheet should fit over the mattress and sides, and the elasticated edges of the sheet should then hold it in place.
Fitted sheets are available in a variety of sizes to suit all bed and mattress types.
Fitted sheet benefits
Here are some of the main reasons that people use fitted bed sheets.
Mattress protection
A good quality mattress can be expensive, so giving it as much protection as possible is advisable. You can buy additional mattress protectors and toppers to go under your fitted sheet as well.
A fitted sheet can help to protect a mattress from stains, spillages, rips, and tears. On average, you should expect a quality mattress to last around ten years. This is much more likely if it is protected by a fitted sheet.
Easily removed and cleaned
A fitted bedsheet can be taken off a mattress in seconds, allowing the user to change sheets and regularly clean them. Putting a fitted sheet on a mattress is a simple case of hooking the elasticated corners over the mattress's edges.
Comfortable
Fitted sheets can be smoothed down and fit tightly against a mattress to provide a comfortable sleeping surface.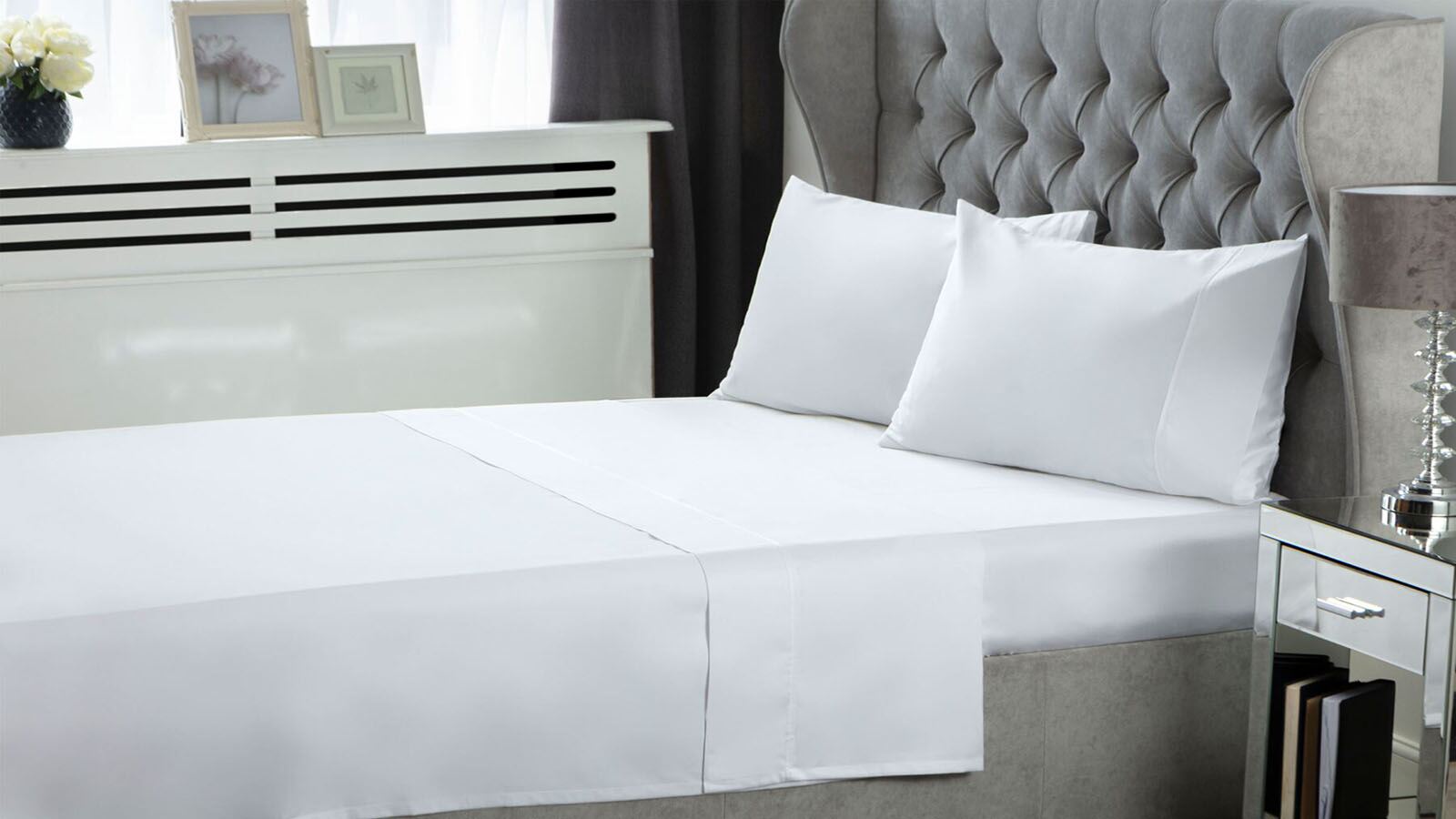 What is a Flat Sheet?
A flat bed sheet or top sheet, as it is also known, is a sheet that sits between a fitted sheet and duvet. It then acts as a layer between the person sleeping's body and the duvet.
Flat sheets are not as commonly used as fitted sheets, and you are more likely to find them in hotels. They are used to offer an extra level of protection to duvets and to make the bed look nicer.
Flat sheet benefits
Here are some of the main reasons people use flat bed sheets.
Protects the skin
A flat bed sheet can protect the skin from allergens and irritants like mites, parasites, and dust.
Protects the duvet cover
Duvets are typically protected by the sheets they are put in, but an extra level of protection from stains or spillages will help to prolong your duvet's life and improve cleanliness.
Flat sheets also keep the duvet cover clean; it's easier to wash and change your flat sheet than it is to change the duvet cover.
Helps with temperature control
Top sheets are also good for those trying to stay cool at night as they can be used without a duvet cover. This is particularly useful for people that sweat a lot during the night.
Can Flat Sheets be Used as Fitted Sheets?
Though this is not the purpose of flat sheets, they can be used instead of fitted sheets if you find yourself in need. To use a flat sheet to protect your mattress, follow these simple steps:
Ensure the flat sheet you are using is big enough to drape over the full mattress and can be tucked beneath it.

Centre the sheet on the bed with an even amount hanging over each edge of the mattress.

Lift the bottom of the mattress and tuck the flat sheet under the entire length of that end of the mattress.

Fold and crease the excess fabric at the sides to create a triangle. Tuck the edge beneath the mattress and ensure you fold the corners tightly. These are known as hospital corners.

Repeat this process at the top of your bed and ensure the sides are neatly tucked under.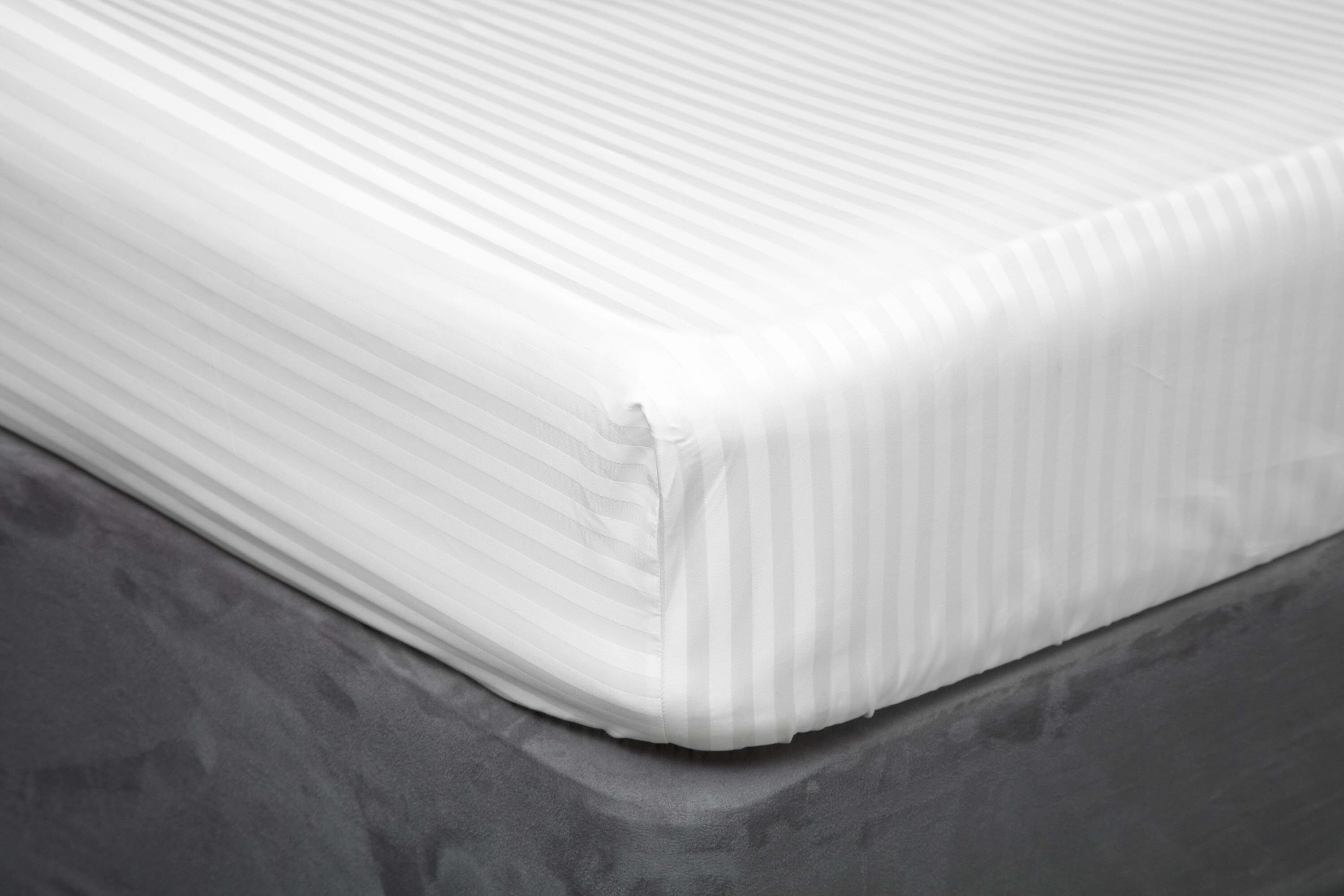 Which is Better: Flat Sheet Vs Fitted Sheet?
Because fitted and flat sheets serve different purposes, it isn't easy to compare them in this way. That being said, it is true that using a fitted bed sheet as a bottom sheet is much more common than using a flat sheet.
Bottom sheets are seen as more of a necessity than flat sheets, which are more a luxury or preference.
How Often Should Sheets be Changed and Washed?
On average, it is advised to clean bed linen at least once a week. This is dependent on how often they are used, though. During warm summer months, cleaning more often can be advised as it is more likely that you will sweat through the night.
How to Buy Flat Sheets and Fitted Sheets
When buying a fitted sheet, it is essential that you know the mattress size that they will be used on. A fitted sheet that is too large will bunch up and be uncomfortable, while one that is too small is likely to come loose.
Mattress sizes are standard in the UK, so knowing if you have a king-sized mattress will make it easier to find the perfect sized bed sheet.
Flat sheets are larger in size than fitted sheets because they still need to be tucked beneath the mattress, but they also need to allow your body to comfortably fit underneath.
Please take a look at the standard sheet dimensions to get a better idea of what you will need to buy.
What Dimensions are Fitted Sheets?
The following is a list of fitted sheet dimensions for different mattress sizes;
Twin Size Flat Sheet - 39" x 75"

Twin XL Size Flat Sheet - 39" x 80"

Full Size Flat Sheet - 54" x 75"

Queen Size Flat Sheet - 60" x 80"

King Size Flat Sheet - 76" x 80"
Deep fitted sheets are another option that will have the same dimensions as the bed sheets above but have a deeper drop. You might want to consider a deep fitted sheet if you use a mattress topper or have a thick mattress.
What Dimensions are Flat Sheets?
The following is a list of flat sheet dimensions for different mattress sizes;
Twin Size Flat Sheet - 66" x 96"

Twin XL Size Flat Sheet - 66" x 96"

Full Size Flat Sheet - 96" x 102"

Queen Size Flat Sheet - 96" x 102"

King Size Flat Sheet - 102" x 112"
Things to Consider When Buying Sheets
As well as choosing the right size sheet to fit your bed, there are a number of other things you will have to consider when choosing bed sheets.
Weave
The weave of a bed sheet describes the style in which it has been knitted or woven. This can make a difference to the overall texture and be a significant factor in how wrinkled the sheet can get. Sateen, combed cotton, and percale are the most popular weave styles.
Fabric
The fabric of your sheets will determine how comfortable or warm they are, and different fabrics for different seasons can be a great way to get the most from your bedding.
During the winter, jersey and flannel materials can make your bed nice and cosy. Those looking for a cooler option in the summer months should choose between bamboo, linen, silk, Tencel, or cotton.
Thread count
You might have heard about the thread count of bed linen without paying much attention to it, but a higher thread count typically indicates better quality.
The thread count of bed sheets is measured by the thread number found in every square inch. Different fabrics will have different average thread counts, but looking for a count of between 250 to 300 should guarantee comfortable and affordable sheets.
Price
The price you pay for a flat or fitted sheet can often determine the quality, but that is not to say that those on a budget won't be able to enjoy good quality bed linen.
While Egyptian cotton, linen, and silk are often more expensive, shopping during sales can be a great way to pick up luxury bed linen at budget prices.
Personal taste
While all the previously mentioned factors are important, you shouldn't sacrifice your personal tastes just to tick boxes. It is essential that you like your bed sheets because you will be living with them.
You will also be the best judge of what materials you feel most comfortable sleeping on, regardless of what experts might say on the matter.
FAQs
How do you fold a fitted sheet?
Because of their elastic corners, folding a fitted sheet can often feel like you are fighting an uphill battle.
The best way to fold a fitted sheet is by ensuring the edges are straight and putting your right hand into one of the corners before folding the side of the sheet down and creating a rectangle.
You will now be able to lay the sheet down, ensuring the elasticated corners are facing upwards. You can then fold the sheet lengthwise into thirds before folding it into a square.
Are flat sheets for sleeping under?
Flat sheets are typically used for sleeping under as an extra layer, and they can be used as a barrier between the body and a duvet cover or used without a duvet on hot nights. They are seen as a great way to protect the duvet from stains and sweat and protect people with sensitive skin from allergens such as dust, mites, and parasites.
A top sheet can also be used in the same way a fitted sheet is. Though the sheets don't benefit from the snug fit achieved by the elastic band in the four corners of the fitted sheet, they can be tucked underneath to provide a smooth sleeping surface.
Why does my fitted sheet come off?
Unlike flat sheets, the elastic corners in fitted bed sheets are used to grip the four corners of the mattress and provide a smooth, soft surface to sleep on. If you find that the corners keep slipping off, it could be that the sheet you have is too small.
A deep mattress or using a mattress topper can cause a regular fitted bed sheet to ping off at the corner as you move during the night, and this will cause the sheet to lose its snug fit and result in its bunching.
Do I need both flat and fitted sheets?
Using fitted bed sheets as well as flat bed sheets would be entirely up to you. Fitted sheets are more essential as they protect the mattress, but using a top sheet is much more down to personal preference.
Final Thoughts
Essentially, a fitted sheet is commonly used as a bottom sheet whilst a flat sheet is best as a top sheet. The two serve different purposes, but a flat sheet can be used in the same way as a fitted sheet if this is your preference.