Table of Contents
While there's nothing better than fresh sheets, there's nothing more disappointing than a newly-made bed that's completely wrinkled.
Not keen on spending hours over the ironing board? Luckily, we've compiled some tips and tricks to help you maintain crisp bedding with minimum effort and maximum results…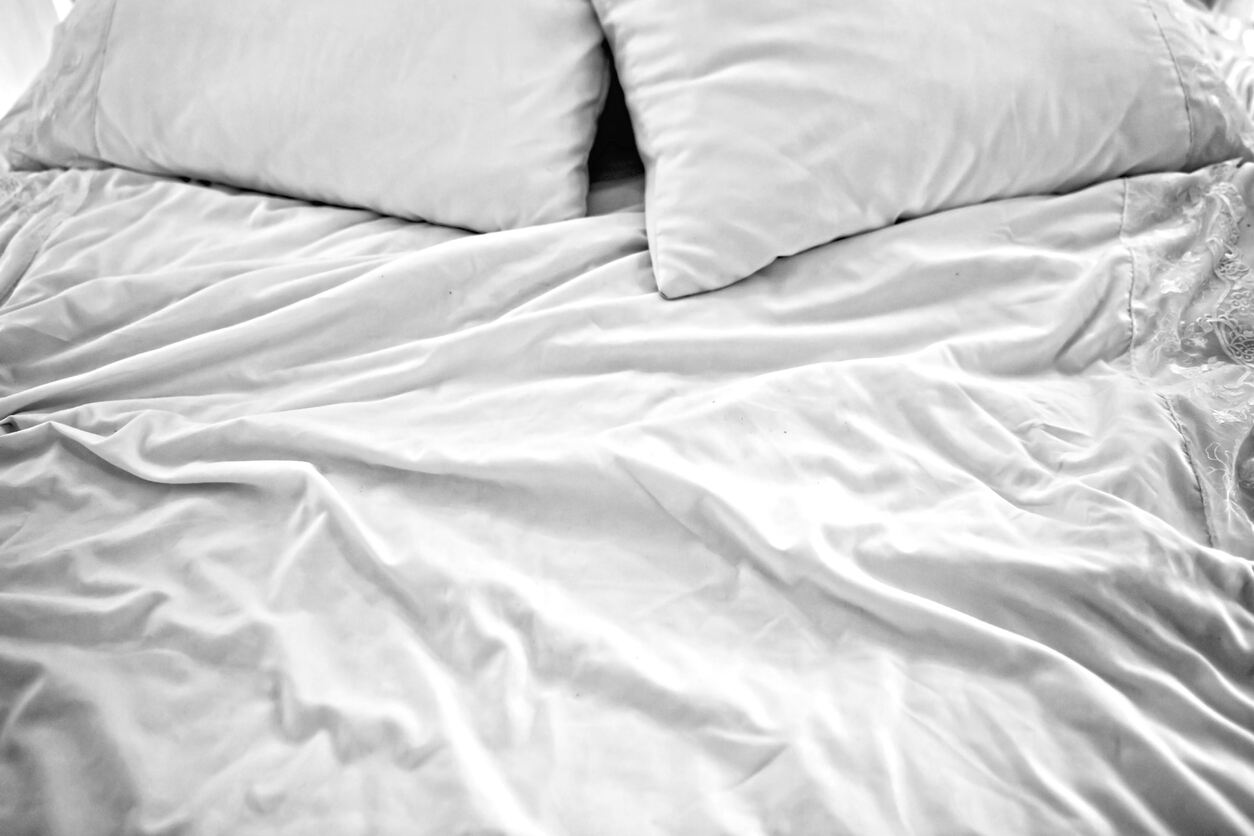 Prevention is the best cure
Why waste time removing wrinkles when you can learn how to prevent bed linen from creasing in the first place? From the moment you throw your bedding into the washing machine, how you do things matters. Scrunching it up into a ball – as most people do – will only encourage it to become crumpled.
Instead, shake your bed linen out and naturally feed it into the machine. Make sure you're not forcing it with too much other stuff, as this will only squash it and form creases anyway. Of course, it's not ergonomical to wash too little at a time, but washing your whole bed set alone is advised for optimum wrinkle prevention performance.
Even the type of bedding you invest in makes all the difference. Our Percale Fitted Sheet, for example, has a crease-resistant finish to reduce the effect of wrinkling and keep your linen looking smooth.
Think before you dry
We've all forgotten to take our washing out when it's first done, but this will only prolong the problem. Deep wrinkles will already have formed and you'll need to spend longer tackling them. Bed linen is best removed from the washing machine when it's damp, leaving it un-creased before drying.
If you have time, air drying is always the best bet for wrinkle-free bed linen. Hanging sheets on the line pulls them taught, while allowing them to naturally flow at the same time – the perfect combination for sheets to look and feel silky smooth.
Alternatively, if you do need to tumble dry, make sure you do so on a low heat. Throw in a few dryer balls too, as the movement in the machine will prevent everything from tangling together and forming creases. If you don't have dryer balls, not to worry, there's plenty of DIY options out there.
Steam the simple way
Invent your own steamer with one simple step. Pop a couple of ice cubes in the dryer drum with your bedding and put on a high heat for 15 minutes. The heat and steam will work together to de-crease your sheets without you having to lift a finger. And if you're short of ice cubes, a damp cloth or sock (clean, of course) should do the trick.
Bed linen is also best removed from the dryer while still a little damp. If you want it to look as perfect as possible, now's the time for the iron, though it's unlikely you'll even need it…
Bring out the hairdryer
Ever used this trick on your clothes? If you haven't, it might a little odd, but it's highly effective. Ensure the corners of your bedding are taught and hair dry away. Try to move fairly fast, while going in different directions to truly tackle those creases.
This really is an effective way to get heat on your sheets and remove wrinkles in a much faster time than your nemesis the iron would. That said, be careful not to hold it too close to your bed linen, as too much heat could cause damage, such as burn spots.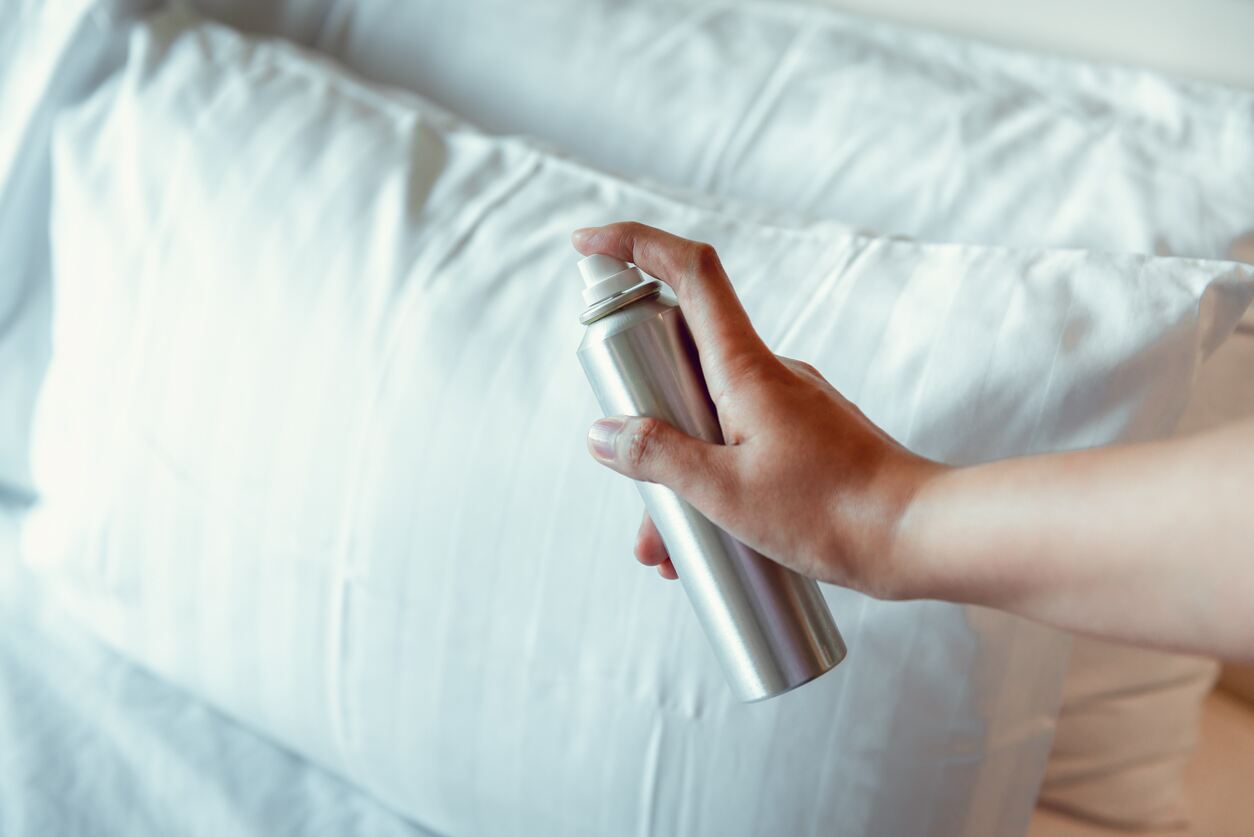 The magic of a spritz
Last but not least, this de-wrinkling hack really trumps them all. Believe it or not, all you actually need to get the wrinkles out of your washed and dried bedding is… water.
You can buy proper wrinkle sprays, but there's no need when you can make your own. Just fill up an old empty cleaning bottle from the tap. You can add some fabric softener for extra freshness and rubbing alcohol to speed up the evaporation, though it's not needed.
First off, with the fitted sheet on the bed, give it quick spritz. If you have a flat sheet, do the same thing but pull at each corner while doing it, to create the tension needed. For pillows, stuff them, hold one corner, give it a quick spray and shake. Spray the duvet cover the same way, making sure this is also pulled at an angle. Our Rosie Duvet Cover Set even has hand holes in its corners to make this far easier. Watch as the wrinkles melt away.
Now you're a pro on how to keep bed linen from wrinkling, why not have a browse of our bed sheets and duvet covers, waiting to be enjoyed crease-free.