A dinner party is a chance to show off your home, hosting skills, and culinary technique — but there's a lot of planning to do. Alexandra Davies, from premium kitchen appliance retailer Britannia, shares some tips that will help you to throw an extravagant high-end dinner party which will really stun your guests.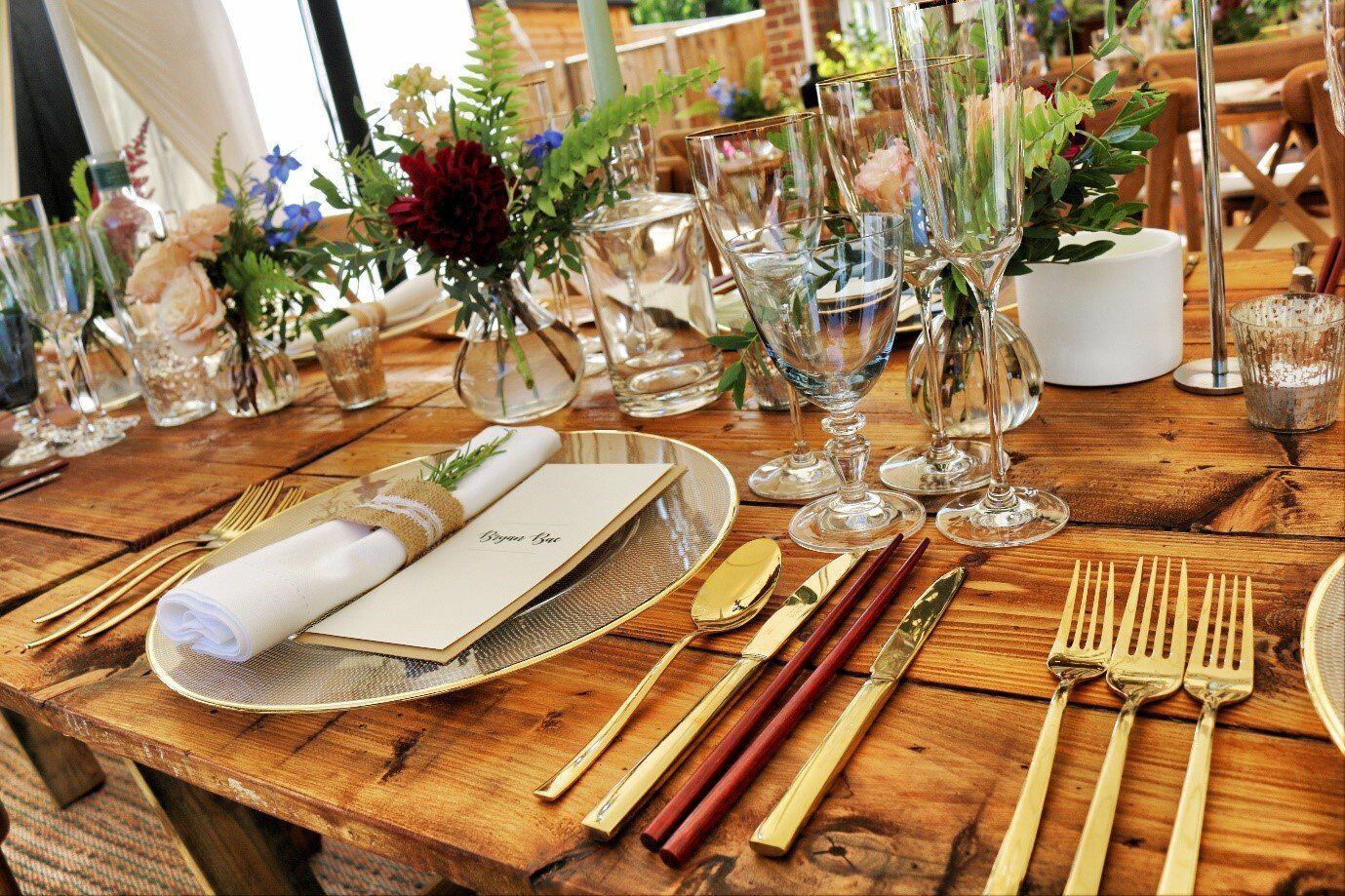 When it comes to hosting a successful dinner party, there are three key ingredients you'll need to have the perfect evening: beautiful table décor, great conversation, and above all, excellent food and drink.
Send formal invitations and ask for RSVPs
OK, so it might seem a little old fashioned. But sending your guests a formal paper invite will give your party an extravagant, formal feel, and it's also an opportunity for you to ask for any dietary requirements or allergies ahead of time. Besides, having an accurate idea of who's attending and what their dietary requirements are will be essential when it comes to planning a menu, meaning you definitely won't want to skip this step. So, set a date, put together a guest list, and get some classy personalised invitations printed, including contact details or an RSVP slip.
Plan a menu using seasonal produce
Once you've got an idea of how many guests are coming, and whether they have any dietary requirements, you can start planning a three-course menu. One way to really impress is to include a few seasonal ingredients in your dishes: this will demonstrate that you really know what you're doing, and that you've taken care to source the best ingredients.
With spring fast approaching, it's a good idea to keep the keep the menu light, fresh, and seasonal: think a risotto with asparagus, or roast lamb with salsa verde. A simple salad of spring greens with a mint dressing makes a delightful starter at this time of year, as does pea and mint soup — serve with some parmesan croutons and a sprig of mint for presentation.
If you're ever in doubt about how much food to buy, always get a little more than you think you need. You'll likely find that guests are only to happy too takeaway an extra portion of dessert, and anything that isn't eaten can be enjoyed as a hearty meal the next day.
Serve an aperitif and canapes
Your guests will most likely already be hungry when they arrive, so show you're a good host by offering your guests an aperitif and some nibbles after you've welcomed them into your home. An alcoholic aperitif will always helps to break the ice a little, while an expertly made canapé will be a good opportunity to show your guests what they can expect from your menu.
In terms of menu-planning, it'll streamline the process if you put together some chilled canapes ahead of time. Smoked salmon mousse on blinis and mini quiches or tarts always a hit: serve on a slate for presentation, and pair with a simple champagne cocktail. You might also want to set up a bar area, so guests can refresh their drinks while you cook.
Create a seating plan
If you're only planning a small intimate gathering, and your guests know each other reasonably well, I don't think you need to worry too much about creating a seating plan: everyone will be quite happy to pick their own seats. But, if you'll be hosting more than six guests, you'll definitely want to put together a seating plan and leave a handwritten name card at every place sitting.
When designing a seating plan, try to balance the table by mixing old friends with those who have only just met, as this will help to ensure everyone is included in the conversation. You could always leave a few parlour games on the table, to act as an ice breaker and give guests something to do while you're in the kitchen. And don't forget to seat yourself in a position where you can easily nip in and out as needed to refresh the drinks and serve the food.
Decorate the table
A beautifully set table with a few decorative touches will be a real conversation starter, so take the opportunity to fill your table with candles, your finest tableware, and a chic floral arrangement. If possible, try to link your décor to the sort of food you're serving: for instance, you could scatter some edible flowers on your dishes to match your floral arrangement. These little touches seem small, but they can really make a grand impression when it all comes together.
For a truly luxurious gathering, table linens and napkins are a must. While white table linen is usually a classic choice (calling to mind high-end restaurants and luxurious hotels), don't be afraid to go for something a little more contemporary: a black table runner and napkins can also look incredibly sophisticated.
A dinner party is your chance to show off your best culinary skills, and to mingle with old friends while getting to know some new ones a little better.