Table of Contents
Making your bed look more luxurious can help to turn your bedroom from a place you sleep into a place you want to spend time.
Your bed will typically be one of the largest pieces of furniture in your entire home. Because of this, it is a major focal point for your bedroom.
Taking the time to make it visually appealing will significantly affect how you view your bedroom. If you are expecting guests or own an Airbnb property, the appearance of the bed will also play a big part in your guests' stay.
This article will explore some of the best ways to make your bed look more luxurious and help you to create a more appealing private space.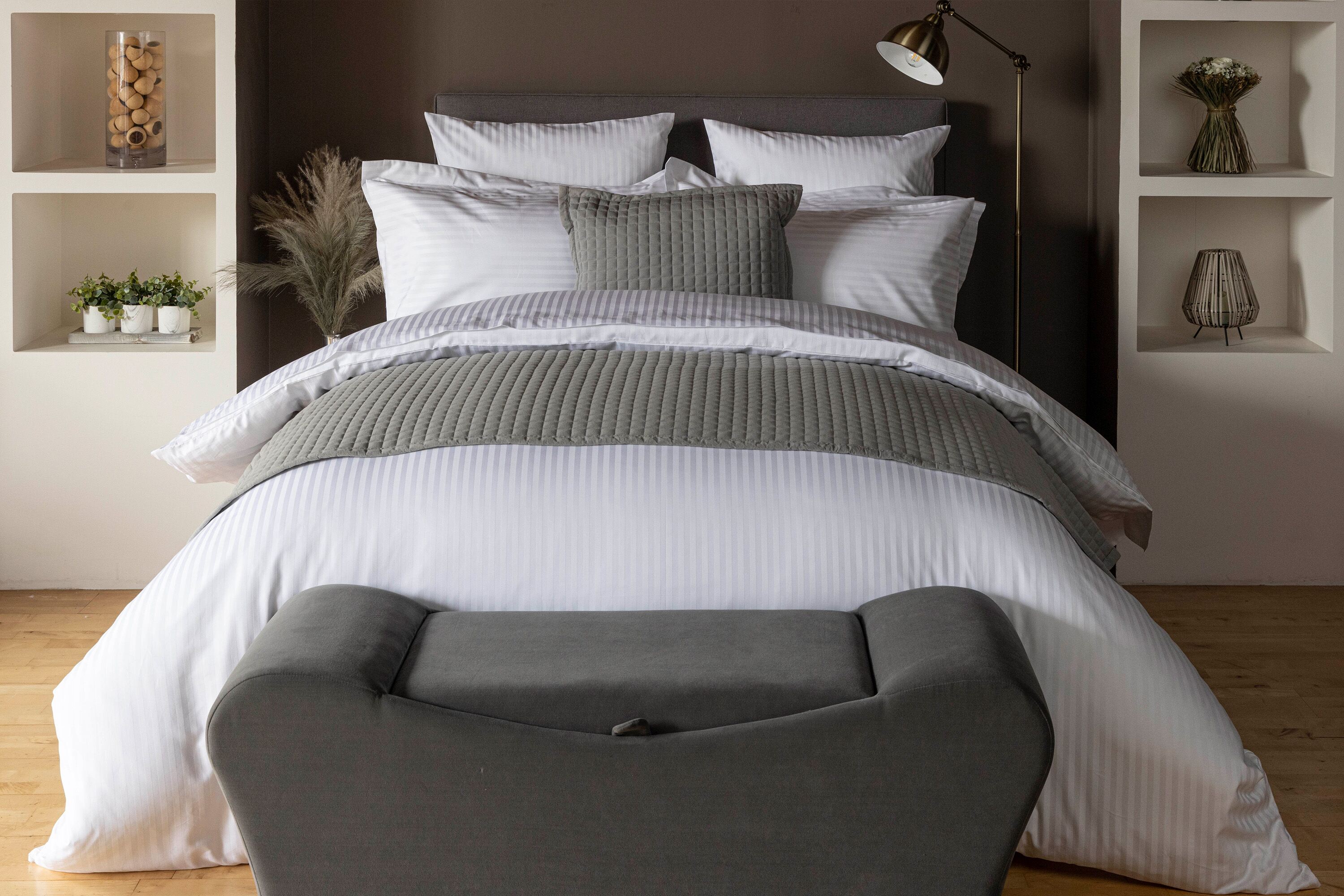 Top Tips to Make a Bed More Luxurious
Personal preferences, tastes, and decor will all make a difference in how you want your bedroom to look. The following tips will show how some small changes can help create a luxurious bed and improve the overall appearance.
Bedding
The first thing we are going to look at is how different bedding can make a huge difference to the appearance of your bed.
Whether you are going for a contemporary minimalist look with fresh white bedding or want something more traditional with patterns, colours, and textures, there are lots of options to explore.
You will have an excellent choice of materials that can help to keep you cool during the summer or warm in the winter.
Buying high-quality sheets will undoubtedly improve the feel and appearance of your bed, but there are also excellent, cost-effective options on the market as well.
Investing in a new fitted sheet, pillows, and duvets can make a huge difference to the appearance of your bed. Your pillows will look more plump and appealing, the duvet should look thick and full, and your sheets will be fresh and suit your colour scheme.
Colour Scheme
Your colour scheme will be important when going for a luxury aesthetic. If you take the style of a high-end hotel as a template, go for neutral tones or all-white options.
Your colour scheme should always complement the rest of your room. If you have bright, bold, or busy walls, subtle colours can complement the room and make the be more appealing.
If you do opt for an all-white option, it can help to create a high-end hotel vibe. A throw blanket can sometimes be added for a splash of colour that doesn't compromise the overall look.
Textures
Bedding materials are made for comfort and efficiency. Materials like cotton, Egyptian cotton, bamboo, Pima cotton, cotton sateen, and silk all have different feels, appearances, and benefits.
Investing in luxury bedding should take into account the quality, benefits, and appearance. Different colours, finishes, and patterns will all change how your bed looks, but there are ways to complement these further.
Adding throws or a flat sheet will help to break up the block colour schemes and allow you to work with different textures to create a great effect.
Layers
Using different layers on your bed is another great way to work with patterns, colour schemes, and textures.
Using thicker, cosier throws during colder months can also make the bed appear warmer and more appealing.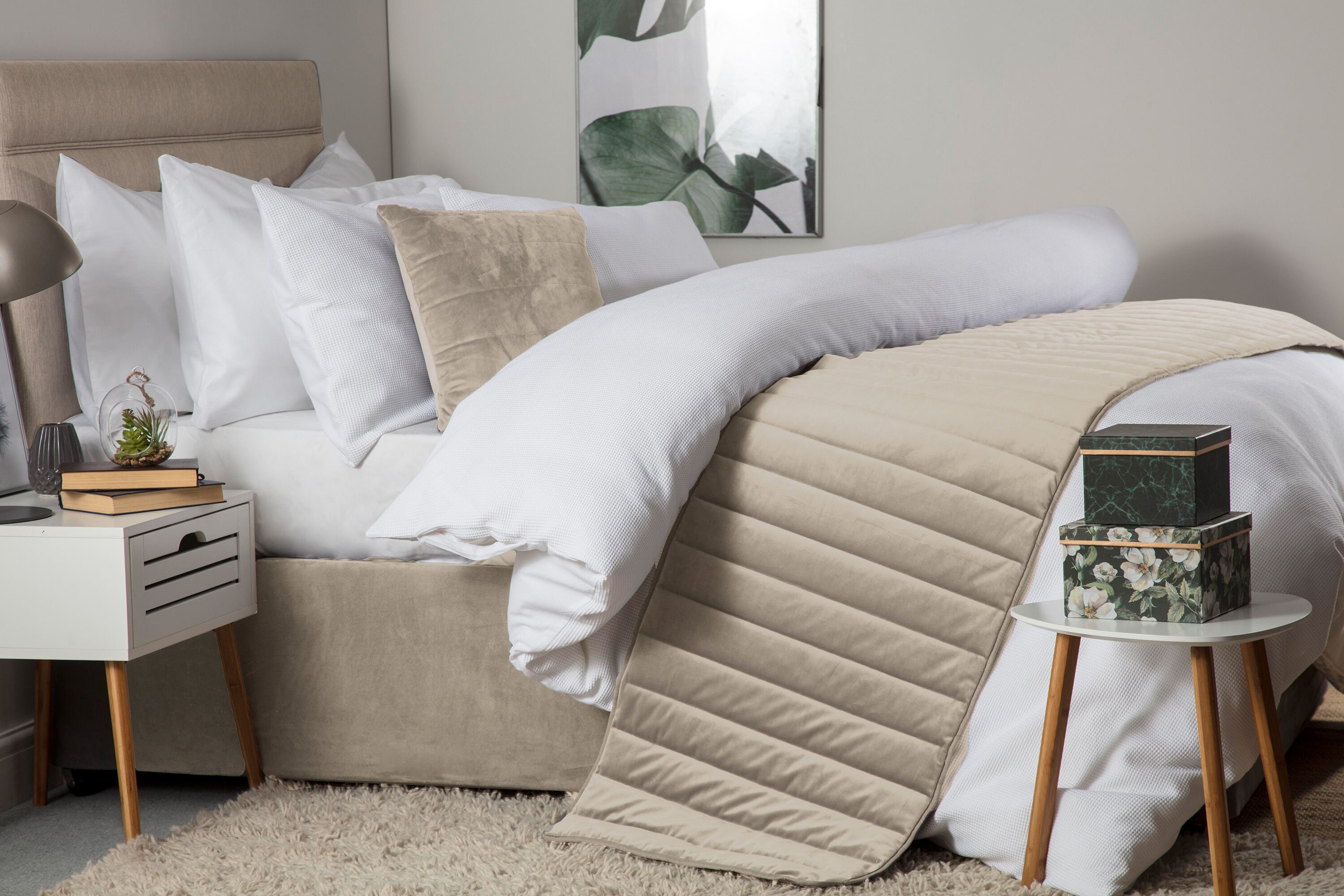 Headboard
Another great way to create a luxurious feel for your bed is by buying a statement headboard. A custom headboard to suit your preferred style can help your bed become a focal point.
Padded headboards have an opulent appearance that immediately makes the bed look more comfortable. Using a padded headboard in a colour that complements your room's theme will make it stand out.
If you want a change in your current headboard colour, you will be able to replace or update them by using different materials or fabrics. This can be a relatively affordable way to transform your bed's appearance.
Cover the Bed Frame
When making an effort to update bedding and create an aesthetic in your room, your bed frame can often stand out. If the colours don't suit the new colour scheme, or the bed base looks tired and out of date, there are ways to deal with it.
Your first thought might be to replace the bed, but that can be expensive. If the bed is still in good working order and it is just the appearance that is the problem, looking at options to cover it can be a cost-effective solution.
Using a bed base cover, bed skirt, or valance can be an excellent way to hide the old base without spending too much money.
A bed skirt or valance tends to be better suited to more traditional bedrooms, while a bed base cover, also known as a box spring cover, can be a great option for contemporary rooms.
Belledorm bed base wraps are available in faux suede, crushed velvet, jersey cotton, and a number of colours to suit any bedroom. They are easily fitted over the outside of the bed without the need to remove the mattress and are easily cleaned.
Add Pillows
Adding throw pillows to a bed can instantly improve the appearance, tie in with your room's colour scheme, and add different textures to the bed.
Throw pillows differ from your sleeping pillows, allowing you to invest in high-quality pillows that suit your sleeping style while using decorative pillows to make the bed more enticing.
Using a throw pillow and decorative blankets will help you to change the style of your bed, but it means you can enjoy neutral tones for your bedding.
Style Your Bed Like a Hotel
There is something appealing about going into a hotel room and seeing a perfectly made bed that suits the style of your room. Even budget hotels ensure their bedding looks fresh and beds are well made.
Employing a similar tactic in your home can help you achieve a similar finish. Using all the tips provided above and making your bed well with a folded-down flat sheet and a throw blanket along the bottom can make a big difference.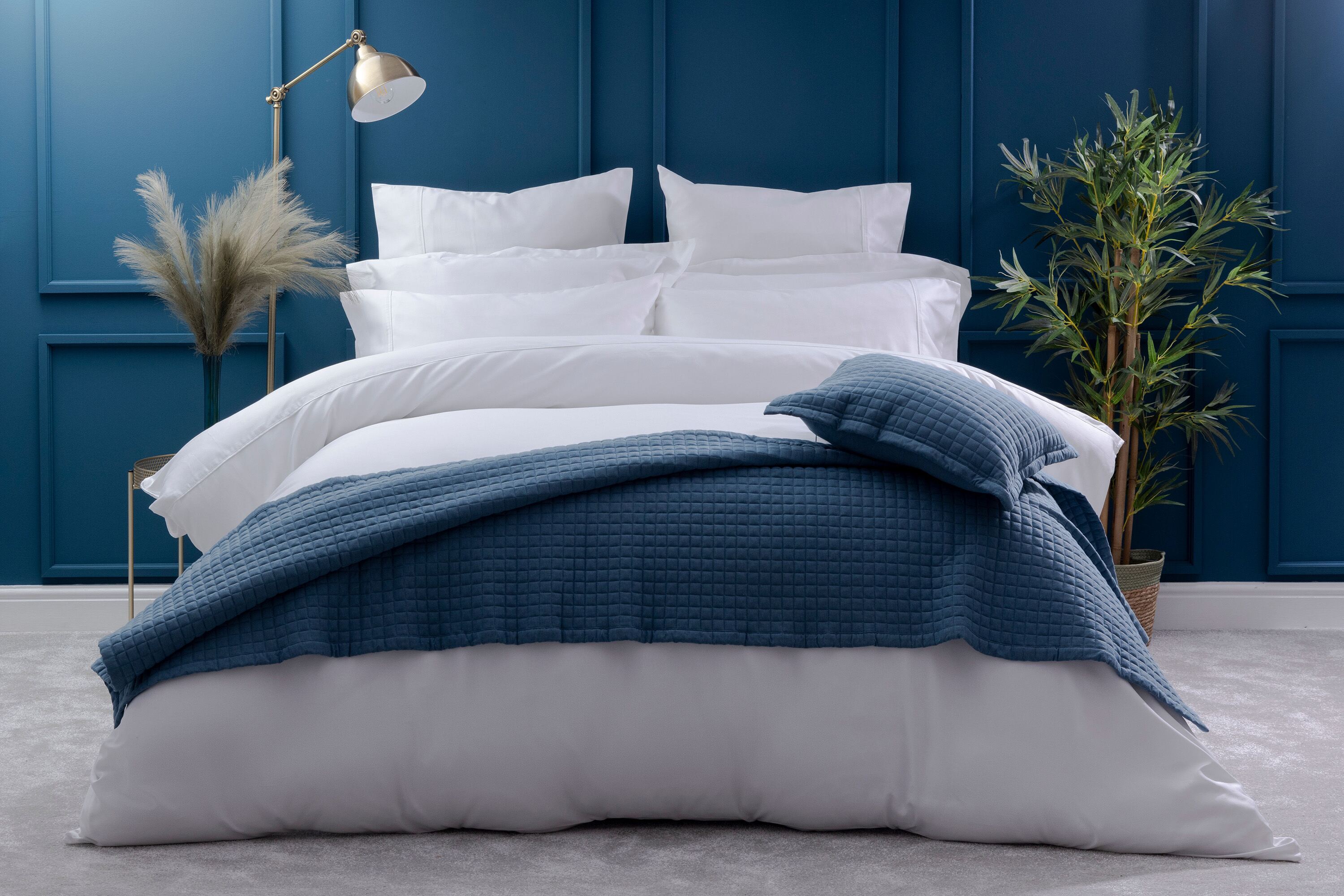 Belledorm Bedding
Whether you have a Superking, King size, single, double, or Queen size bed, Belledorm has the bedding to help you create a comfortable and luxurious bed for you.
Browse an extensive range of bed sheets, duvet covers and sets, duvets, pillows, pillow cases, mattress toppers and protectors, and much more.
We have an extensive range of styles and colours for you to choose from, and you can even enjoy free, next-day delivery for orders over £40 in most areas of the UK.
Visit Belledorm today to transform your bed and make your bedroom the luxurious space you always wanted it to be.
FAQs
How do I make my mattress more comfortable?
Mattress toppers can be an excellent way to ensure you enjoy a comfortable night's sleep. While this won't make a difference to the appearance of your bed, you will feel more comfortable when you go to bed.
Another benefit is that mattress toppers can help to protect a mattress and prolong its life, helping you to save money in the long run.
What else should I consider when decorating a bedroom?
Your bedroom furniture style will help to dictate whether you choose a contemporary or classic look.
Because your bed is such a large focal point, you will want to concentrate on which colour scheme will best complement the rest of your room.
Your wallpaper or paint colour will make a big difference to the overall colour scheme of the room, as will your curtain choice.
Curtains are often overlooked when styling your bed. However, they can be used to tie in a colour scheme without being too overbearing when tied back.
You will be able to choose from block colouring which suits your style, or you can inject a bit of colour by selecting patterned curtains that add a splash of bright colour.
What tog duvet should I get for different times of the year?
Generally speaking, you should get a lower tog for warm summer months and a higher tog for the winter.
We would recommend around a 4.5 tog duvet for the summer, a 10.5 tog duvet for the autumn, and a 13.5 tog for the winter.
This may differ depending on your personal preferences and circumstances. If you use an additional blanket and wear heavy pyjamas during the winter, you might not want as heavy a duvet.
Your location and local climate will also play a big part in how hot or cold it gets during different seasons.
Final Thoughts
Creating luxury beds doesn't have to cost you a fortune. Simply choose the perfect duvet cover, a luxury throw, or elegant cushions to help create a luxurious look that suits your personal preference.
Creating a space that helps you to relax can improve your sleep which will benefit your overall well-being and mental health.
Explore a range of new sheets with the perfect thread count to create a soft and luxurious bed at Belledorm, and make sure you put as much effort into creating a dream bedroom as you do with other rooms.