Table of Contents
Ensuring you get a good, comfortable night's sleep is much more than just waking up a bit grumpy. Not getting good rest can significantly affect your mental health and general well-being.
Investing in a good bed, high-quality mattress, and comfortable bedding can make a big difference in how you sleep. Unfortunately, even with high-quality bedding, problems can arise.
Bedsheets popping off the corners of your mattress is a common but annoying problem that many people have to deal with regularly.
Thankfully, we are here to help you with the best tips for stopping your bed sheets from coming off.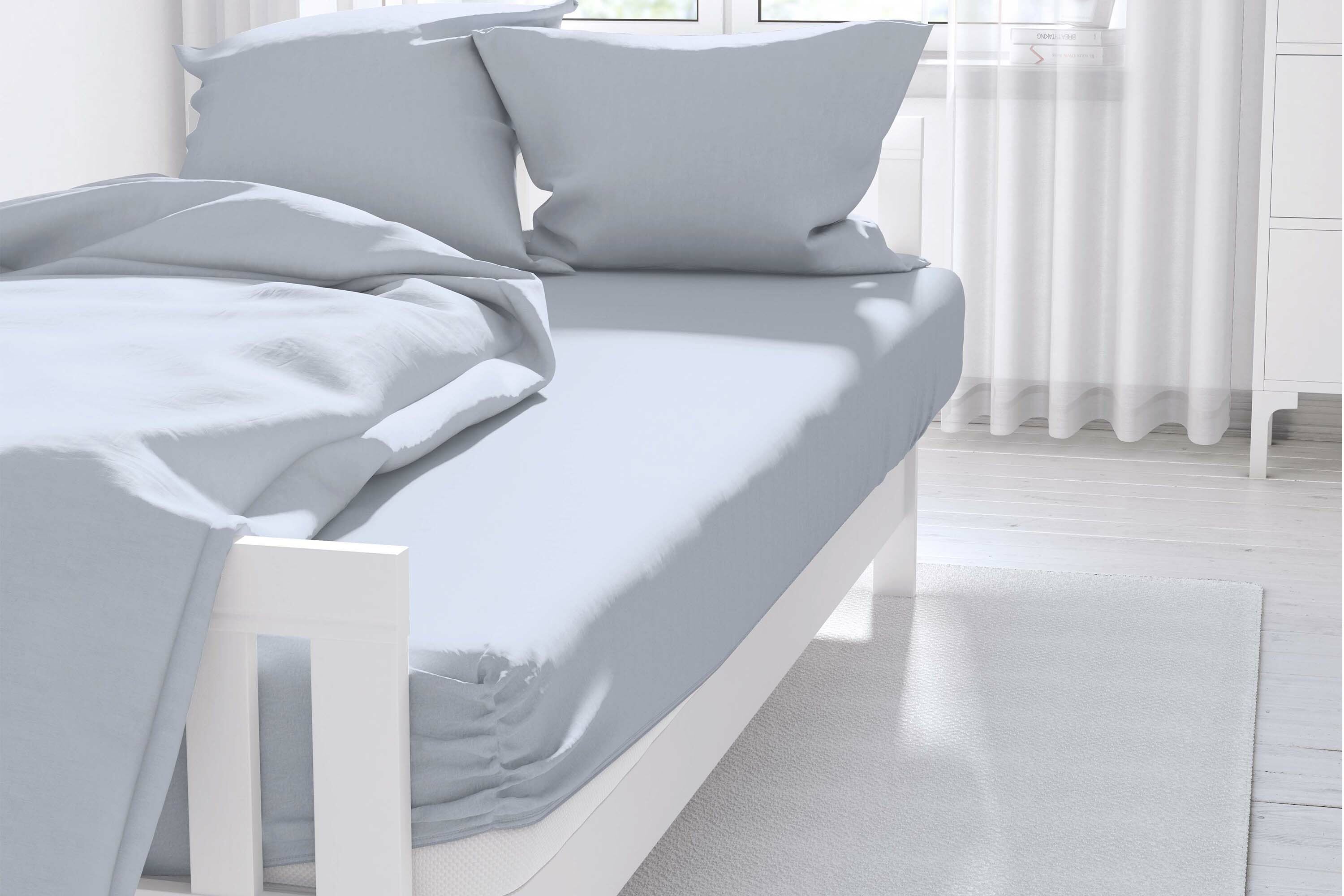 Things to Consider When Buying Bed Sheets
Before we tell you how to keep your bed sheets from coming off, it is essential that you have the right bed sheets in the first place.
We will all have different preferences, whether that is for a fitted sheet, flat sheet, silk sheets, or others. Whatever you find the most comfortable will be right for you.
The most important thing you will need to consider is the size. Getting the correct size bed sheets will make a massive difference in whether they will come off at night. If you try to put full-size bed sheets onto a queen-size bed, your sheets will most likely come off.
Always ensure your sheet size is suitable for your mattress size. You will have to consider the depth of the mattress as well as the size. If you use a mattress topper or cover, this will also have to be factored in as the additional depth it adds to the mattress can mean fitted sheets, in particular, ping off the corners more easily.

Here at belledorm all of our fitted sheets are generously elasticated for a solid hold and fit on your mattress. So long as your purchase the correct size of width and length then the depth doesn't have to be exact, as any extra fabric tucks underneath the mattress, hence why we recommend taking a slighlty larger depth fitted sheet than what your mattress measures.
How to Stop Your Bed Sheets from Coming Off
If you have the right size bed sheets but they still come off, taking a look at the following tips should be able to resolve your problem.
Use under-sheets beneath fitted sheets
If you move around a lot in your sleep, softer sheets without a lot of friction can easily slide out of place and come off at the corners.
One way to stop this is by putting a textured sheet between the mattress and fitted sheet to create a bit of friction and help keep the sheets in place.
This technique is better during the winter as it is typically warmer sheets made out of fleece or flannel that are effective. This can result in overheating, so high-quality Egyptian cotton might be a good solution.
Work from the top down when making your bed
The way you make your bed can also have a significant bearing on how it holds up to your nighttime activities. It might seem obvious, but a well-made bed can make a big difference.
The top of the bed is typically the more difficult side to put a sheet on, so starting there when the sheet is slack and you aren't fighting against it, is recommended.
You should then have space to pull the sheet down and fit it over the bottom corners, smoothing it out as you go.
Try using sheet suspenders
Sheet suspenders work by holding the sheet in place under every four corners. They will typically be relatively small and come with three-bed sheet clips.
As well as being able to help sheets stay firmly on the corner, they also help to keep the sheets smooth.
How to use sheet suspenders
The three-bed sheet clips attached to the suspenders are connected by T-shaped elastic straps. Clip the central clip to the very corner of the sheet before stretching the other two clips to the sides.
There should be adjusters to tighten the elastic and pull the sheet tightly and firmly over the corner.
Once all four corners have been applied, the sheet will be held firmly in place, and the mattress can then be put back in place.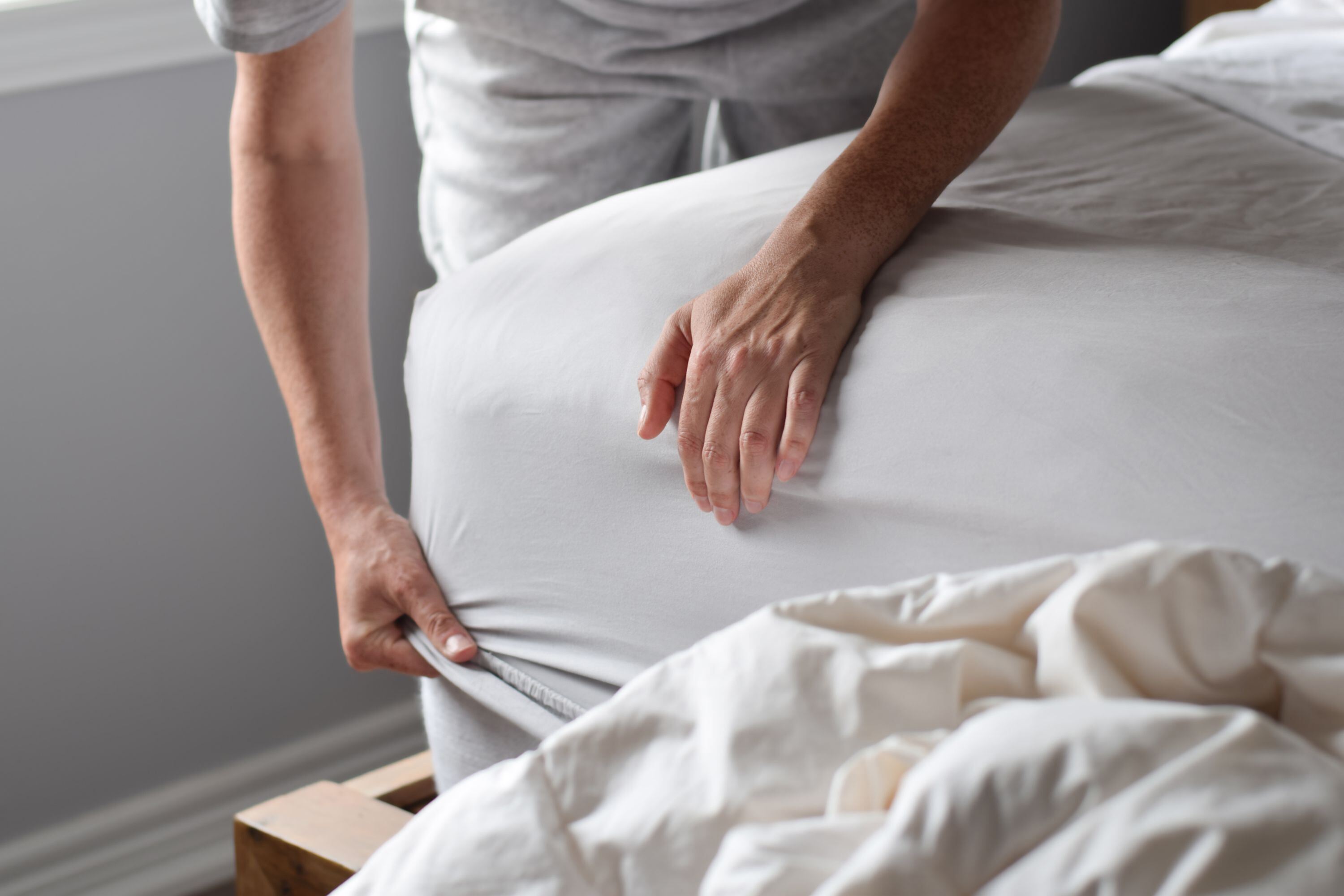 Try using rug corners
As you might have surmised from the name, rug corners are more typically used to keep rugs in place and to stop them from sliding out of position when stepped on.
They can be used on the four corners of your mattress beneath your bed sheet and when the sheet is pulled tight, they will help to hold the sheet in place.
Try using safety pins
Pinning sheets in place is an option that isn't used that often because you will have to put a pin through the sheet. This can also cause issues if you tend to move around a lot, as the pinhole can get larger when pulled and cause rips in your bedding.
Try using stretchy bands
Stretch straps are similar to bed suspenders in their design but are much larger. You might find designs in an X-shape or cross shape.
They can be adjustable or designed for certain-sized beds, so you must check before buying. Some other stretchy bands are available that are basically giant rubber bands that can be fit around the outside of the mattress to hold the sheet in place.
How to use stretch straps
Put your fitted sheet on your mattress as normal and flip your mattress. Using the clips, clip the corners before stretching the elastic bands and connecting them to the opposite corner. If you are using cross-shaped bands, you will attach them to the centre edges of the sheets.
When all the clips are attached, you will be able to tighten the elastic. This will help to smooth the sheets and will hold your sheet firmly in place. Your sheet will not be able to move or be pulled free as the opposite corner or side will counter the pull.
Try using sock tape
Sock tape is more commonly used to keep sports socks in place but can be an excellent way of keeping your sheets in place. Much like sports socks that can be moved, pulled and stretched out of place, bed sheets can find themselves being displaced by people that move in their sleep.
How to use sock tape
To keep corners in place, you will be able to tape from the top, looping it down under the mattress and back up the other side to finish where you started.
You will need to make sure you hold the sheets firmly as you lift the mattress to tape it in place. This can also be used to keep mattress toppers, covers, and even your duvet in place overnight.
Zippered sheets
Zipping sheets are an excellent option that is easy to use. A zippered sheet set will be made up of a base that goes beneath your mattress and a top sheet that can be zipped into place and switched easily.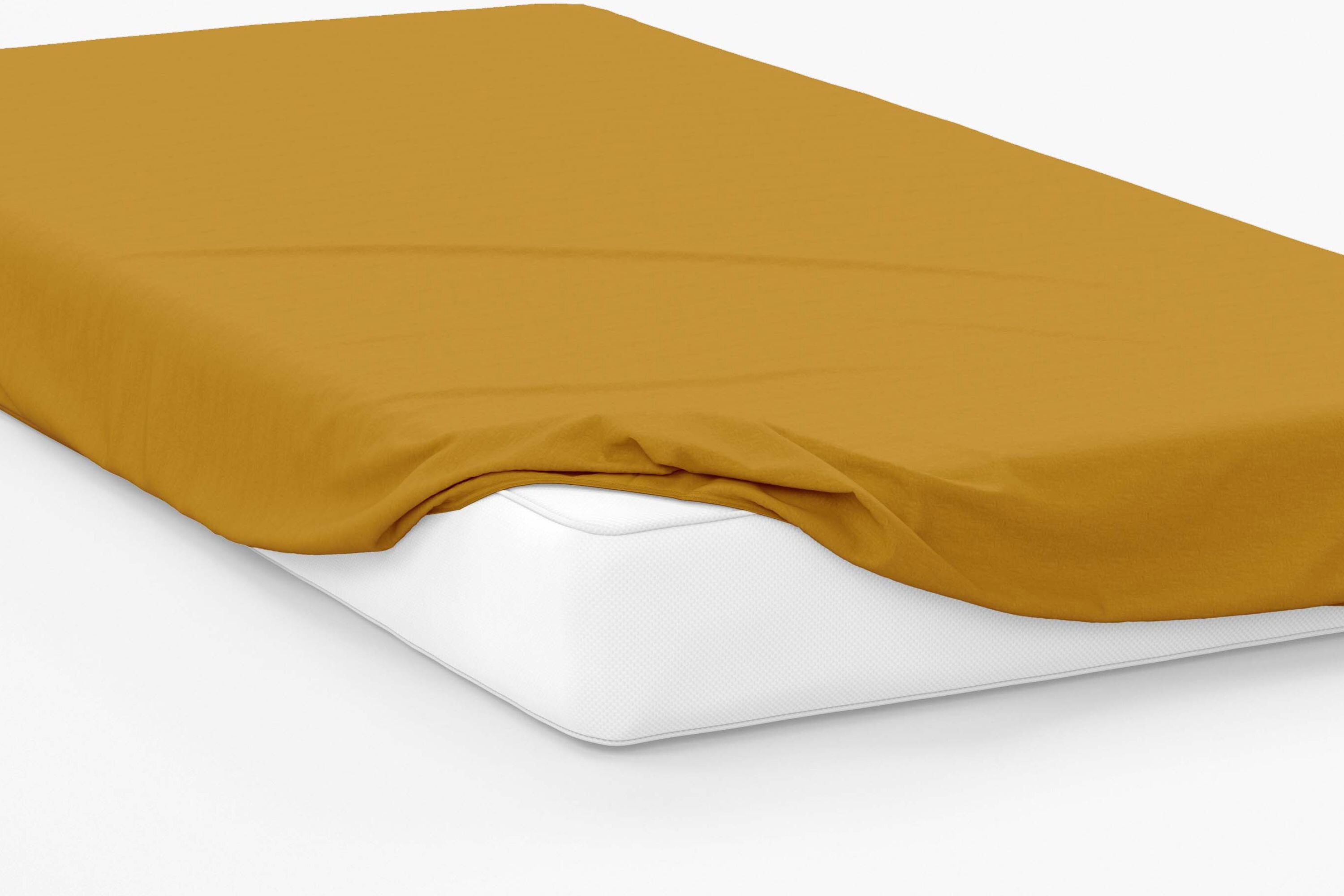 FAQS
Is it easy to make your own stretch straps or suspenders?
DIY sheet suspenders are an option should you wish to make your own. To do this, you will need safety pins and some thick elastic.
From the corner of your bed, measure 15 centimetres down on either side and clip your safety pins on the fitted sheet. Measure the line between the two pins and cut a piece of your elastic so it is slightly shorter.
You will need to cut the elastic shorter so the elastic stretches and holds the sheet firmly.
You can then attach your length of elastic to both safety pins, being careful not to let go as you stretch it across between the two.
What size are mattresses?
Standard UK mattress sizes help make it easy to find bedding to fit. Sometimes things like mattress depth or the use of a mattress topper can be overlooked, resulting in ill-fitting sheets that are a struggle to keep on.
Ensuring you know your mattress size and type (for example a box spring or foam mattress) will give you the best chance of finding sheets that won't come off at night.
Standard UK Mattress Sizes
Cot bed mattress - 60 cm by 120 cm

Toddler bed mattress 70 cm by 140 cm

Small single bed mattress 75 cm by 190 cm

Single bed mattress - 90 cm by 190 cm

Small double bed mattress - 120 cm by 190 cm

Double bed mattresses - 135 cm by 190 cm

King size bed mattress - 150 cm by 200 cm

Super King size bed mattress - 180 cm by 200 cm

Emperor size bed mattress - 215 cm by 215 cm
European and US mattress sizes differ from UK sizes, so if you are importing a bed or mattress, it is important that you make sure you can get sheets to fit.
Some mattresses will be named the same while others have different names, so checking measurements rather than going by the bed or mattress size alone is advised.
Are all mattresses the same depth?
Mattresses are not all of the same depth. The standard depth of UK mattresses is between 7 and 14 inches, deep Mattresses are typically 15 inches, and extra deep mattresses can be anywhere between 16 and 22 inches.
Thick beds will need sheets that will cover the entire mattress and have enough material to fold down under the mattress to ensure they won't pop off.
If you are using a mattress topper or cover, you must take the depth of this into consideration, as it will have a significant bearing on whether the sheet will fit properly.
Will the bed sheet material make a difference to it staying put at night?
Yes, the material of your bed sheet will make a difference as some materials like silk, satin, and bamboo are particularly slidey and may cause the pesky sheets to move about a lot at night.
Cotton and linen sheets are better at gripping onto the mattress and are less likely to move if they are the right size.
How much can I expect to pay for bands to keep my bed sheet in place?
You could pay anything from around £6 up for sheet holders, suspenders, and stretchy bands. This will depend on the quality of the product you are looking for, the colour, size, and style.
Final Thoughts
When buying full-sized bed sheets, it is essential that you check the size of your mattress and buy accordingly. Adjusting the size, depending on whether you use mattress toppers or waterproof protectors, will make a big difference.
A bed sheet coming off at night is still possible, even with the right size sheet so having an alternative plan of action is handy.
A bed sheet coming off will result in bumpy sheets or cause tangles which can interrupt sleep. A restful night's sleep is essential for good health and your general well-being, so it should not be overlooked.
If you need to buy new sheets and aren't sure of the size, use a measuring tape to get an accurate measurement of your mattress.
Investing in large rubber bands to fit around the outside edge of the mattress, suspenders with clip locking mechanisms, or making your own suspenders are all great options that can keep sheets in place for even the most restless sleepers.