For décor designed to give you a good night's sleep, it might be time to consider the colour scheme of your bedroom…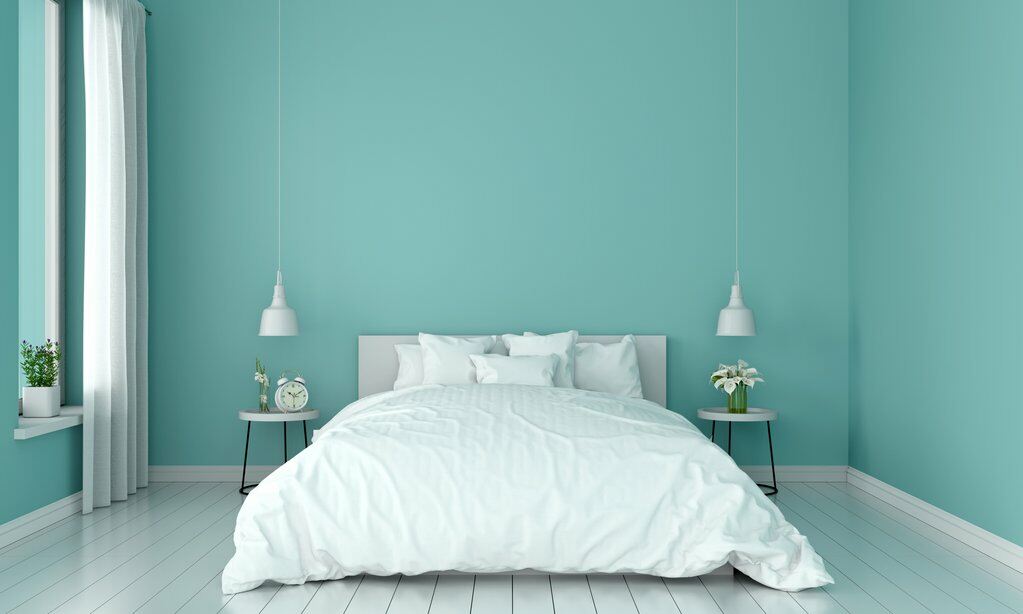 Do you ever think about how your palettes and pillows clash? If so, could our advice on colour help you get a better night's sleep?
Hues to snooze to…
A study from the University of Columbia found that colours have a subconscious effect on our thinking. Here are some of the best colours to feed your mind with before bed…
Blue
You can't beat Pantone's colour of the year when it comes to creating a relaxing environment. A survey from the hotel chain Travelodge, found that those who have the calming colour in their bedrooms sleep an average of seven hours and 52 minutes a night – outperforming other shades. Blue can also help to lower your blood pressure and heart rate.
Yellow
While yellow may evoke feelings of daylight, this cheerful colour is surprisingly still great for helping you get a good snooze. A lighter, pastel shade reminds us of soft candelight gently flickering against a wall… how's that for soothing?
Green
Green's association with nature makes it a fitting choice for the bedroom and, as we get older, our fondness for the colour is said to grow. Brits were found to sleep an average of seven hours and 36 minutes around the earthy shade.
Orange
Lighter shades of orange create a warm and welcoming atmosphere while also adding a touch of flair to your décor. A survey of 2,000 Brits found that those with orange bedrooms sleep for an average of seven hours and 28 minutes.
Tones to leave alone…
Put the paintbrush down and avoid these shades if you plan on having a restful night's sleep…
Purple
Nodding off to purple is a nightmare – almost literally! The mentally stimulating effects of purple makes it the perfect fuel for bad dreams. Paint your room purple if your creativity needs a boost, but avoid it if you plan on sleeping much longer than five hours and 56 minutes.
Grey
It may not be as bold as purple, but grey shades have a similarly disruptive effect on our sleep. The lacklustre colour often leaves people feeling emotionally isolated and uncomfortable. No wonder those with a grey bedroom spend the most time shopping online in bed!
Brown
Brown may evoke earthy connotations but the benefits end there. Brits who use the colour in their bedroom average just six hours and five minutes of sleep a night and are often left to feel sad and sombre around its dark tones.
Red
Red is known to increase blood pressure and trigger people to want to move faster – hardly the ideal state to be in when trying to relax. The colour can also be perceived in different ways, some are reassured by red, while others can find it discomforting.