Table of Contents
The average person spends around a third of their time in bed. Because of this, it is important to understand the different types of bedding so you can get something that meets your needs.
Selecting the suitable mattress, pillow, and duvet will help you get a better night's sleep. Enjoying a good night's sleep is integral to your physical and mental health and can help with productivity and focus.
This article will focus on the world of Tog ratings, their meaning, and how they affect your bed and sleep.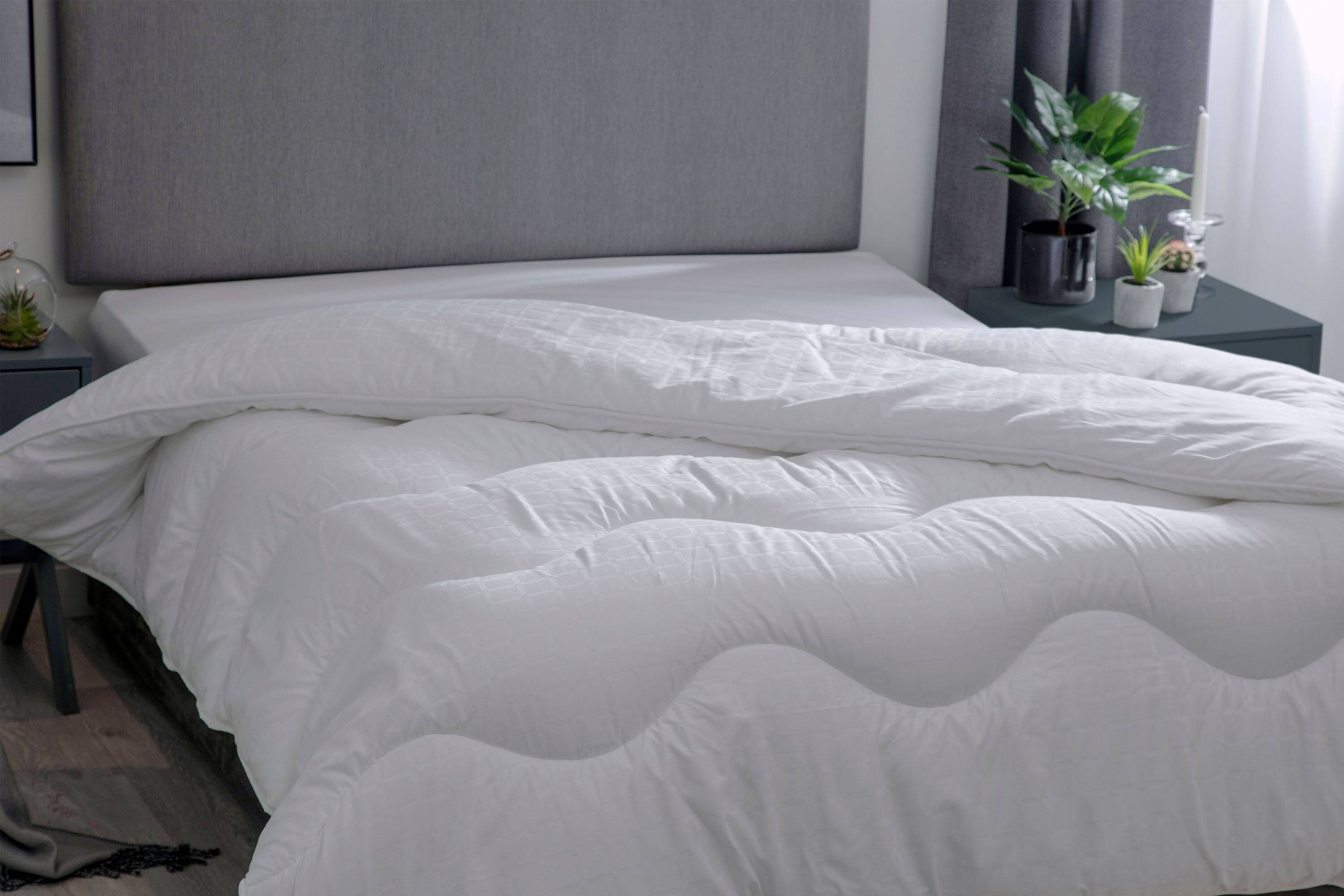 What Is A Tog Rating?
When you buy a duvet, you will see a Tog rating mentioned, which can confuse consumers. The Tog rating is relatively easy to understand; it indicates the warmth of the duvet rather than the quality. This can significantly affect overall comfort, especially when seasons change at different times of the year.
Tog stands for "thermal overall grade" and indicates the material's capacity for heat retention.
How Are Togs Measured?
The Tog rating scale goes from 2.5 up to 15. The lower the number, the lighter the duvet. The higher the number, the warmer the duvet, as they are a more insulated option. Duvet togs are meant to make it easier to choose bedding that is warm enough, but not too hot.
Because the UK typically doesn't enjoy as much hot weather as other countries, duvets with a Tog rating of 10 to 13.5 tend to be the most popular.
Which Tog Duvet For Which Season?
Choosing the correct Tog rating for your bed and house temperature often depends on the season, and Tog values help to dictate the thermal resistance of a duvet. For different seasons, duvet choice will significantly affect your overall comfort.
Not many people have a duvet for every season. More often, they will select two duvets that cover a range of months and are suitable for warm summer nights or the cold winter months.
The following guide should help you select the correct duvet Tog rating for each season.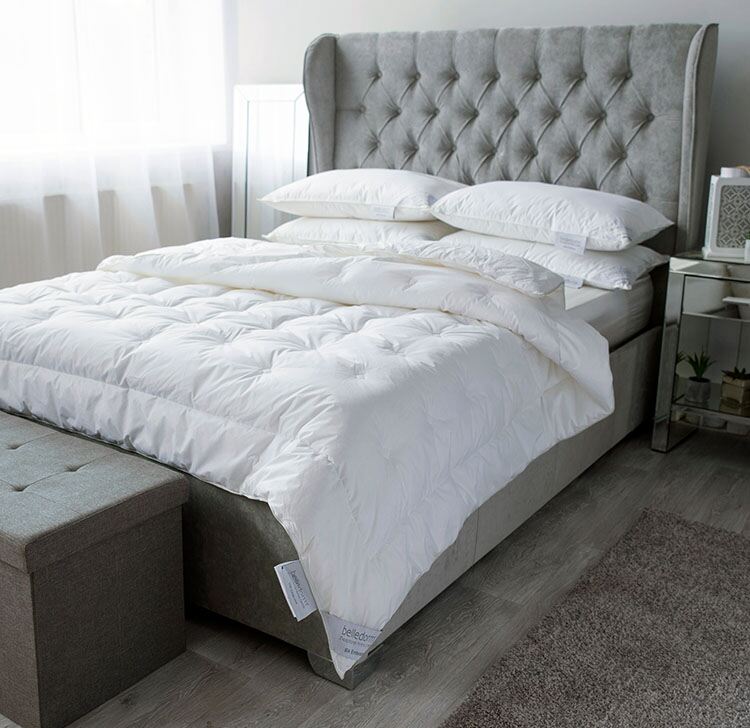 Spring
Duvets with a Tog rating of around 4.5 to 9 will typically be suitable for Springtime in the UK.
Temperatures can vary significantly from winter to summer, so having a choice can be helpful.
Summer
While the UK is not famous for its great weather, it can get hot during the summer, so having a light summer duvet can help you to sleep more easily.
A Tog rating of between 2.5 and 4.5 will typically be sufficient for warm summer nights.
Autumn
Choosing duvets for the Autumn in the UK can be as challenging as selecting one for the Spring as the weather starts to get cooler. 10.5 Tog Autumn duvets are the perfect choice for this season in the UK.
Winter
13.5 Tog winter duvets and above will help to keep you warm in winter. Room temperatures and sleep garments will also make a difference to the Tog rating needed to find the perfect duvet for you.
Duvet Fillings
The Tog value of a duvet is universal. However, the materials that fill duvets can determine comfort and weight, so understanding Tog values and the benefits of different materials will be beneficial.
The various fillings used in duvets are suitable for different room temperatures, providing different degrees of warmth.
Down
Down is the fluffy breast feather on birds. Down is used in warm-weather clothing, duvets, and pillows.
The benefits of down duvets are that they are relatively light and extremely comfortable. They can help to regulate body temperature, and prices will vary depending on the quality of down used to stuff them.
Wool
Wool-filled duvets are great for regulating temperature and wicking moisture away from the body. They are a hypoallergenic, breathable option but can be an expensive option.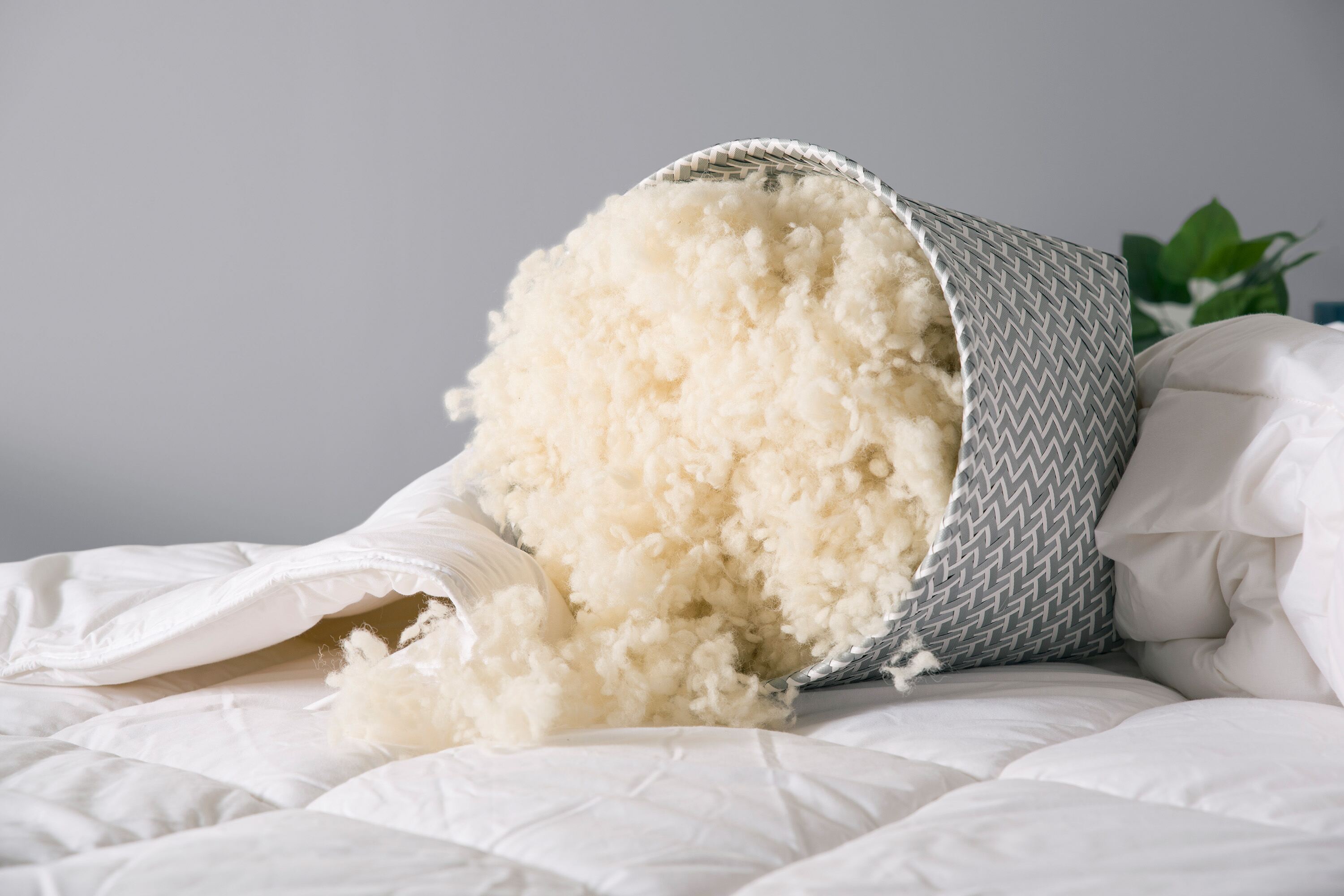 Silk
Silk is another natural, hypoallergenic option that keeps you warm in winter and cool in the summer. Silk-filled duvets can typically be machine-washed and dried, making them a convenient but expensive option.
Feather
Feathers are typically heavier than down duvet options, while mixed duvets offer an interesting option for consumers. Feather duvets generally are more affordable than other options like down, while a hybrid provides a bit more weight and substance to down duvets.
Hollowfibre
Hollowfibre is a thick, synthetic material that is usually hypoallergenic, moisture-wicking, and helps to trap warmth. It is a hardwearing option that is also very light, helping you reach a higher Tog value without increasing the size of weight of your duvet.
Hollow fibre duvets also offer great value for money, with excellent low-priced options available.
Microfibre
Microfibre duvets are similar to hollow fibre ones but are of higher quality and more luxurious.
They are known for being soft, moisture-wicking, durable, and easy to clean. Microfibre duvets are also more affordable and ideal for allergy sufferers.
Belledorm Bedding
As a family-run business based in Manchester, Belledorm understands the importance of ensuring our customers and their families enjoy a good, comfortable night's sleep. Our extensive range of bedding has you covered with pillows, toppers, duvets covers, sheets, and duvets. Whether you are looking for a light and airy duvet for the summer, or a higher Tog option for the winter, we have a range of materials and options to suit everyone.
Another great way to help you reduce heating and energy bills when the temperature drops are by exploring our heat holders fleece blanket range - a deliciously soft and cosy way to snuggle up and keep warm this winter.
Visit Belledorm to shop our exceptional home linens and ensure you have the right duvet for you.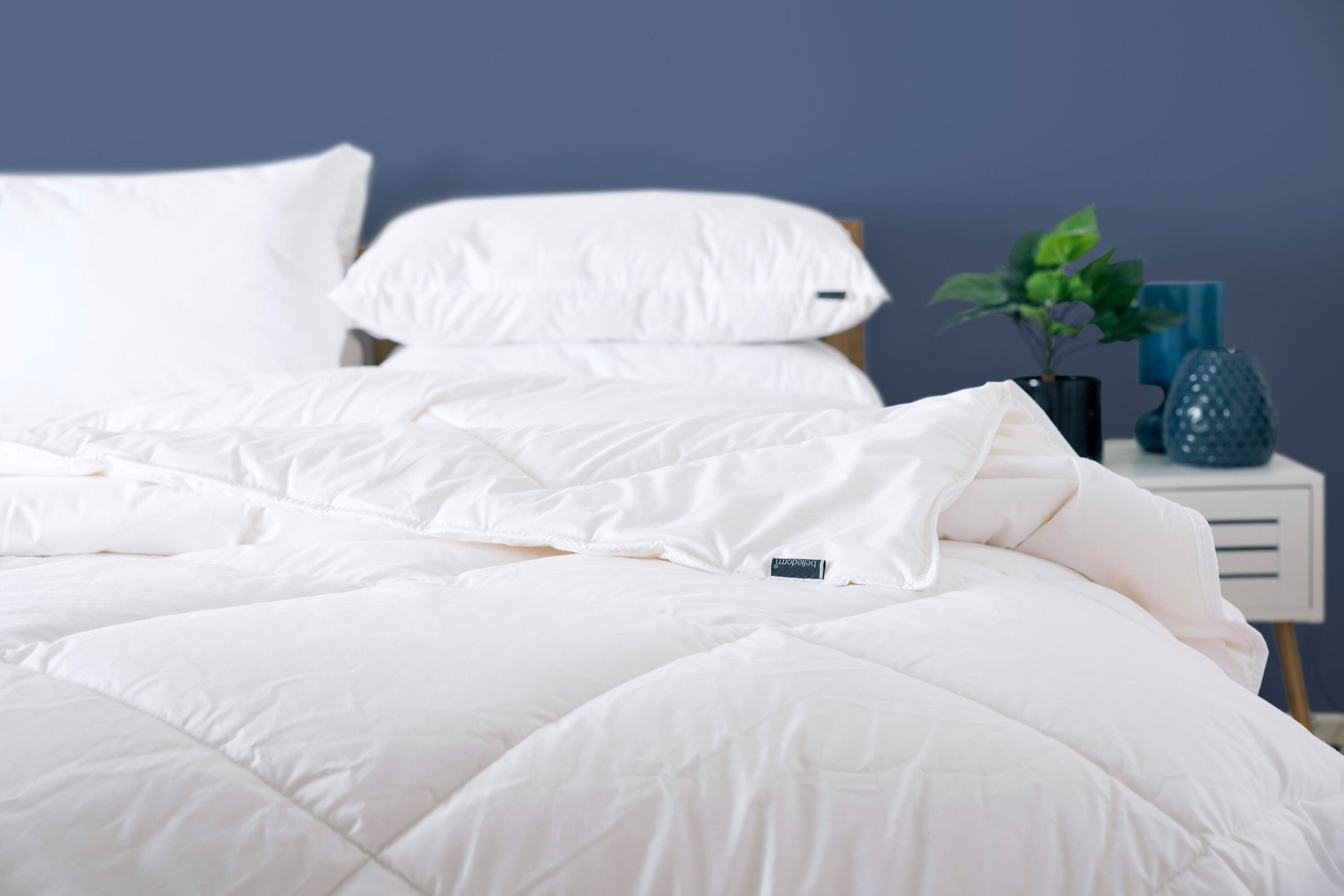 FAQs
Are heavier duvets warmer?
Heavier duvets do not necessarily mean they will always be warmer. Many heavy blankets offer good heat, but every material has a different thermal overall grade (Tog).
Finding the right Tog and a comfortable filling and bed sheet material will help you enjoy an ambient temperature and restful sleep.
Are high-Tog duvets expensive?
High Tog duvets will vary in price depending on the manufacturer, materials used, and quality. It is possible to invest in high-Tog duvets without breaking the bank.
As with all bedding, many options are available to consumers, including natural, synthetic, hypoallergenic, and environmentally friendly.
What Tog is best for a baby?
Choosing the right Tog for adults can be challenging. However, you will be able to decide on the materials you like, as well as know whether you are a warm sleeper, sweat a lot while you sleep, or prefer a lower Tog rating.
Babies can be significantly more difficult to buy because they can't vocalise preferences. Ensuring your baby does not overheat is essential, but you also need to know your baby is warm enough and can enjoy a good night's sleep.
For temperatures between 16°C to 20°C, a Tog rating of 2.5 is typically suitable.
During warmer nights between 21°C and 23°C, 1 Tog is recommended. Above this, you might want to contemplate a sheet or trying to reduce the room temperature.
Does what I wear to bed affect the Tog rating I should get?
The clothing you wear to bed will significantly affect the Tog rating required. Thermal bed clothes will help keep you warm, so combining those with a higher Tog rating on your duvet could make you too warm.
Wool and fleece pyjamas are among the warmest and are typically worn during winter.
Choosing the right Duvet Tog and pyjama combination will come with experience and personal preference.
Lighter pyjamas or shorts during summer and a low Tog duvet can help to minimise the risk of overheating in the summer.
When should I replace my duvet?
A duvet should last between 2 and 5 years before you should have to replace it.
Choosing the suitable Tog duvets for different times of the year not only helps you get a night of better sleep but also means the duvets will last longer.
Switching between duvets when it is hot and cold will prolong the life of each duvet.
Another great way to enjoy longer life from duvets is by investing in duvet protectors that are easily washable and help to prevent stains and dust mites.
Final Thoughts
The temperature difference you can enjoy between different Tog ratings in different seasons can be significant.
A thick, heavy duvet during the middle of summer can make sleep difficult, as can a thin low Tog duvet during winter.
Understanding Tog value and its relationship with room temperatures will help you find the perfect duvets for your home.
A home with well-regulated temperatures might not see a big benefit for different duvets during the year compared to older properties that aren't as well insulated.
The extensive range of high-quality duvets available at Belledorm will help you make the right choice.