Table of Contents
Not many people think they need to wash their bedding before they first use it. And, on the face of it, why would you?
However, there are a few surprising reasons why you really need to consider washing new sheets before putting them on your bed.
In this article, we will discuss the rationale behind this, as well as how to wash your sheets for the first time and how to dry them to ensure you can have a brilliant night's sleep every time.
Do You Really Need To Wash New Sheets Before Using?
While it might be surprising to learn, you really should wash new sheets before using them for the first time.
But why?
Bedding, like many other manufactured fabrics, is created and produced in factories or other locations where the air is likely to be dusty. Then there are the dyes used at first, which can sometimes cause mild irritation in those especially susceptible to allergies or with sensitive skin.
Then there's the handling that the sheets have gone through. Dozens of (or potentially more) people may have handled your brand new sheets at one time or another throughout the manufacturing, packing and processing stages of development.
Washing new sheets also gets rid of the inevitable lines and wrinkles that tend to happen during the packaging stage, so washing them makes them much smoother as well as malleable.
That's why it's highly recommended that you wash your bedding before you put it on your bed for the first time.
After all, you wouldn't pick an apple up from the supermarket and eat it without washing it, so nor should unwashed sheets be placed in close contact with you or your family without being given a quick spin in the washing machine first!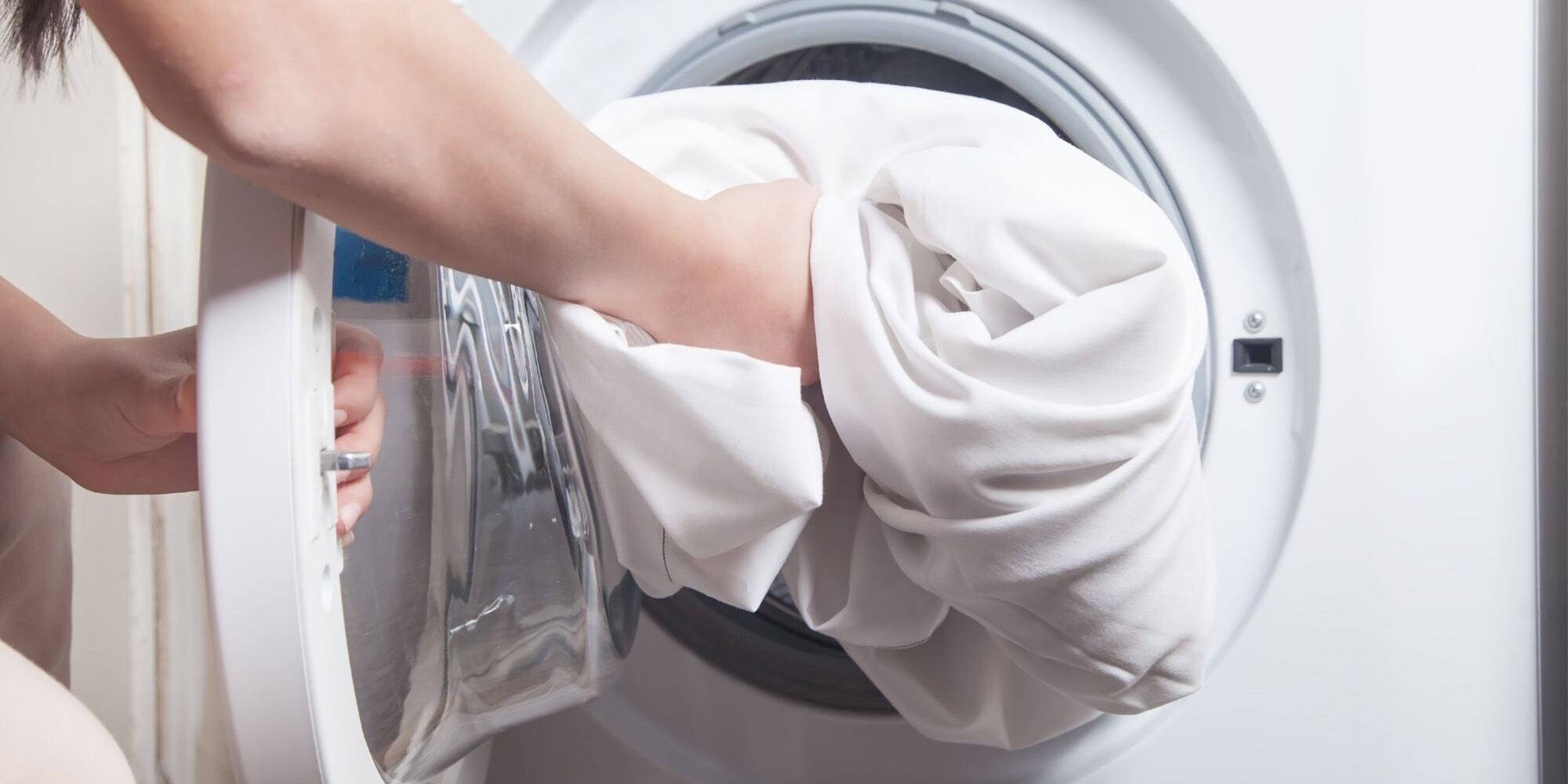 How To Wash New Sheets Before Using
Your sheets might not always feel their best straight out of the packaging - and that's ok! It is absolutely no reflection on the quality of the duvet covers or sheets you have just purchased. They've just been through a lot to get to you during the manufacturing stage.
Whether you have linen sheets, cotton sheets, darker coloured sheets or white sheets, these instructions below will work wonders, giving you beautifully fresh and clean sheets every time.
Pre-wash
Some bedding experts say that the best way to pre-wash new sheets is to incorporate both baking soda and white vinegar.
Put 250 ml of baking soda in the washing machine at the start of the first wash, and once the bed sheets start to rinse, you should add a further 250 ml of vinegar.
This should only be done for the first wash - after that, they should be washed as usual.
Other bedding specialists suggest just getting stuck in! After reading the manufacturer's instructions first, of course!
It all comes down to personal choice, but we recommend the baking soda and vinegar method to get the best out of brand new sheets.
Washing sheets
When you wash your sheets, ensure that there's lots of room in the washing machine - ideally, these sheets should be washed free from other laundry. Overcrowding can mean your sheets won't always be perfectly cleaned, so it's good to remember.
As we have previously mentioned, it's always a really good idea to follow the manufacturer's instructions on the care tag. However, if you haven't got time to check this out, it's usually fine to wash just about any type of bedding on a gentle setting. However, this might take a bit of trial and error, so be prepared to possibly have to wash your sheets again.
In regards to water temperature, warm water is always best.
It's a delicate balancing act, though; water that is too warm can drain fabrics of colours, as well as break down fine threads, although this is likely to happen over time. If cold water is used, the bed sheets are unlikely to get as clean as you might like. That's why it's always best to opt for warm water.
Always choose the very best laundry detergent that you can afford. A mild detergent will work just as well in terms of giving sheets a thorough wash, but they are much more gentle on the bedding materials.
An important detail to remember is not to use excess detergent, as overuse can cause your sheets harm. Instead, always read the instructions before adding to your washing machine.
Drying sheets
The secret to keeping sheets smooth and soft is to ensure that they are taken out of the washing machine as soon as the cycle is complete. This will avoid them wrinkling and not allow any mould to begin to produce, leading to nasty smells.
When it comes to drying new sheets straight from the washing machine, you have two options. You can either opt to air dry, inside or outside, or, if you have a dryer at home, you can use this.
On those days when we are lucky enough to have good weather here in the UK (rare, we know!), you can take advantage of this and hang your sheets on a clothes horse or clothesline outside to dry. Always make sure you use pegs to attach the sheets properly and make sure you straighten them out as much as possible; this will help avoid crumpling.
If you choose to dry your new bed sheets in a dryer, use no higher than a medium setting. Many people claim that opting to tumble dry is the best way to properly dry sheets, as it gives them an extra added softness and bounce and reduces static at the same time.
Adding a dryer sheet also helps keep your sheets in tip-top condition, so consider using them if you want your sheets to go the distance. Dryer sheets make your bedding smell absolutely stunning too!
FYI: Just be careful when it comes to cotton sheets, as they tend to shrink, so allowing these to naturally dry is usually best.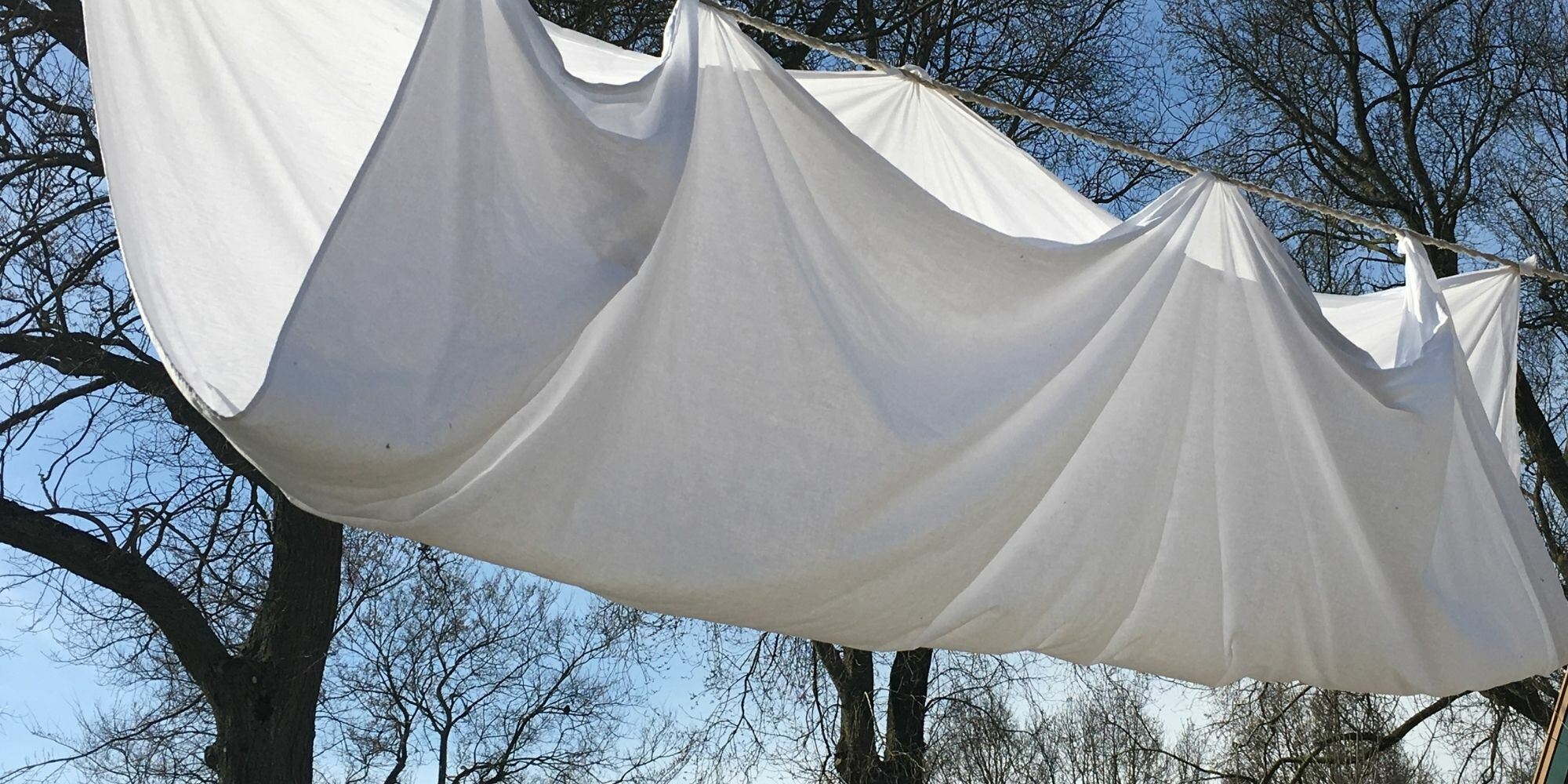 Shop Belledorm For Unrivalled Quality Bedding
If you need new quality bedding for your home, including duvet covers, sheets, mattress protectors and much more, we at Belledorm have you covered.
For over 30 years, we have been supplying the country with unbeatable quality bedding in a wide range of sizes and colours. Why not check out what we have on offer to help make your bedroom a place of luxury and complete tranquillity!
FAQs
Do I need to use fabric softener with the first wash?
Using fabric softener on all your washes, including bedding, is a must! Not only will it keep your sheets smelling and feeling absolutely beautiful and make your bed the ultimate safe space, but it is also kind to your sheets.
How often should you wash your linens and bedding?
Ideally, wash sheets once a week. However, many of us are guilty of not doing this! But think about it - we spend between 7 to 9 hours in bed each night - that's over 60 hours a week in some cases!
And while it might sound disgusting, human skin loves to shed. Coupled with dirt and stains, it can make your bed sheets potentially quite unpleasant, which is why weekly changing is always recommended. Just ensure that you wash new sheets on a warm water setting and not a hot water setting.
Will washing sheets cause them to shrink?
If you wash your sheets at high temperatures, then yes, there is a good chance they will shrink.
Always remember to read the labels on the sheets before placing them in the washing machine to ensure that you don't wash them incorrectly. Manufacturers' care instructions will tell you everything you need to know - follow their instructions, and your sheets will stay as good as new for years to come.
What else should be washed before first use?
It's a great habit to get into washing all your bedding items before you first use them. Any textiles are usually manufactured in dusty atmospheres, so there is always the chance of a little bit of debris making its way into your new purchase. And then there are the vast amount of hands that have made contact with the items too.
It's always better to be safe than sorry, we say!
Final Thoughts
So, should you wash bedding before use?
While at first thought it might seem somewhat pointless to wash new sheets before using them, as we have discussed, there are several great reasons as to why you should.
And there's nothing like fresh, clean bed sheets, is there?
Sweet dreams!