Table of Contents
Key to a peaceful night's sleep and an energised day, a good pillow is arguably one of the most important things you can own. So why not invest in one that's right for you?
We look at all the different types of pillows out there, so you can slumber soundly and wake refreshed when you need it most.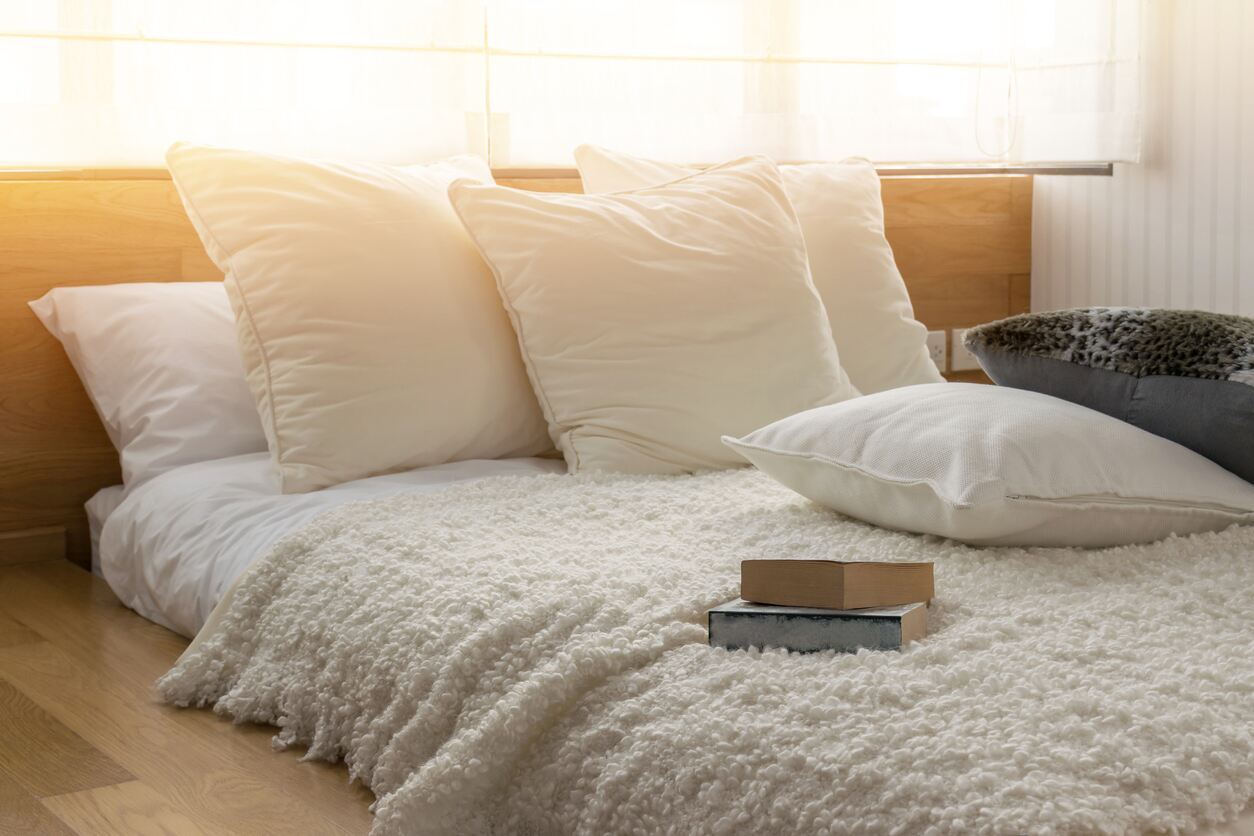 Feather and down pillows
These are a little on the expensive side, but they make up for it in longevity. They're also considered to be a slightly superior option in terms of comfort levels, as they're soft and malleable.
Feather pillows are known for staying cool, while down pillows store more heat – plus down doesn't end up poking out of the pillowcase! However, they're not for everyone, as some believe taking feathers and down from animals is unethical.
Pros
- Mould to the shape of your head/neck
- Have a long lifespan
- Lightweight, but provide good support
Cons
- Can lose their shape and become flat
- Might need to be professionally cleaned
- Made with material taken from animals
Best suited to: feather for back and side sleepers and down for back, side and stomach sleepers
Microfibre pillows
Next up, microfibre pillows are a popular choice in terms of affordability, practicality and softness. If you opt for a hypoallergenic one, such as our Hotel Suite Filled Pillow, which will greatly reduce the likelihood of an allergic reaction, you can reap the benefits of this too. Microfibre pillows also usually come in many shapes and sizes, so you're spoilt for choice.
That said, they might not deliver as much in breathability and longevity, and will need replacing every few years. But this might suit you if you're not ready for too much of a commitment, and want to try something out.
Pros
- Cheap and easy to wash at home
- Can buy hypoallergenic
Cons
- Shorter lifespan
- Less breathable and mouldable
Best suited to: suitable for all sleeping styles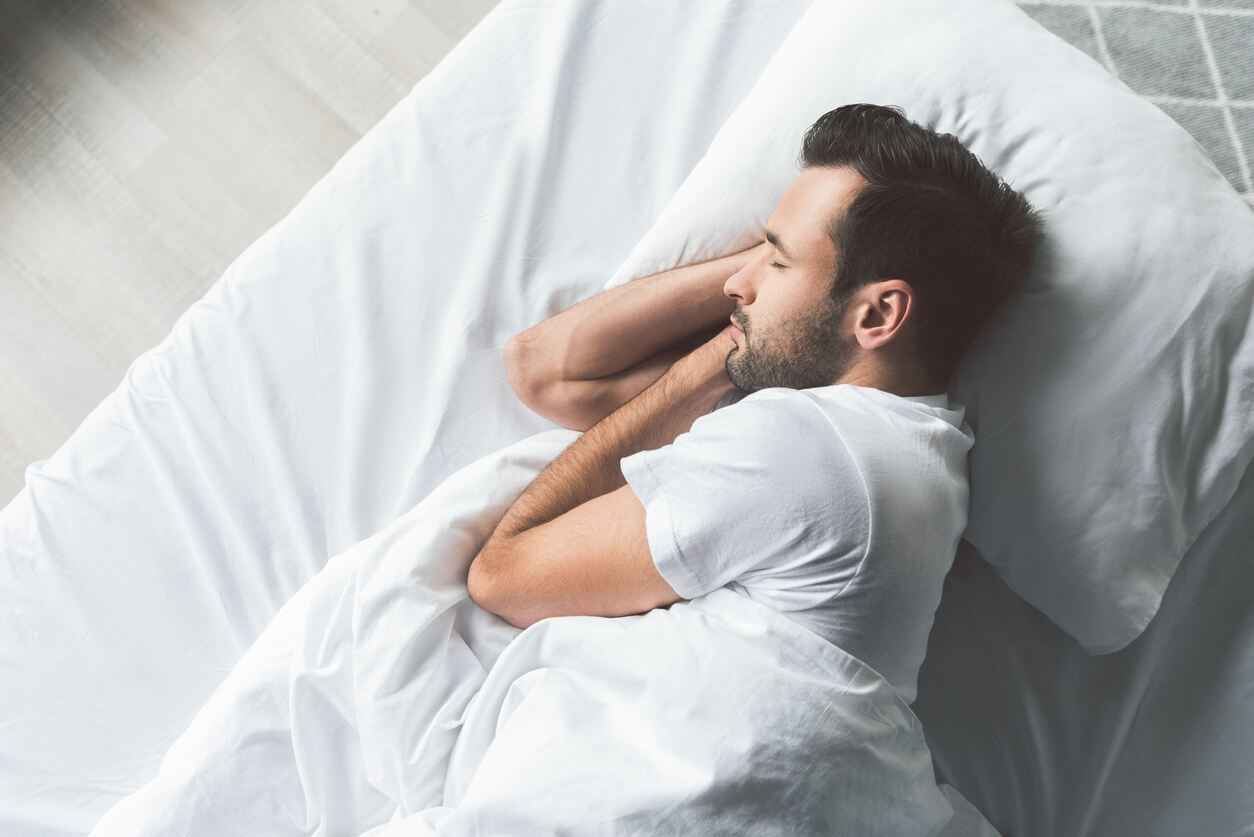 Memory foam pillows
The clue's in the name with this one. These pillows 'remember' the shape of your head and neck and mould to fit like a glove. This also makes them the perfect option for those with neck pain who might need additional support. Why not add to your comfort with our Jersey Cotton Pillowcase, designed to move with the contours of your body and the mattress? Its stretchable fabric means it's the perfect companion for your memory foam pillow.
But for some, memory foam might be just that bit too firm and sturdy, and not lightweight enough for summer. That's not to say it can't be the perfect part-time pillow…
Pros
- Support can help ease pain
- Moulds to you
- Not clumpy
- Easy to take care of
- Longevity

Cons
- Not always suitable for summer
- Too dense for some
Best suited to: stomach, back and some side sleepers
Hypoallergenic vs anti-allergy pillows
Hypoallergenic pillows are guaranteed not to contain any known allergen, such as wool, feathers and latex, in their filling or material. And if you're looking to pair one of our hypoallergenic pillows with a hypoallergenic pillowcase, our 100% natural Mulberry Silk Pillowcase also adjusts to temperature.
While hypoallergenic pillows certainly add protection, you'll still need to take extra care against other allergens, such as dust mites. Anti-allergy ensures the entirety of the pillow has been specially treated to make it as dust-mite proof as possible. People with asthma, eczema or rhinitis will benefit most from this, as allergens could cause their condition to flare up.
Even if you do find yourself having to tackle dust mites, not to worry. This can be achieved by washing bed linens at 60c or above. If you want to be on the safe side, it's wise to invest in pillowcases that can be repeatedly washed to maintain a healthy pillow.
Different types of pillow shapes
Last but not least, now you know what filling to go for, don't forget to consider shape. Square and bolster pillows might be best for extra support, layering your bed or backrests while reading, while V-shape pillows might be best for orthopaedic purposes. And of course, there's always the trusty and reliable standard shape pillow.
Now you're an expert on different types of bed pillows, browse our pillows and our pillowcases. Enjoy that long-awaited for good night's sleep!