Table of Contents
Everyone loves the idea of a stylish bedroom that is comfortable and welcoming and using a bed base cover can help achieve this.
This article will explain what a bed base cover is, how it can be used to transform the appearance of your bed frame, and the different bed base cover types to choose from.
What is a Bed Base Cover?
When you think of how bedding can help change a bedroom's style, most people will typically think of bed sheets, pillows, and duvet sets. But bed base covers can be a great way to change the style of bed frames to match your desired colour scheme.
Bed bases will typically come in neutral colours, but sometimes a change of colour schemes can leave you with a bed that might not match its surroundings. Covers for bed bases can help to resolve this.
Bed valances were often used to hide or disguise bed bases, and this is great for a more traditional look. However, for contemporary and modern bedrooms, a bed base wrap, also known as divan base wraps, box spring covers, and box spring wraps, can be a great solution.
Elasticated edging allows the sheets to be comfortably and neatly fitted over the bed base.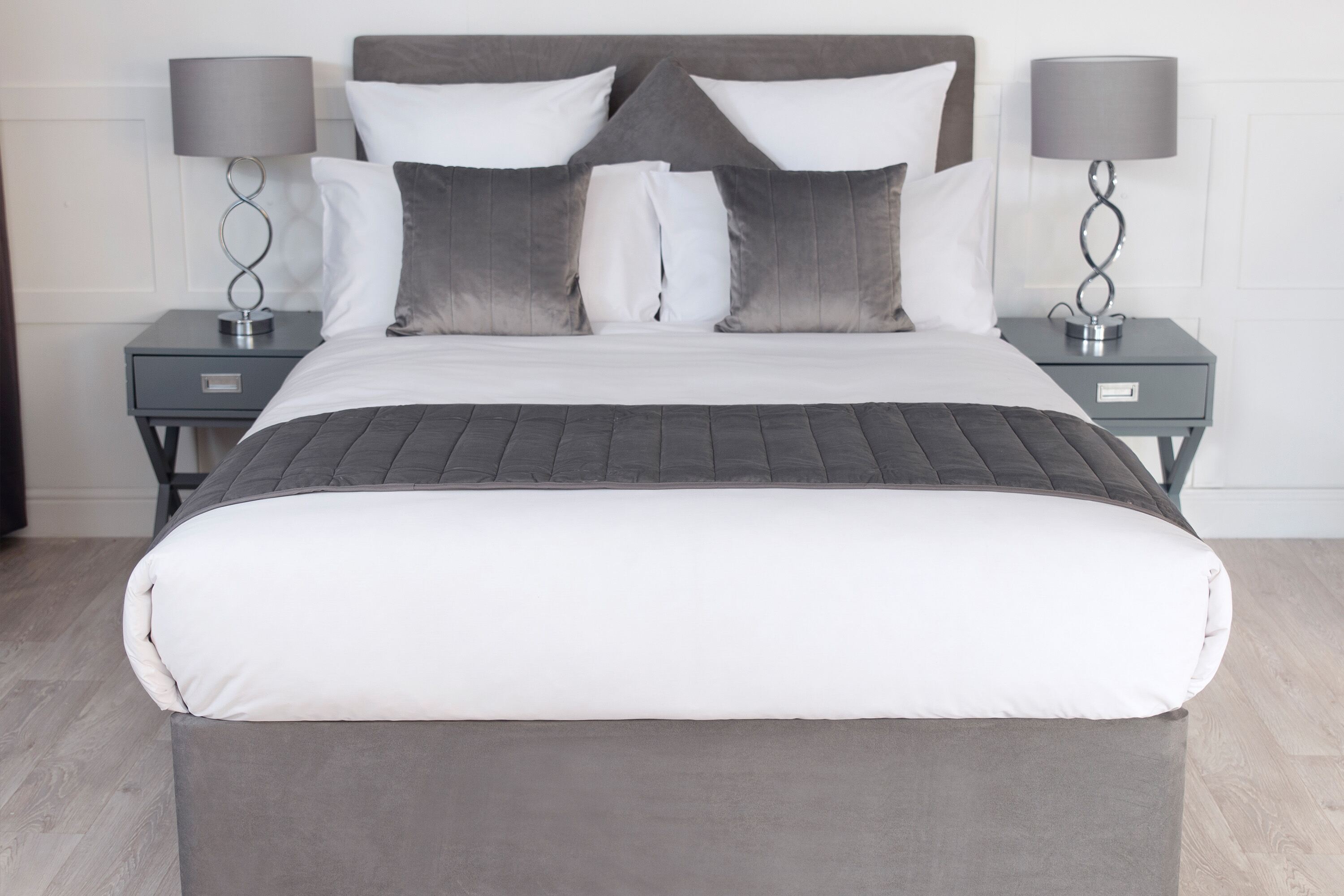 Bed Base Cover Types
Choosing the perfect bed base cover to match your bedroom's decor is easy when you shop with Belledorm. You will find a great range of exceptional home linens and a wonderful choice of bed base cover fabrics to suit your style.
Bed base covers are easy to put on, and you won't have to worry about struggling with moving a large mattress anytime you make your bed.
They can be easily fitted over an existing mattress and moved down to the base. There, the elasticated edges help hold the base cover, where it can be easily removed and cleaned.
This ease of use makes having multiple colours or styles a great option. It will allow the person styling the room to achieve different looks and styles throughout the year, with bright, fresh colours during the spring and summer and darker, warm and cosy colours for Autumn and the winter.
Faux Suede
Belledorm's range of faux suede bed base covers gives you the great style and appearance of suede in a more manageable fabric.
Faux suede is significantly easier to clean, less susceptible to stains, and available in a selection of colours, including white, black, charcoal, chocolate, and linen.
Crushed Velvet
Crushed velvet can be a great option if you want to achieve a more glamorous or opulent appearance for your bedroom.
Crushed velvet is also recognised for adding warmth to a room and texture that also adds something different to the bed's overall appearance.
You will be able to choose from single, double, king size, and super king size, as well as champagne or silver colours.
Jersey Cotton
Jersey cotton is a durable material that is easy to wash, looks great, and typically has a low price in comparison to other materials.
Belledorm's range of jersey cotton base wraps comes in powder pink, navy, linen, and cloud colourways, making them an excellent option for bedrooms across the UK, no matter your colour scheme.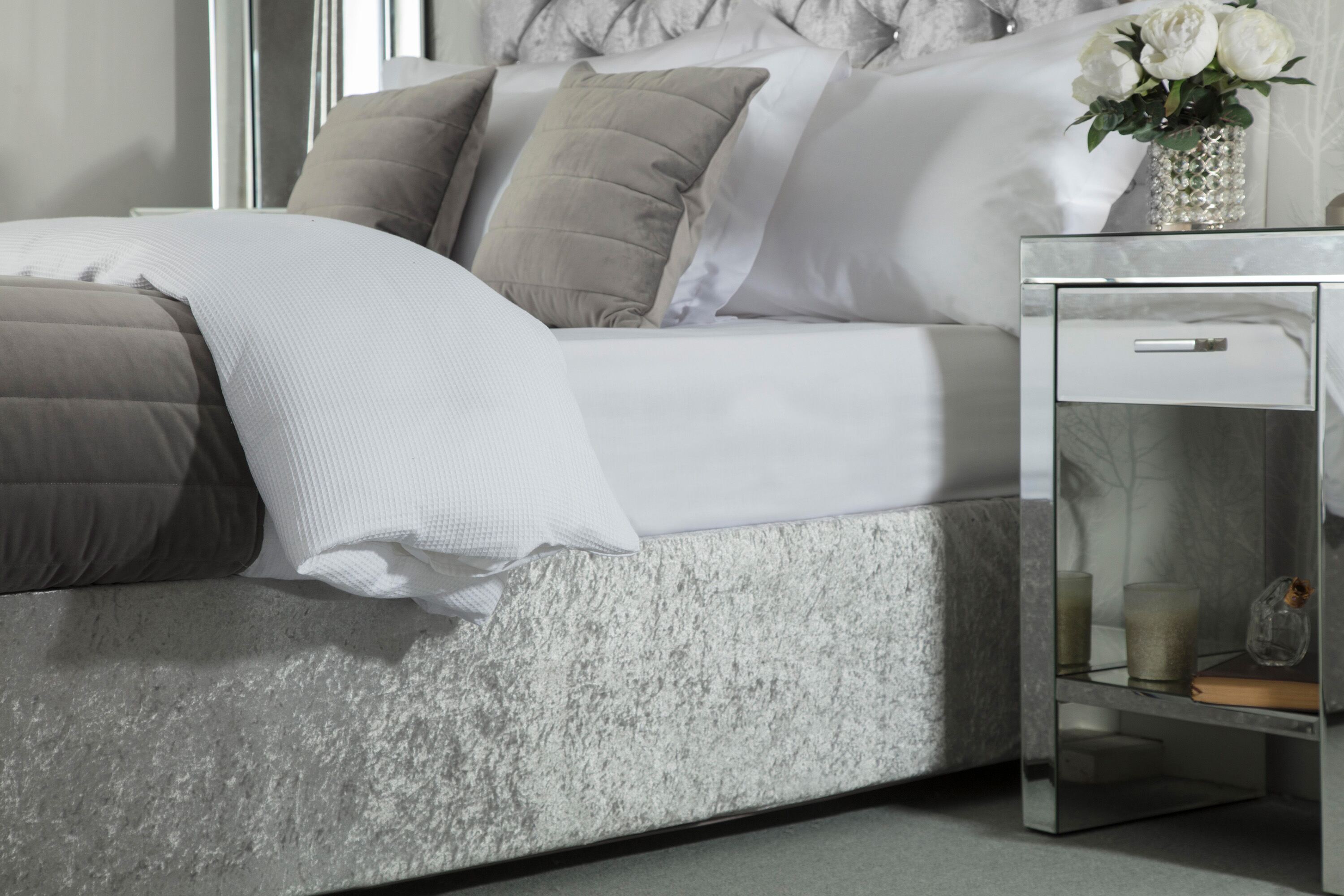 Base Cover Alternatives
Whether you want to change your bedroom's colour scheme or have a tired bed base that is compromising the room's appearance, choosing to cover it can be a quick, easy, and cheap alternative to replacing your bed base.
Bed base covers offer a convenient and cost-effective way for you to transform your bed base and are ideal for contemporary, modern bedrooms.
Many alternatives offer a more traditional style which may suit other home or decor choices. Belledorm offers a range of valance sheets that are available in more contemporary styles, patterned or pleated.
Sheet Valance
A sheet valance works as a fitted bed sheet with additional material hanging down from the lower edges and acts like a bed skirt to cover the base.
This is a more traditional look and is relatively easy to fit because it is part of the fitted sheet.
Base Valance
A base valance is put on a bed base like a traditional bed sheet, and the main difference is that it is under the mattress. This can make it a tricky choice, especially if you are making the bed yourself and have to deal with moving the mattress off and on the bed base.
Wraparound Valance
A wraparound valance works like a bed base cover but is looser and hangs like a bed skirt. It is much easier than a base valance as you will not have to remove a mattress, and it can be put over the top and pulled down into position.
Velcro Valance
A velcro valance allows easy removal and application after the first installation of the velcro beneath the mattress. After this has been installed, the valance can then be removed or applied simply by undoing the velcro.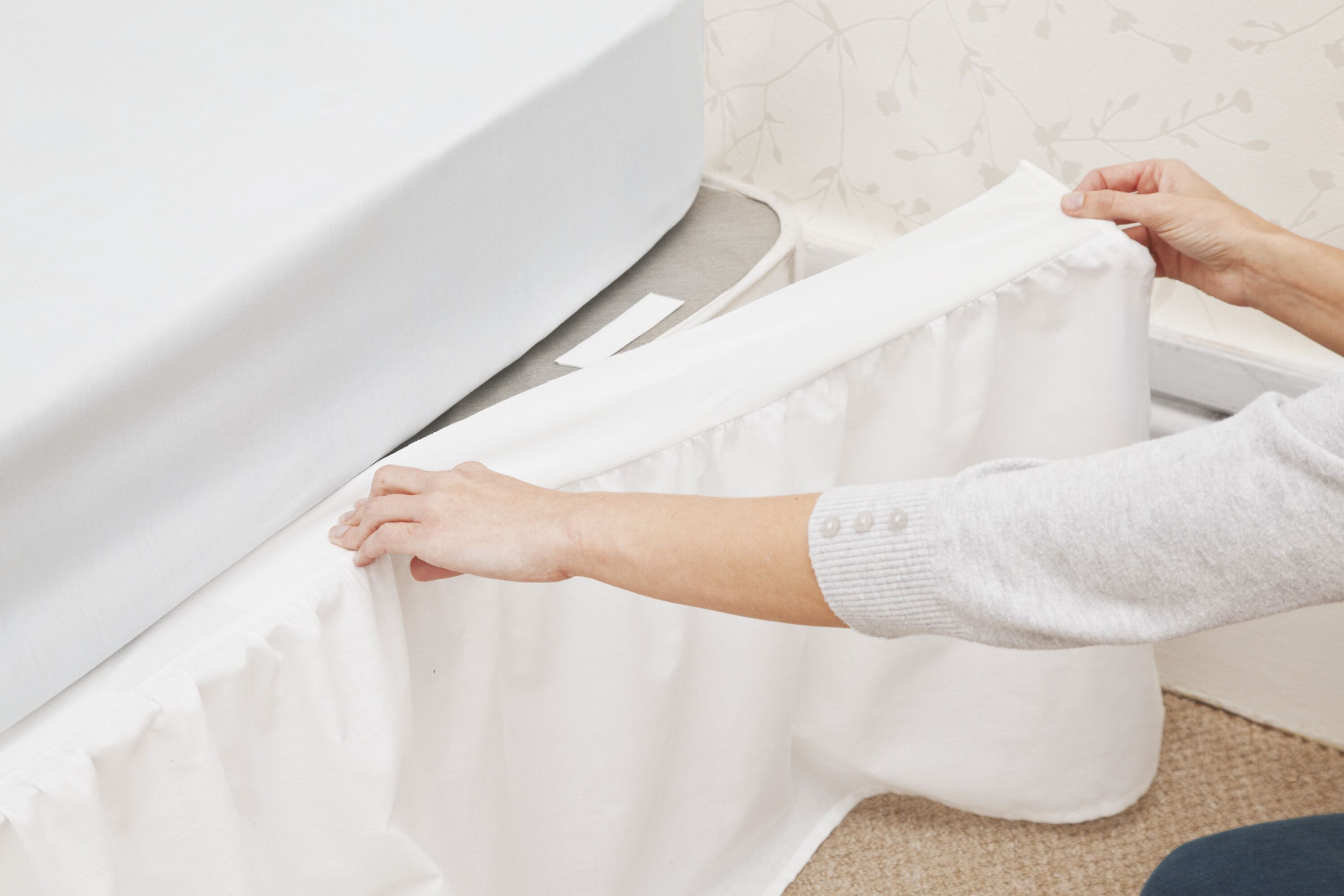 Belledorm Bed Base Covers
Belledorm base covers offer an exceptional way to transform your bedroom's style. Whether you want to hide your old bed frame or like to change colour schemes throughout the year, a range of choices is available.
Search our extensive range of bedding choices to find the perfect colours and styles to suit your plans, and make the most of our easy-fit bed base covers to minimise the time and hassle when making your bed.
Shop with Belledorm today and browse our extensive range of bed sheets to suit any bedroom.
FAQs
What size are Belledorm bed base covers?
Belledorm bed base wraps are available with a depth from 28 cm to 43 cm. The different sizes available include;
Single bed base wrap size - 91 cm Width and 191 cm Length

Double bed base wrap size - 137 cm Width and 191 cm Length

King-size bed base wrap size - 152 cm Width and 198 cm Length

Super King size bed base wrap size - 186 cm Width and 198 cm Length
Can I use a bed base cover if my bed has storage?
Most modern divan bed bases come with great storage features. This can be drawers on the side or storage underneath when you lift the bed bases to reveal space beneath.
Older-style covers for bed bases risk covering these storage options and making access difficult. Belledorm bed base covers will not hamper your access allowing you to easily store and access items beneath your bed with no hassle.
Can I use a bed base cover if my bed has a headboard?
You will be able to use a bed base cover, even if a headboard is screwed into the bed base. Belledorm bed base covers can be easily attached to beds to create an elegant, contemporary look to suit all preferences.
What are Belledorm's delivery options for bed base covers?
Belledorm delivery options offer a range of options to suit all customers. This includes FREE UK express next-day delivery on all orders made over £40. This is an excellent option for people that need bedding in a hurry.
There will be a delivery charge of £4.95 for all orders under £40. This will also be next day delivery.
Next-day delivery is only available when placing orders before 3:30 from Monday to Friday.
Delivery will take place between 7 am and 9 pm from Monday to Friday. Any order that is placed on the weekend will be processed on the following Monday.
For Christmas deliveries, please visit our dedicated delivery page for updated information.
EU deliveries will typically take between 3 and 4 working days and cost £19.95. Delivery to locations in the rest of the world is available. Please get in touch for price quotes and delivery date estimations.
Some UK addresses in the Scottish Highlands and Islands, Northern Ireland, Isle of Man, Channel Islands, and Scilly Isles will be subject to 2-day delivery services.
How do you clean Belledorm bed base covers?
Always check the individual washing instructions provided on products when you receive them. Some materials will require specific washing instructions.
The jersey cotton material base wraps can be washed in a synthetic cycle and should be drip dried.
The crushed velvet and faux suede base wraps can be washed in a machine at 30°C and should also be drip dried.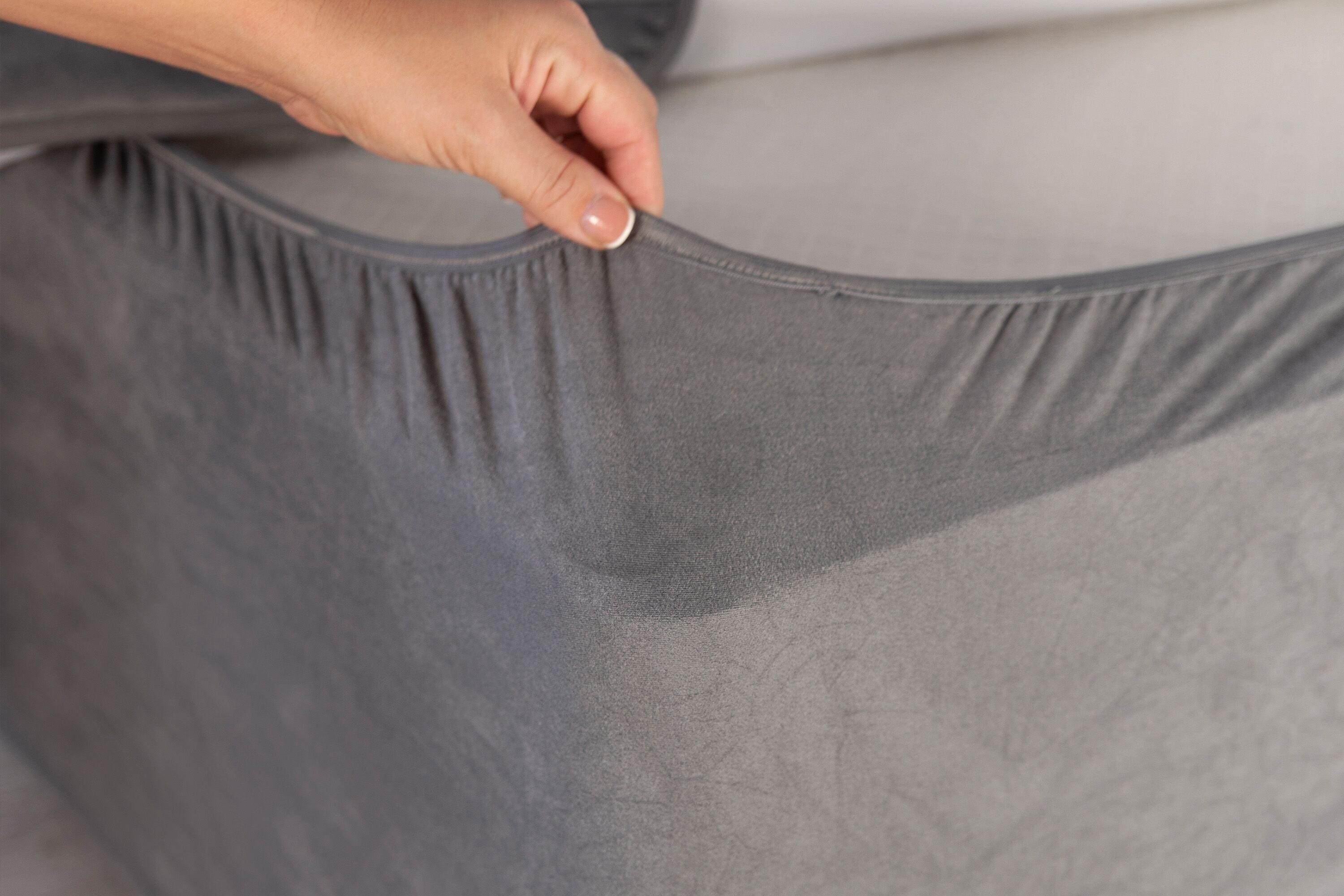 Final Thoughts
With so many bedding options, it can be challenging to know which will best suit your bedroom. By browsing the extensive range of products at Belledorm, you will find something to suit all preferences.
The great bed base wrap selection is available in a collection of materials and colours, allowing you to hide the design of mismatching bed bases or help you pair up the bed with the bedding.
Belledorm bed base wraps are easy to put on and wash. They also offer a great way to create the bedroom you want when you want it.