The quality of your bedding is important and there are three main things you need to consider when choosing it – fibre length, thread count and weave.
Cotton has long been a popular choice for bedding due to its breathability. But if working out the difference between Egyptian or pima cotton is keeping you up at night, our guide should help you pick the one that'll work best for you.
Types of cotton

Egyptian cotton
Well known for superior quality, due to its extra long and silky fibre length, Egyptian cotton produces a fabric that's soft, luxurious, and durable. You'll likely find these sheets won't need replacing too often as the fibres are spun into a fine thread then woven into a high-quality product.
Pima cotton is also known for excellent quality due to its smooth and long fibres which help make it incredibly soft – perfect if you've got sensitive skin. Its breathable fabric is tailor-made for a good night's sleep. If you don't want to splash out on Egyptian, this is the next best thing. Remember to check the label carefully so you know it's authentic and not mixed with other fabric types.
American Upland
If your bedding says simply '100% cotton' it's likely to be this variety. It's soft, comfortable and affordable, but a slightly shorter fibre length means it's not quite in the same quality bracket as pima or Egyptian. American Upland is still perfectly durable, but if anything, you may find it's more likely to bobble.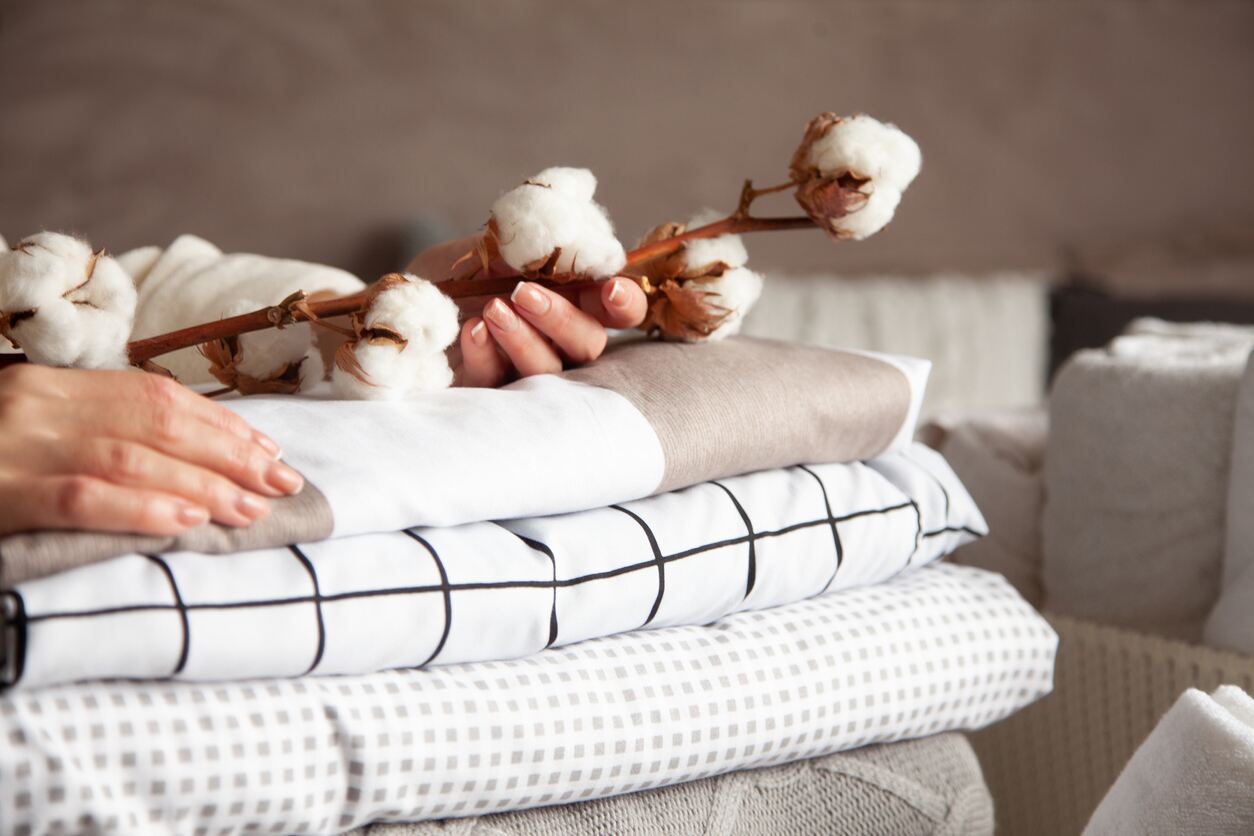 Types of weave
Understanding different weave types will also play a part in helping you choose the bed linen that's right for you:
Flannel
Flannel cotton bed linen or brushed cotton uses a twill weave which has a diagonal pattern. This makes it soft, durable and perfect for keeping you warm and cosy in the winter.
Percale
A percale weave is tightly woven which gives it a smooth and velvety finish. It's a great choice if you get hot during the night and want to stay comfortably cool.
Sateen
Sateen is woven using four threads over and one under, which gives it a silky-smooth texture great for sensitive skin types.

Thread count
The number of threads woven into one square inch of fabric is its thread count. It can give you a good idea of a fabric's quality, but it's all down to personal choice. As a guide, for cotton and percale weave look for a thread count between 200 and 400. If you're choosing Egyptian Cotton or a sateen weave, choose from 300 upwards.

Give your bed that 5-star feeling with our sateen bed linen range.