Whether you're cutting flowers from your garden or buying from a shop, fresh flowers can give any room in your house a new lease of life.
Getting a flower arrangement looking just right can sometimes be fiddly and frustrating. But not if you follow these simple steps…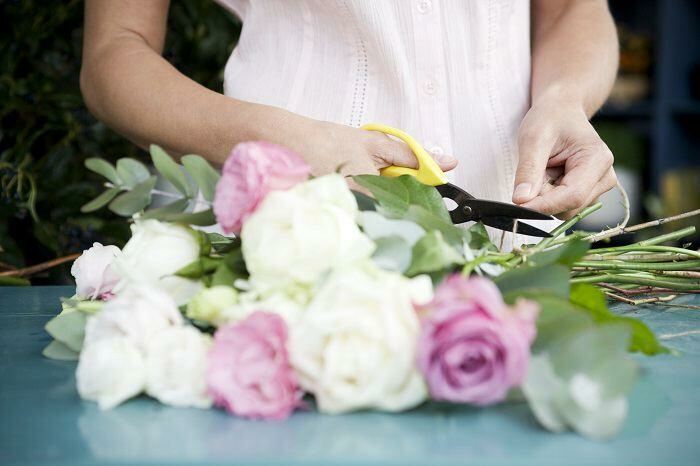 Pick your flowers with care
When you're selecting your flowers think about where you're going to put them.
1. Are they going in your bedroom or dining room? Select flowers that compliment your décor. Pale roses and sweet peas will look perfect in a shabby chic-style room, while modern-looking lilies and gerberas will fit seamlessly into contemporary spaces.
2. Will they be a table centrepiece or on a side board? Displays should be lower for table centrepieces and higher for side board displays.
3. Will the sun shine on or through them? Choose transparent leaves if the light is behind and make sure they're hardy if you're putting them in direct sunlight.
Also, try thinking outside the box (or vase). Instead of sticking with your standard roses, throw in something a bit different like thistles, flowering vegetables or structural grasses.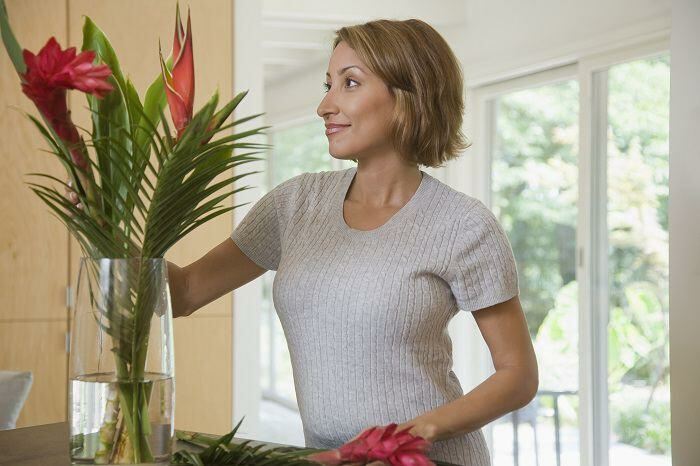 Plan your design
You should be thinking about your design when you choose your flowers. A lot depends on the vase or vessel you'll be using.
A tall vase will need long stemmed plants with plenty of impact like a peonies, while a lower bowl will need to be filled with lots of padding materials such as low growing geraniums.
A good tip is to sit down and plan your arrangement at eye level – not from above.  And unless you're going for an intentionally symmetrical design, try placing the flowers at different levels so it looks more natural.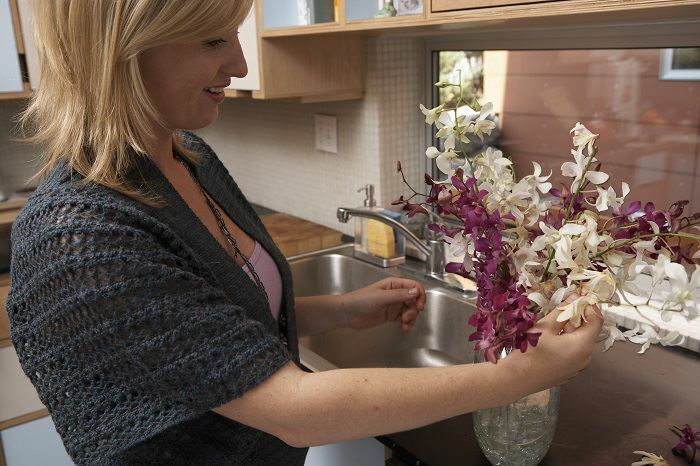 Know where to cut
Measure out your flowers on the table first laying them side-by-side. This will give you a rough idea of where to cut them. Always err on the longer side as you can trim them back if they're too tall.
Trim them at a 45 degree angle to help extend their lives – this means they have a greater surface area touching the water.
Build up layers
You can use floral foam at the base of your vase to help keep your blooms in place. Once you've got this in place, the best first step is usually to add your central focus. Unless you're using a glass vase, in which case you should line this with decorative leaves.
After you've got these in place, add in the bulk of your flower colours – go for ones of a similar hue or match two colours from a colour wheel for big impact.
Below these, add your secondary flowers and/or greenery. At this point you can add in some texture and height.
If you've got any gaps, plug them with filler material like grasses or thick foliage. Once you're done, check from all angles for gaps.
And remember, if you're taking plants from your garden you can keep updating your display, removing dead flowers and replacing them with fresh ones – just remember to change the water every now and then.