Table of Contents
Getting a great night's sleep shouldn't be seen as a luxury. With our busy lives packed with work, kids and active social lives, the need for a good night's sleep has never been more important.
Without it, it's practically impossible to function. And the duvet size you choose is an intrinsic part of getting the very best night's rest.
Knowing what size a double duvet is may not be part of life's big questions, but it is important to know - especially if you have or are planning to purchase a double bed.
In this article, we'll discuss the importance of finding the right size of duvet, as well as look at the precise measurements as well as offer a handy buyer's guide, so you know exactly what to look for when it comes to making a purchase on a double duvet.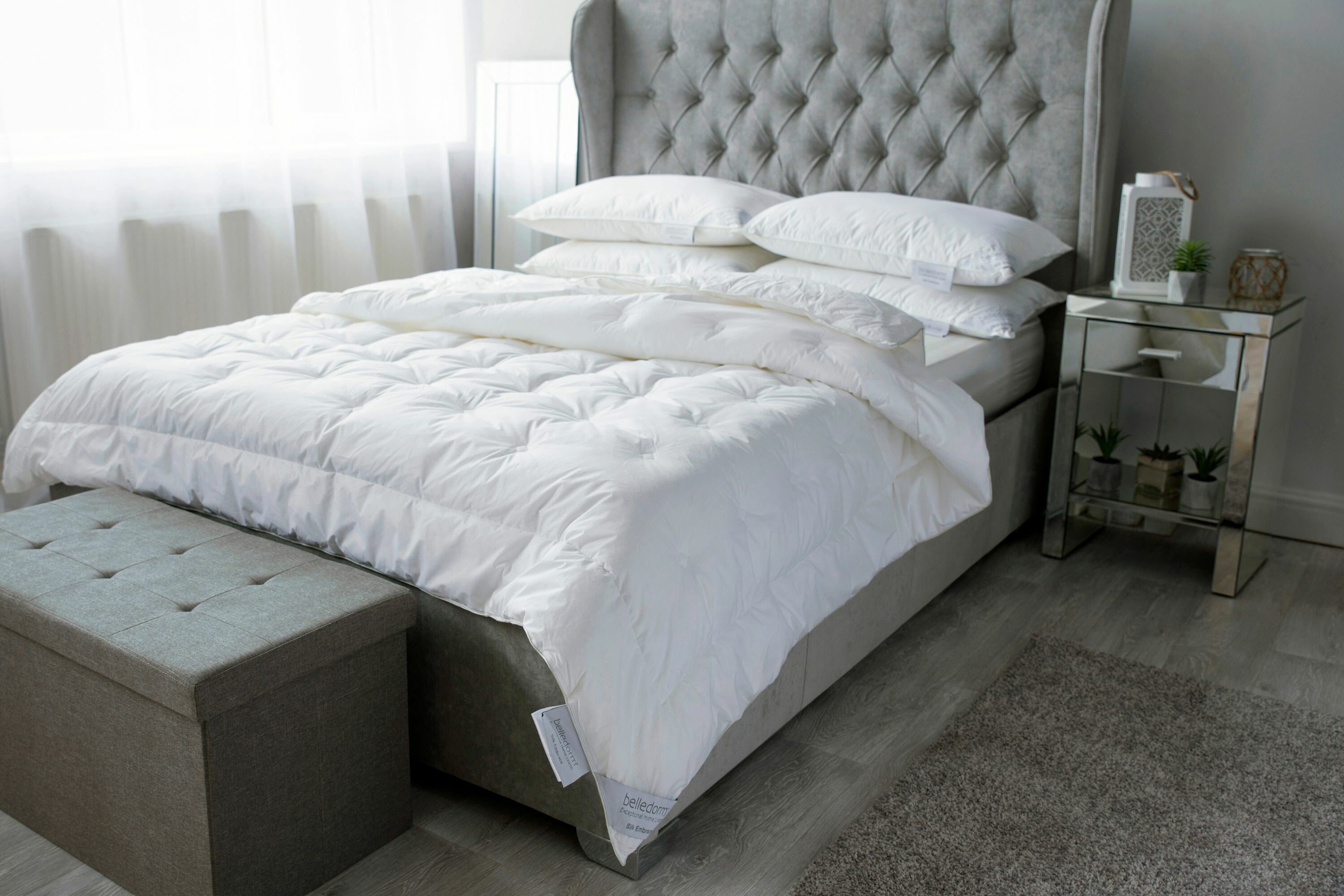 The Importance Of Duvet Size
There are two main reasons that you will want to find the best size of duvet. These are comfort and aesthetics.
When it comes to comfort, let's face it, that's what a good night's sleep is all about. The duvet size will need to adequately cover the sleeper or sleepers without dragging onto the floor or making the bed feel and look overwhelming. The only way to mitigate this is to find the right size.
Of course, there are no hard and fast rules, and a king-size duvet can be pretty comfortable on a double bed if you like to scrunch up the blankets!
From an aesthetic point of view, when you have a duvet size that is all wrong, it's going to upset the look of your bed, making it appear odd and out of place.
It is up to you to decide whether aesthetics, comfort, or both are important for you when it comes to your duvet cover and different bed sizes.
What Size Is A Double Duvet?
A double bed duvet measures 200cm x 200cm or 78 inches x 78 inches. This size duvet is specially designed to accommodate up to two people sleeping in a standard double bed.
Duvet Sizes
There are lots of sizes of duvets available, so it can be a little bit confusing and overwhelming knowing where to start. Fear not; that's why we are here to walk you through everything you need to know.
The four main types of duvets are:
And each has the following measurements:
Single duvet - 135 x 200cm (53 x 79in)

Double duvet - 200 x 200cm (79 x 79in)

King size duvet - 225 x 220cm (89 x 87in)

Super king size duvet - 260 x 220cm (102 x 87in)
When it comes to finding what size duvet cover your bed needs, you'll need the following measurements:
Single bed - 90 x 190cm

Double bed - 135 x 190cm

King-size bed - 150 x 200cm

Super king-size bed - 180 x 200cm

California King beds - 183 x 213cm
In order to find out what size of duvet you will need, don't measure the bed size; measure the mattress itself. It's important to remember, keeping the above dimensions in mind, that the size of your mattress is not going to be the same as the duvet size.
It's also important that you factor in how thick your mattress is. For those mattresses that have more thickness to them, it's best to choose duvets that are longer and a little wider than you ordinarily might choose.
In order to gain an approximate idea of the mattress size you require, grab a tape measure and measure both the width and length of your mattress. Next, you should measure the thickness.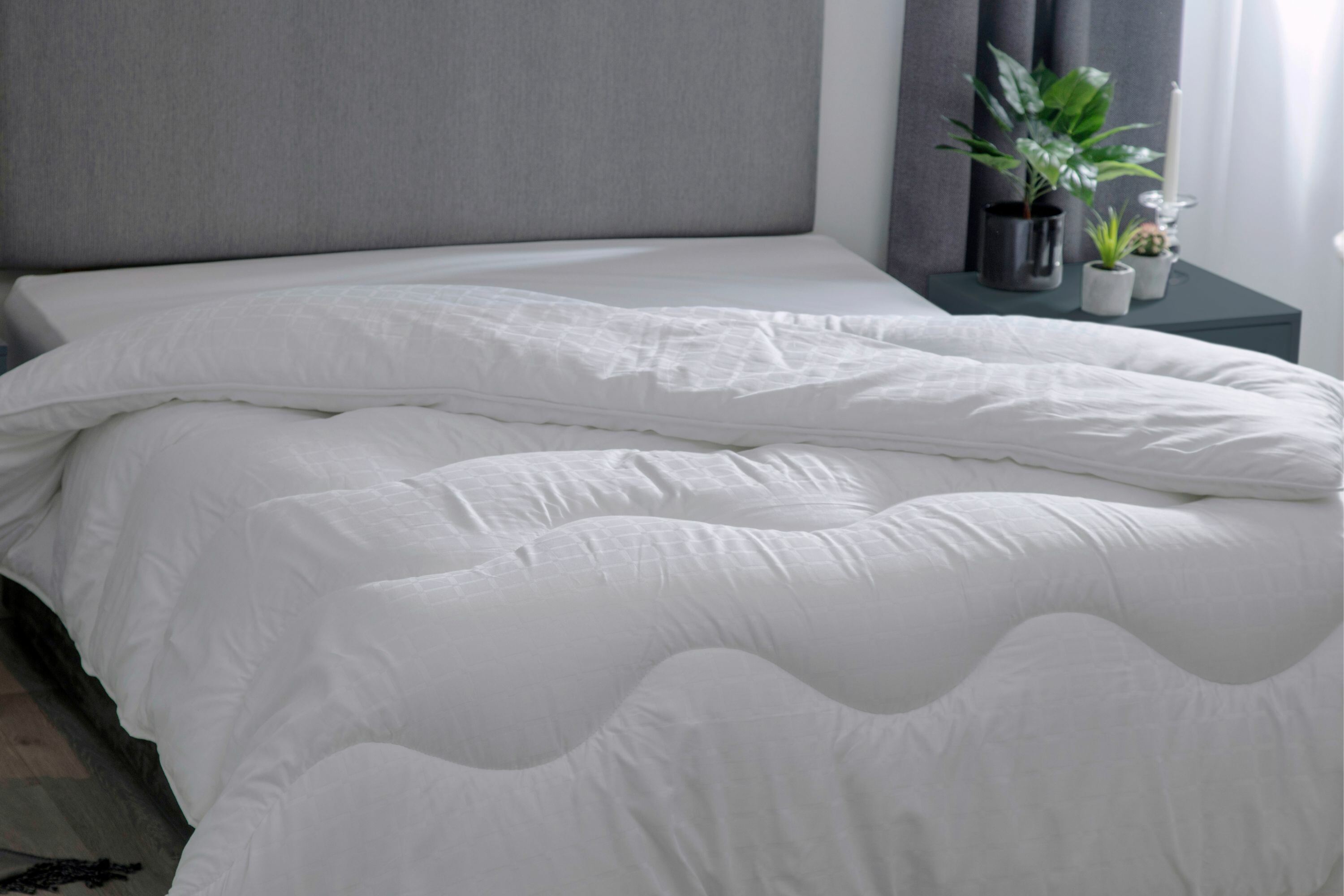 What To Consider When Purchasing A Double Duvet
To get the sleep you need and deserve, you should have the correct size duvet. There's a range of factors that you should consider before making a purchase. And, regardless of whether it is a king size duvet, double bed size duvet, super king duvet, or single duvet size, the below factors will all apply.
Shell Material and Thread Count
While there's a whole host of duvet features, styles, colours and patterns, one thing usually remains the same; the shell material. This is most often created from cotton, but there are other blends, such as silk.
The shell material of the duvet needs to have a high thread count in order to make sure that the material used to fill the duvet stays inside the shell.
Types of Fill Material
There are lots of fill material options available when it comes to duvets, irrespective of the duvet size. You often will have the choice to decide over natural or synthetic fill materials. Ultimately, whichever one you choose is down to personal choice and which you believe works best for you and your bed.
Synthetics are usually a more budget-friendly option, and there's a range of choices for those who suffer from allergies.
Natural fill materials usually make for a more breathable duvet. The materials used most commonly include goose feathers, down and wool.
When choosing the fill material, you might want to keep in mind the fill power. Those duvets that have a higher fill power tend to be much lighter and fluffier. Luxury duvets will often have around 900 fill-power down, whereas the average duvet will have 600 fill-power.
Tog rating
Perhaps one of the most important aspects of choosing a duvet for your double mattress (or any bed size, for that matter) is the tog rating. In simple terms, the higher the tog rating of a duvet, the more heat it will trap. This means that you will often want to switch up your duvets in the warmer and cooler months, respectively.
For example, a 4-tog duvet is ideal for summer because it is more breathable and traps less heat. In the colder months of the year, a 13-tog will provide you with lots more heat and cosiness.
Duvet Covers
The primary job of a duvet cover is to protect your duvet from strains and blemishes caused by wear and tear, spills and dirt. Duvet covers can also completely transform the look and feel of your bed. When thinking about the best duvet size, consider how easy it is to get a duvet cover in the same size.
Sometimes, it can be difficult to get the range of designs and fabrics and styles when it comes to a king-size duvet, for example. When it comes to a double bed, thankfully, there are lots of options out there for double duvets.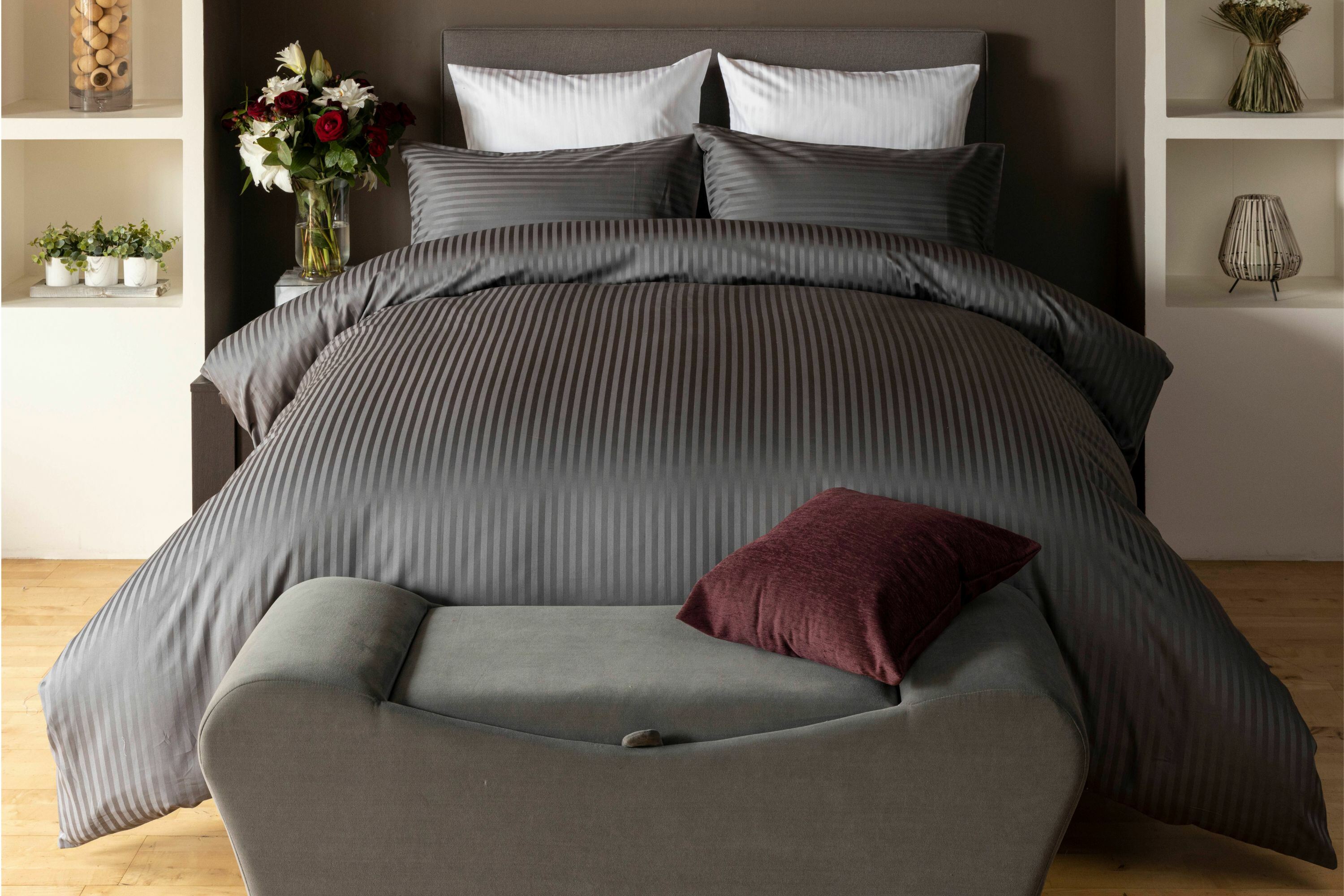 Browse Our Selection Of Double Duvets Today
At Belledorm, we are sure to have the double duvet of your dreams. We stock only the best brands and offer unparalleled value for money as well as a generous back-back guarantee if you aren't 100% happy with your purchase.
Why not check out our range of double duvets today and see if your sleep isn't transformed with a high-quality, durable duvet from us?
FAQs
How will I know if I need a double duvet?
Double duvets don't have to be for double beds. If you crave comfort, warmth, and extra material around you in a single bed, it's becoming increasingly popular to adopt a double duvet to help send you to sleep. It won't look the best, however, and you might find that the amount of material becomes overwhelming, making you too hot during the night.
However, if you do have a double bed size, whether you sleep on your own or with a partner, a double duvet is definitely highly recommended.
How do I care for a double bed duvet?
The best way to care for your duvet is to make sure it is clean. However, it's important not to overwash a duvet, regardless of its size. Aim to wash your duvet every 6 months to keep it looking and feeling in tip-top condition.
Will a double duvet fit into a regular washing machine?
No, given its size, a double duvet will not fit into a regular-sized washing machine drum. If this is the case, you should take your duvet to a laundrette to have it cleaned.
How long can I expect a double duvet to last?
With the right care, you can expect a high-quality duvet from Belledorm to last you upwards of 5 years.
Final Thoughts
Duvets come in all shapes and sizes, and ultimately, it comes down to personal preference, which type is right for you.
However, we do advise that you bear in mind the size of your bed when making a decision. Aligning the correct size of the duvet to your bed's measurements will mean you will get a more comfortable night's sleep - as well as keep your bed looking inviting.
Wishing you blissful slumbers from Belledorm.