Table of Contents
Making your bed every morning is more important than you might think. Studies have shown that a well-made bed can improve sleep and can give you a positive start to the day.
Making your bed is a good habit you should start and can help your bedding stay in shape. Cleanliness is also a factor, with well-made beds being protected from dust and pet hair by the duvet, quilt, or comforter that you cover it with.
Another great reason to make your bed is because of how it looks. A well-made bed can make a huge difference to the appearance of your bedroom and put you in a positive mindset from the start.
One of the most common Google queries for bedding is the age-old question of, "how do you fold a fitted sheet?" but there are plenty of other queries about making beds, including "How to fold a quilt on bed".
This article will look at the individual parts that make up your bedding and how to fold a quilt on a bed to ensure it looks great every time.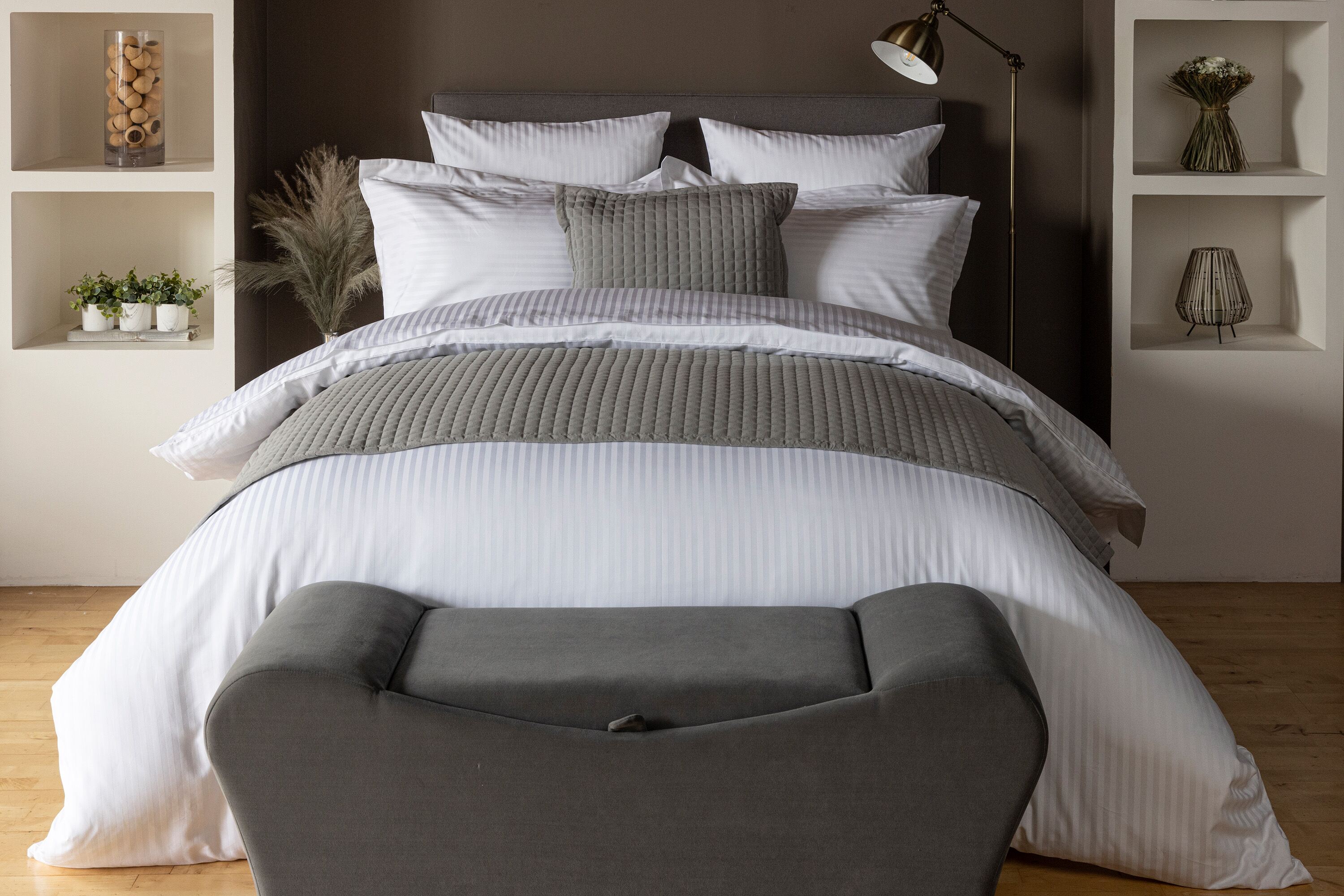 The Individual Parts That Make Up Your Bedding
Before we answer the age-old question of how to fold quilts on a bed, it is important that you understand all the different elements that make up your bed and bedding.
Many of these will be down to personal preference, but getting the right bedding will make all the difference to how you are able to sleep and how your bed will look.
Here are the essential elements that make up a bed and what you need to consider when buying them.
Bed Frame
Buying a bed is an expensive investment and not one you want to make regularly. Ensuring you buy the right bed for you is vital.
When looking for a new bed, one of the most important factors will be bed size.
You will want to make sure the bed does not take up too much space in your bedroom but ensure you have enough space for a great night's sleep.
You might be looking for a bed frame purely on design and style. Alternatively, you might consider the functionality; some beds provide great storage solutions.
Bed Skirt
A bed skirt, also known as a valance, is a type of sheet that is placed on top of the bed frame but under the mattress. The sides hang down to the floor, so it can help create a neater look in your bedroom and is a great way to hide any clutter stored under the bed!
Mattress
Choosing a mattress can be challenging because there is such a wide choice. You will have to select the correct size to fit your bed from single, double, king, super king, and Emperor.
Mattress types include;
Memory Foam - Memory foam mattresses are designed to mould to the shape of the user and are great for side, back, and front sleepers.

Pocket Spring - A pocket spring mattress is similar to a typical spring mattress, but the individually wrapped springs work so movement on the bed doesn't disturb the other sleeper, making them a great choice for couples.

Combination - A combination mattress offers the best of both worlds in terms of comfort and stability.

Gel - A gel mattress is perfect for anyone trying to regulate their body temperature while sleeping. The gel is cooling and cushions pressure points.

Traditional Spring - These options aren't as comfortable as others, but they do offer a low price point.

Natural - This is the more environmentally friendly option and contains only natural fibres. Natural mattresses are great for regulating body temperature and have moisture-wicking properties.

Boxed - Boxed mattresses are great for convenience and make transporting them simple. Spring and memory foam options are available.

Latex - Allergy sufferers looking for a hypoallergenic option can explore latex mattresses. Not all are hypoallergenic, so it is important to check before buying.
You will also have to think about how firm the mattress you want is, as this will make a difference depending on how you sleep.
Sheets
Buying bed sheets will play an important part in how comfortable the bed is and how it looks.
Sheet size will depend on your mattress size, and it is essential that you check your mattress depth or adjust measurements if you use a mattress topper. You will be able to choose between standard, deep, and extra deep.
Most people will use a fitted sheet as their bottom sheet. However, some will use a flat sheet, but this is down to preference. The correct size fitted sheet will typically minimise the risk of it slipping off during the night.
The material you choose will have a bearing on the cost and feel of your sheet. The following materials are commonly used in bed sheets;
Cotton Sheets- There are lots of different cotton types to choose from, including Egyptian cotton, Supima, flannel, sateen, percale, and Jersey knit. You should make sure you know how each feels and check the thread count for the quality of the sheet.

Tencel - This is a branded natural material that is somewhere between cotton and flannel for keeping you warm at night. It also has natural anti-microbial qualities.

Silk - Silk is a smooth and cool option that is also hypoallergenic, making it a great choice for allergy sufferers. It is an expensive option, and silk sheets lack the durability of cotton ones.

Polyester - Polyester sheets are typically a more cost-effective way to buy bedding. Polyester blends can offer more comfort closer to cotton. Microfibre sheets are typically stain-resistant; however, they aren't as breathable as other options.

Linen - Linen and linen blend sheets are great for durability and can be used all year round.

Bamboo - Chemically treated bamboo pulp is used to make sheets and is known as rayon. While it might not be as environmentally friendly as you would expect for a bamboo-based product, it is comfortable, durable, and cool.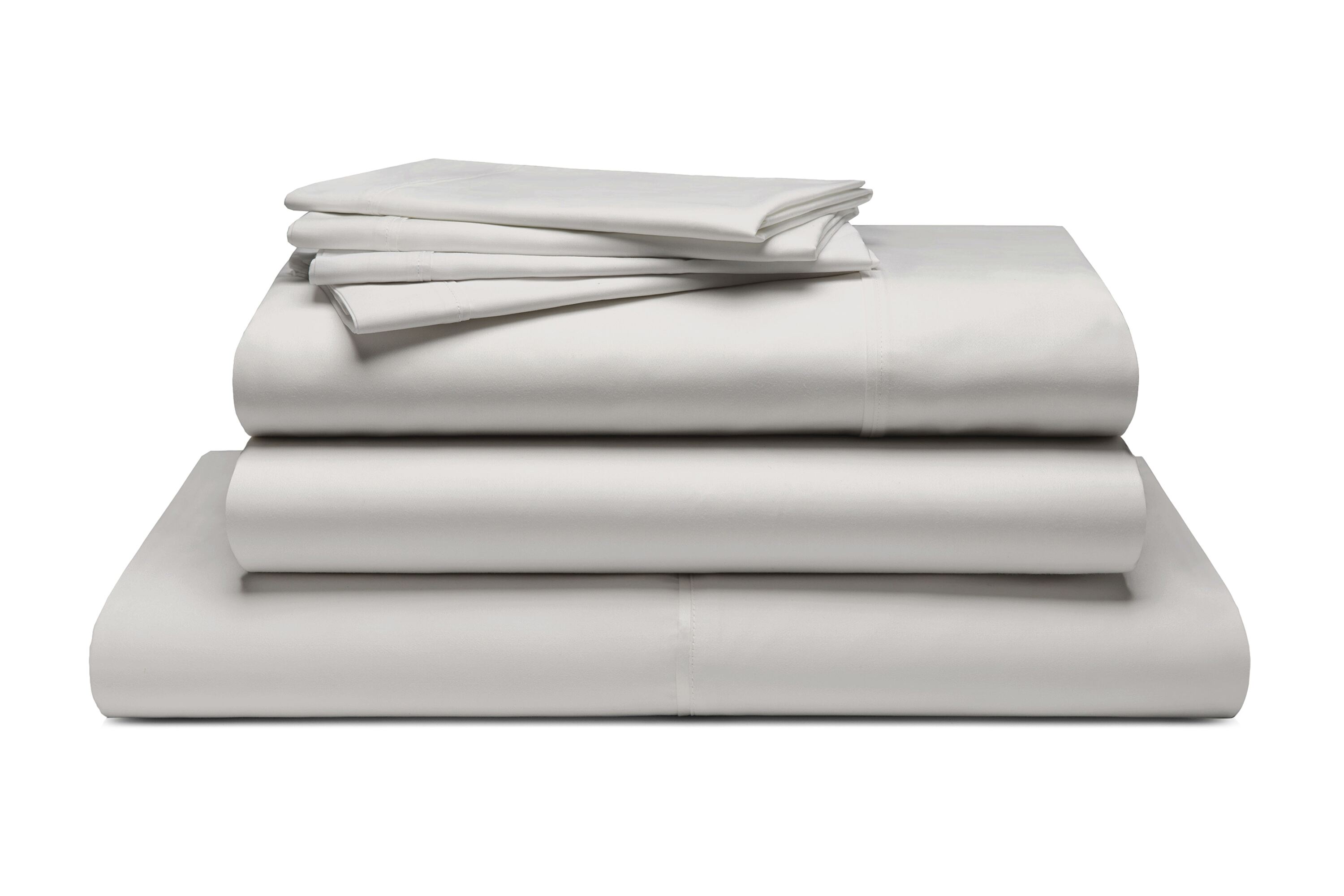 Mattress Cover
A mattress cover can be used to protect and prolong the life of a mattress. Also known as mattress protectors, they are put over the mattress and stop spills, dust mites, dead skin, and bed bugs from finding their way into it.
They are removable and typically machine washable, offering a convenient way to improve the hygiene of your bedroom.
Mattress Topper
A mattress topper, or mattress pad, is a way to improve the comfort and support of a mattress. Like a mattress cover, it is placed over the top of the mattress. Mattress toppers can add to the depth of a mattress and should be considered when buying sheets.
Duvet
When buying a duvet cover, you will have to consider the tog rating and filling. A tog rating lets you know how well it will keep you insulated during the night.
Tog ratings go from one to fifteen, with fifteen being the warmest. Choosing different duvet togs for different times of the year will ensure you are kept warm in the winter and cool in the summer.
You will also have to consider the duvet filling from the following natural and synthetic options;
Down - Bird down is the fluffy chest feathers and is seen as a great way of providing great insulation without carrying too much weight.

Feather - Feather-filled duvets are heavier than down-filled options making them a less expensive option. Feathers are a more robust choice.

Silk - Silk is a light, hypoallergenic filling that helps to regulate body temperature all year round.

Wool - Wool is a much chunkier option than silk but also offers a hypoallergenic filling that regulates the body's temperature in any season.

Hollowfibre - Hollowfibre duvets are thick and built to trap heat. They are typically robust and can often be found with ant-allergy treatments applied.

Microfibre - This is a much lighter option than hollowfibre, and the high-quality synthetic fibres offer a comfortable feel.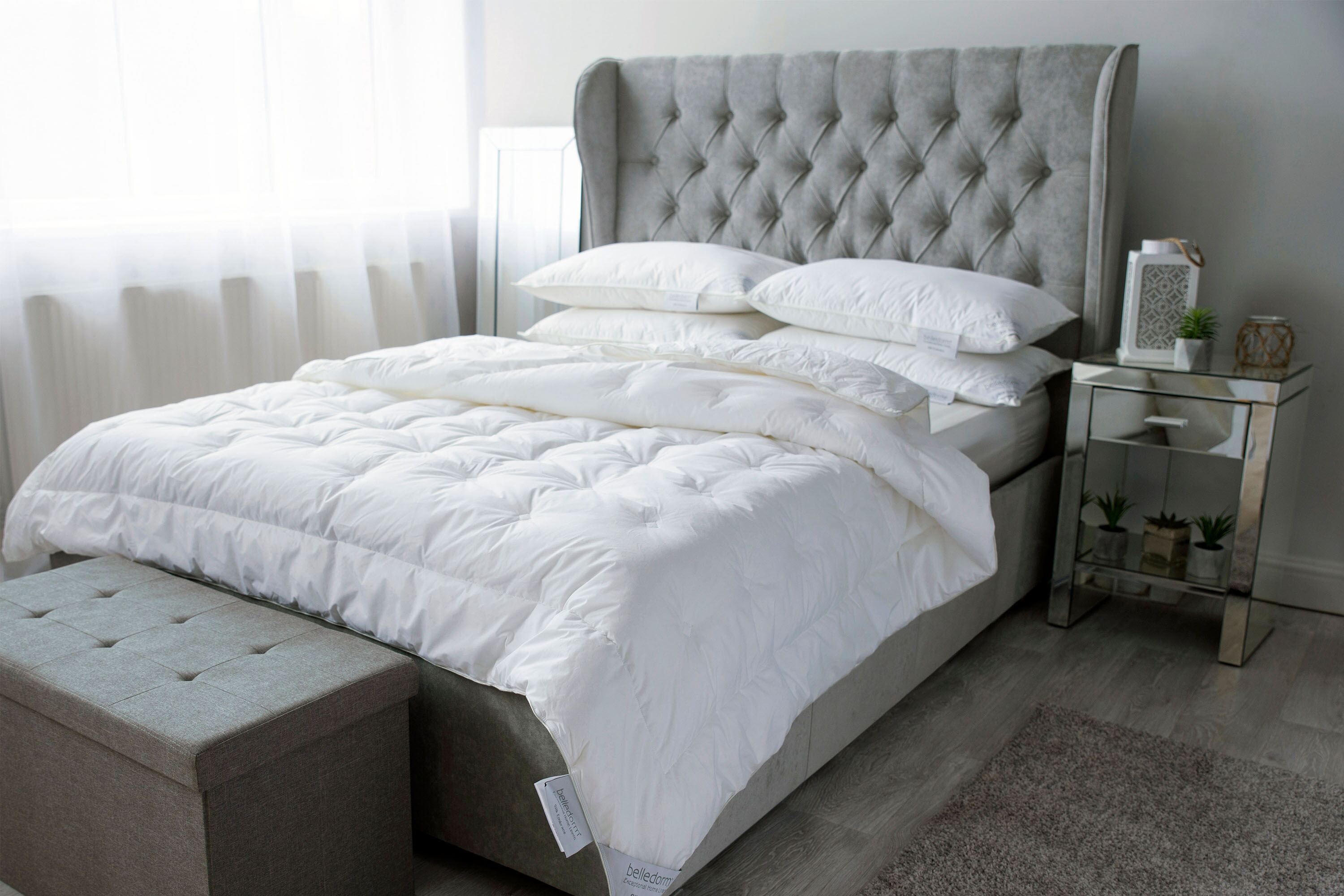 Duvet cover
Duvet covers are the sheets that are put around a duvet to protect them. You will be able to choose from a wide variety of materials and styles.
A duvet cover offers a great way to carry on with a colour scheme or make a statement. When you buy a duvet cover, it will typically come with matching pillowcases.
Quilt
Quilts are typically two or three-layered blankets that are used in the same way a duvet is. Quilts are one piece and don't require covers.
Flat Sheet
A flat sheet, also called a top sheet, can sometimes be used as a cover during the summer or as an additional layer between the person and quilt or duvet.
Flat sheets are regarded as optional bedding, with many seeing them as superfluous. Flat sheets can also be used as a bottom sheet instead of a fitted sheet.
Throw Pillow
Throw pillows are typically decorative in nature and are placed on a bed after it has been made to improve its appearance.
Decorative pillows will typically have a firmer outer cover, and the pillow will be denser so it can hold its shape. The covers are known as euro shams and open from the back rather than the side. Decorative shams can add different colours, styles, and textures to the bed.
Bed Pillow
A bed pillow is a pillow you lay your head on while sleeping, and they are also known as sleeping pillows. Different pillows will suit different people depending on their sleeping style. These include;
Side sleeping - Side sleepers should use a firm, relatively thick pillow to help align their neck and minimise the risk of aches and pains.

Stomach sleeping - Soft, thin pillows best suit stomach sleepers as this will stop the head from being pushed back, leaving the neck in an unnatural position.

Back Sleeping - Medium-thick pillows are best for back sleepers. Aligning the neck with the spine without tipping it too far forward is essential to this sleeping style. It will also help keep the airways open.
As well as understanding what sleeping position you usually adopt, you should also consider the pillow filling for comfort and performance. Fillings for bed pillows include;
Down - Down pillows use the fluffy chest feathers of birds and are soft and moldable. Down pillows can last around two years or can be restuffed. They are a relatively expensive option that can lose shape over time and can also retain heat.

Polyfill - Polyester fiberfill is a synthetic fibre that is soft, fluffy, and affordable. These pillows are convenient as they can be machine washed and are more suitable for people with allergies than feather pillows. They do tend to clump and are not the most durable option.

Feather - Feather stuffed pillows are another affordable option that is lightweight and moldable. They do flatten after use, are not great for those with allergies, and can be difficult to clean.

Memory foam - Memory foam pillows are available as either a block or shredded for a different firmness. They help to keep your head and neck aligned and don't clump like most other pillows. They can be quite warm and expensive options, though.

Buckwheat - Organic buckwheat pillows are great for temperature regulation and are very durable. They can be quite uncomfortable because they are so firm, and they can also be quite noisy.

Kapok - Made from the flowers of the Mexican Kapok tree, this pillow stuffing is a great natural option that is environmentally friendly, light, and comfortable. The downside is that the material is flammable, and they are more difficult to find.

Cotton - Cotton-filled pillows are common, eco-friendly, and comfortable. They are a good option for people with allergies but do need to be refilled quite regularly.

Wool - Wool is a breathable, soft option that can be used all year round. Good for allergy sufferers, they are also an environmentally friendly option. Unfortunately, it can lose its shape and become lumpy.

Latex - One of the more expensive options because of the cost to extract it from rubber tree sap, it is a supportive pillow that is also mouldable and breathable.

Microbead - Using polystyrene microbeads as an alternative to buckwheat makes a breathable, supportive pillow. They aren't as durable as some other options, and the plastic can give off a chemical odour.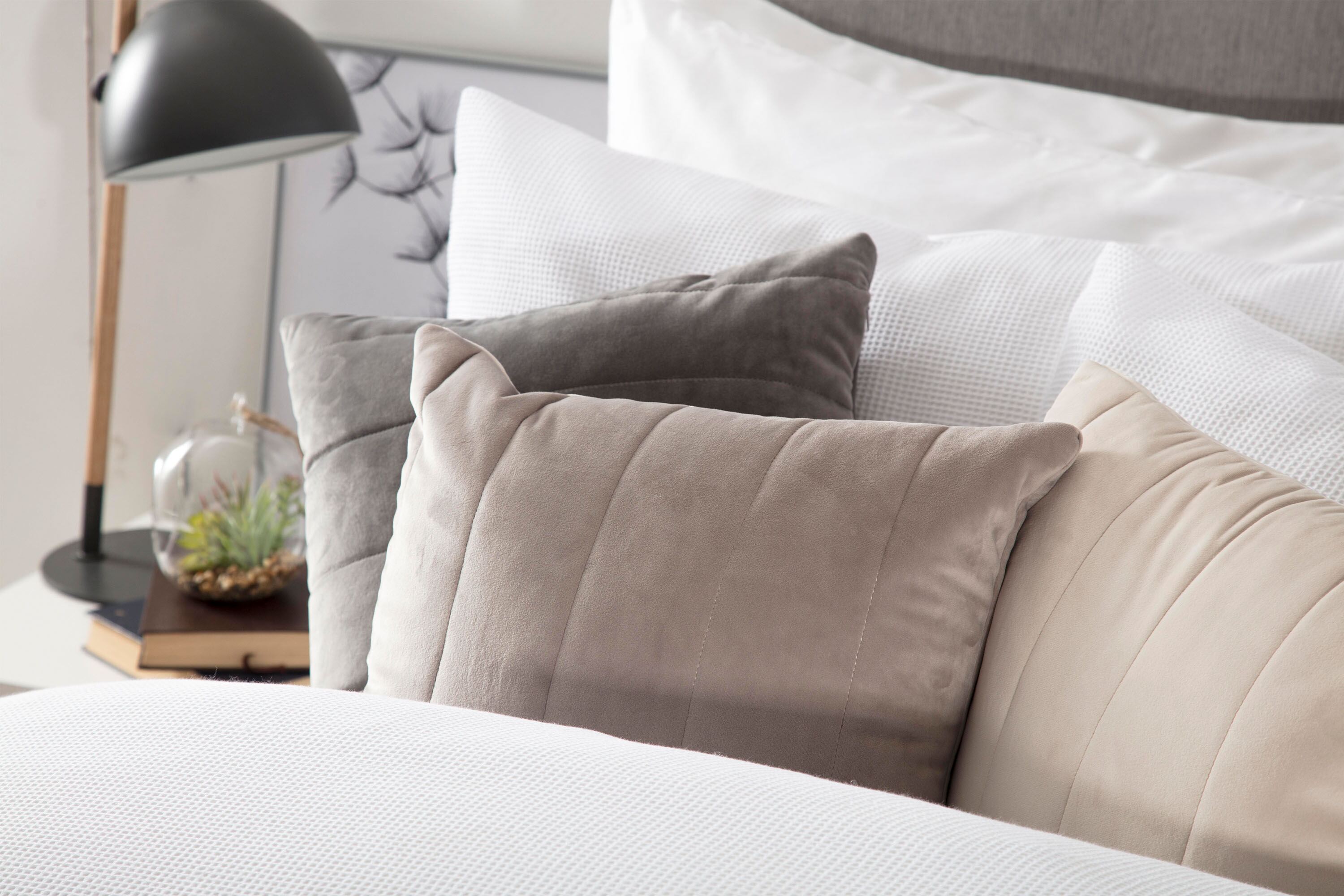 Pillowcase
Pillowcases can be bought individually or as part of a bedding set and will typically match the duvet cover. They can come in different materials to suit any preference or need.
Neatly Making Your Bed
Now that you know all about the options available for your bed, you might want to know how to keep it looking great. Making a bed might seem straightforward, but a lot of people struggle to get it to look like they would expect in a high-class hotel.
By following a few tips and tricks, your master bedroom will look great, and you will know exactly how to fold a quilt on a bed.
Step 1
The first step of neatly making a bed is by putting your fitted sheet on. The last corner is typically the trickiest to get on, so starting at the top of the bed or where it is against a wall will help.
When it is on, a fitted sheet should not have creases or wrinkles. If it does appear wrinkled and loose, you might need to buy a smaller size.
Alternatively, if the corners of the fitted sheet don't fit beneath the corners of the mattress, it will be too small. This can lead to the sheet popping off during the night.
Step 2
The next step applies to those that use a flat sheet. This should be spread evenly on top of the fitted sheet. If the sheet is patterned or decorative, place the patterned side face down so when it is folded back, the pattern will be seen.
The top of the sheet should reach the top of the mattress before being folded down. Make sure the sides are even for when you need to tuck them in.
Step 3
You can then spread your quilt across the bed. This time the decorative side will face up. Ensure it is centred evenly, so the bottom and sides drape equally.
The quilt should cover the mattress and drape around the bottom and sides. If it is too small for this, it can still be used to accessorise the bed.
Step 4
You will now be ready to pull the top sheet back and fold it over the quilt. This will make a band that runs horizontally and should be around 30 cm.
The fold should be pulled down far enough so the bed pillows do not cover the fold. This can be tricky if you have too many pillows, including any decorative pillows.
Step 5
Ensure the fold is even and smooth out any creases. Move from the centre of the quilt to the outside with your hand spread wide to do this.
Step 6
You can now move around the bed, tucking in the sides and bottom of the top sheet and quilt beneath the mattress. Alternatively, this can be left to achieve a more casual look.
Step 7
After you have finished smoothing and tucking the top sheet and quilt, add your sleeping pillows and decorative pillows; they should be above the fold.
Pillowcase openings should face inwards towards each other in the centre of the bed. This ensures the outside has a neat look.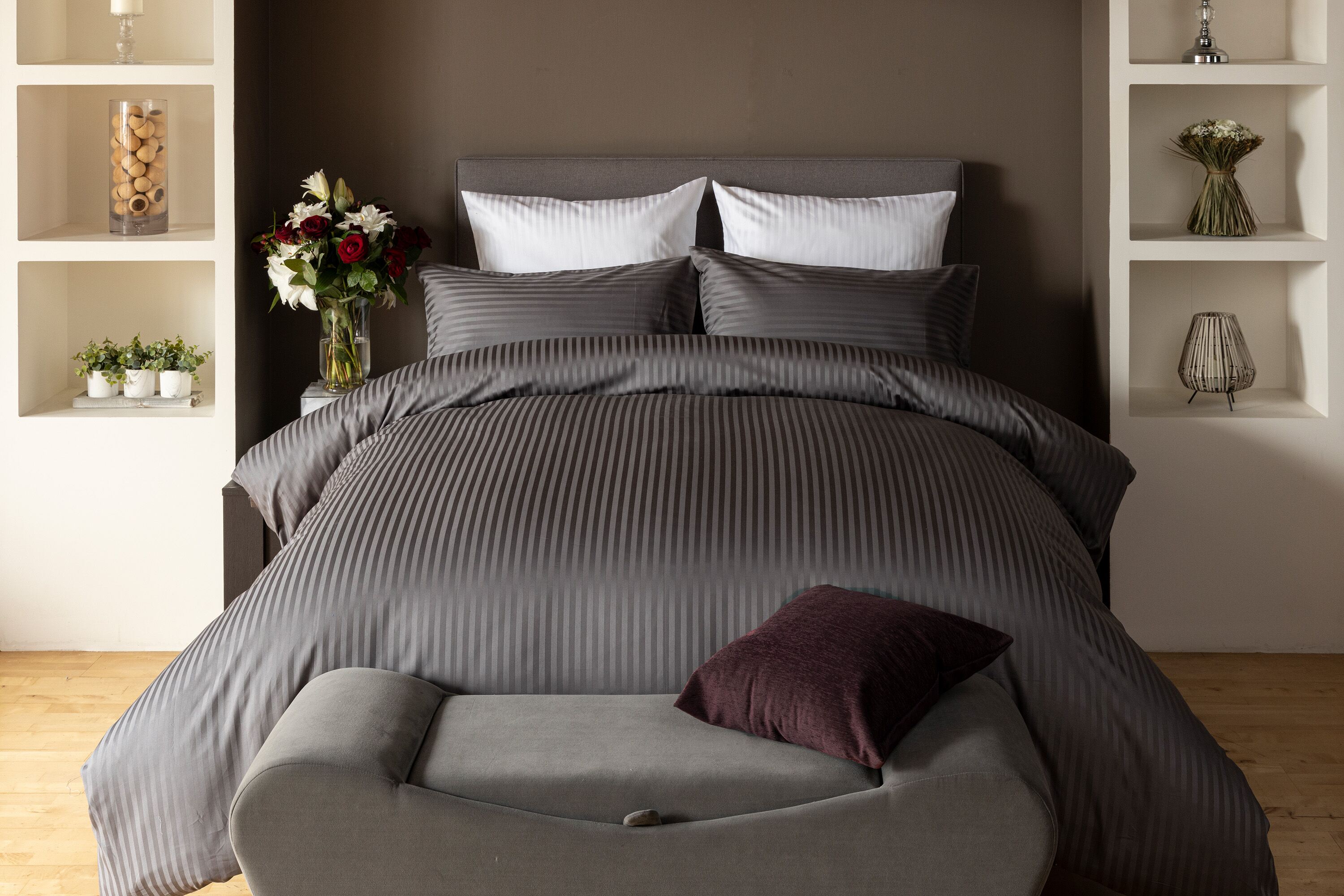 Hospital Tuck
For a clean, practical, and neat finish, you can opt for the hospital tuck. The following step-by-step guide will show exactly how you can perfect this look.
Step 1
Lay your quilt across the bed so there is an even amount of draping around the bottom and sides. Tuck the quilt under the bottom of the bed but leave the sides.
Step 2
You should now move to one of the bed's bottom corners and fold the edge closest to the corner upward. Straighten the outer fold by hand while holding it in place to create a triangle.
Step 3
As you hold the corner up, tuck in any remaining quilt that is still hanging down with your free hand. The corner fold should now look crisp.
Step 4
You will now be able to bring the triangle-shaped fold down and tuck it under the mattress. As you do this, smooth the fabric to ensure it has a nice, neat finish.
You should now repeat this process on the opposite corner.
Step 5
Now the corners are in place, and you should move along the outside of the bed, tucking under any quilt that is still hanging down.
Using a Quilt to Style a Bed
A quilt can also be used as a statement piece in a bedroom. Using a quilt to style your bed is easy when you follow these steps.
Option 1
To style a bed with a quilt, fold it into thirds or half, depending on your preference. You should then position it across the foot of the bed horizontally.
Half-folding your quilt is straightforward, and folding it down after making your bed as normal will achieve this.
Your colour scheme should be a priority when planning to use a quilt to style your bed. It should be in keeping with the colours of any throw pillows.
Draping two quilts is also an option and is great during winter to make your bed even cosier.
Option 2
Lay the quilt with the decorative side face down. Take the two corners at the bottom and when you get a third down, fold them. Fold the top to meet the edge of the last fold. You can then place it on the decorative side up at a 45° angle or an angle that suits your taste.
Alternatively, you can place this over another quilt to achieve a layered look. Colours and patterns on the quilts should work well together to create a cohesive look.
Option 3
Layering quilts is a great way to achieve a modern, cosy look. Pairing bright, colourful patterns with monochrome can result in a great design. How bold you go is completely up to you.
Option 4
Teaming your quilt with a warm throw blanket can be a great way to create a cosy winter bedroom. Using a fleece or chunky knit blanket to cover the quilt before folding it back creates a great look that is welcoming on cold nights.
Layering a Bed
Because the bed and bed frame is typically the largest piece of furniture in a bedroom, ensuring it looks good is essential to the overall aesthetic.
A nice quilt cover will help, but for a really luxurious look, you should consider layering. This will add depth to your bed, break it up, and add a splash of colour if that's your thing.
The following step-by-step guide will help you master layering without making your bed look cluttered or messy.
Step 1
Your fitted sheet is the first layer on the bed, and a crisp white sheet is a great base to build on.
Step 2
A flat sheet should then be added with the decorative side facing down. Tuck it in with hospital corners for a clean look, and make sure it reaches the top of the mattress.
Step 3
Add your quilt and fold it over at the top. Hospital corners will look great on your quilt as well.
Step 4
You should then add your sleeping pillows. If you sleep with two pillows, the bottom pillows should match your sheets, with the top pillows matching your duvet or quilt.
Step 5
A quilt, blanket, or duvet can then be folded at the bottom end of the bed. This can be a bit more decorative or bold in colour and style.
Step 6
Throw pillows can then be placed in front of your sleeping pillows. Matching the colour scheme or pattern with the quilt or blanket at the bottom of the bed is a great way to tie in the look.
Step 7
Nonchalantly drape a comfortable-looking blanket or throw across the bottom corner of your bed to make it look even more enticing.
Step 8
You can then add other touches to the room, like flowers, books, or magazines, to finish the look and create an inviting atmosphere.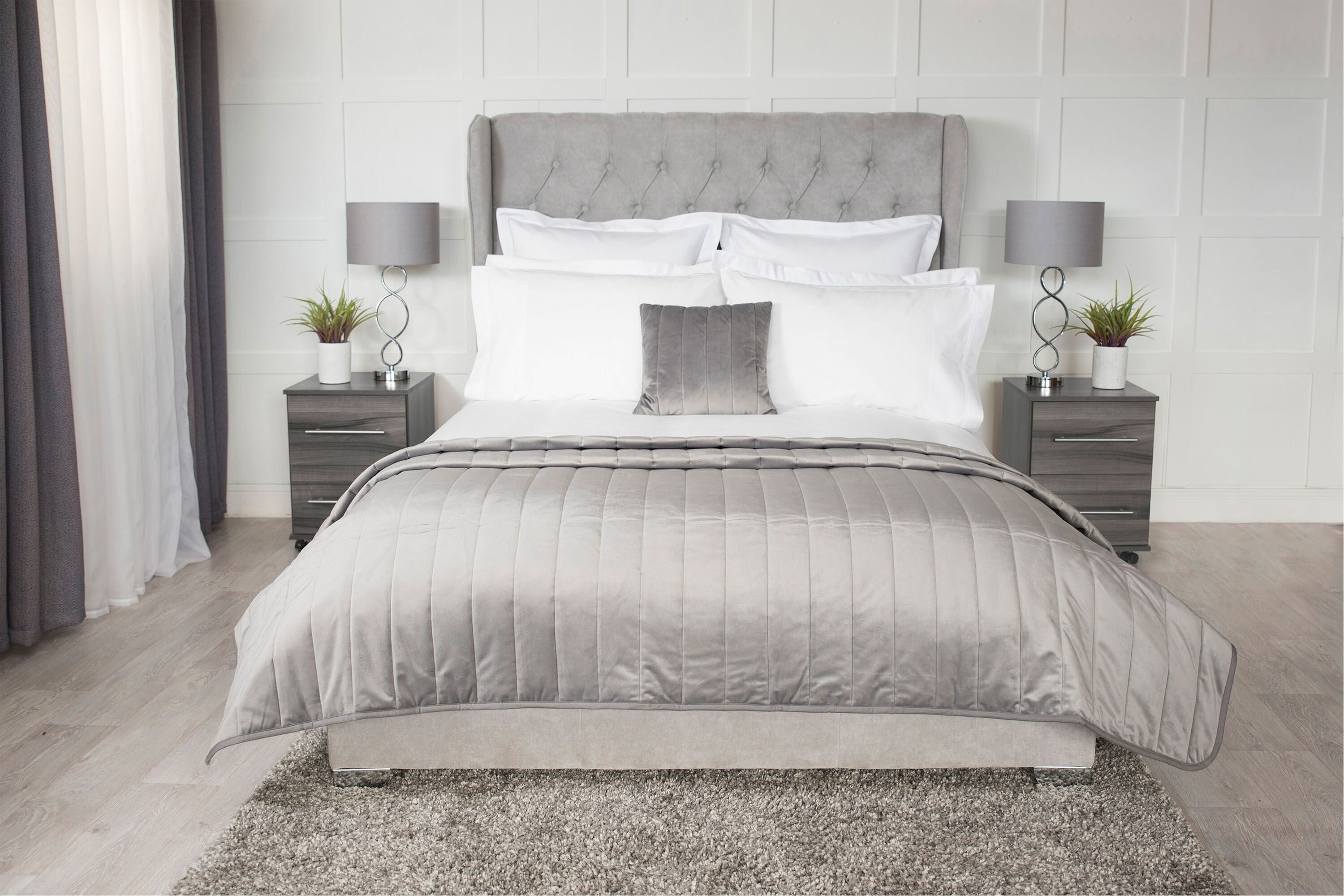 The Best Ways to Display Heirloom Quilts
When decorating your bedroom, you may have invested in lots of new bedding and furniture to get the perfect look.
It is also possible that you have a homemade quilt that holds a sentimental value that you want to incorporate into your new look.
You can either use them on your bed or display them in your room to make sure they don't end up forgotten about at the back of a cupboard or in a loft.
Using some of the techniques provided above, they can be a welcome addition to your bed, adding some colour and character to more traditional and muted bed sets.
Alternatively, you might want to display them in your bedroom. Folding quilts for display on a chest, ottoman, or display case is a great way to ensure they don't end up forgotten about.
If you have already decided on a colour scheme for your bedding or are already using an heirloom quilt and want to show off the others, having them on display adds a homely feel to a room.
Keeping quilts out of the sunlight and refolding them in different ways can help to reduce damage.
Here are some top tips on displaying a special quilt in your bedroom or guest room:
Step 1
You should measure the space you have so you can fold the quilt to the correct size.
Step 2
Lay it out on a large flat surface, like a clean table.
Step 3
Lay the quilt out pattern down and fold the sides in towards the middle. You will be able to measure the distance to see how far you should fold at this point. You can then fold it in half, so the decorative side is on the outside. Then fold the top end halfway down before folding the bottom half up and over to the top.
Step 4
It can then be folded in half again to transport it. When displaying it, make sure the side with the double fold is to the back and the single fold is facing forward.
Alternatively, if you have a hook on the back of a bedroom door, you can hang an embroidery hoop here and fan a blanket through it for display.
FAQs
What is the difference between a duvet and a quilt?
The main difference between a duvet and a quilt is that quilts are one-piece blankets that typically have two or three layers. Duvets are made up of the duvet itself and the cover that goes over it.
Quilts are made up of a large section of material for the bottom, a filling that is designed to keep the user warm, and the top is traditionally made up of different materials sewn together into a pattern.
Duvets are like large, flat, and traditionally thinner pillows that should cover the whole bed and hang over the sides. Duvet covers go over the duvet to protect it and are available in a wide variety of colours, styles, and materials.
Duvets can be filled with different materials, and their warmth is measured in togs. A tog measurement of 1 would be applied to a duvet that won't keep you too warm and is designed for the summer. A 15 tog duvet is the warmest and would be most suitable for the winter.
Should I use a top sheet when sleeping with a quilt?
Top sheets are not essential and down to the person's individual preference. Despite not being an essential part of most people's bedding, they can offer a number of uses.
Top sheets can be used to sleep under with a quilt on top. This adds a level of comfort and also protects the quilt from sweat, dust, and dead skin. Alternatively, it can be slept under without a quilt on top if it is warm. This is a particularly popular option during the summer.
Finally, top sheets can be used as make-shift bottom sheets in place of a fitted sheet. However, they are more likely to come loose during the night than fitted sheets, so they aren't as popular. Folding top sheets under the mattress with hospital corners is one way to make them more secure, and it looks neat.
How should I clean a quilt?
Some quilts will be machine washable, some should be hand-washed, and some will be dry clean only. Always check the washing recommendations before attempting any of these.
While most bedding should be cleaned regularly, and things like sheets and pillowcases should be cleaned weekly, quilts should not be cleaned as often.
Cleaning between once and twice a year is recommended, so the quilt does not get damaged.
It is still important to make sure it is not dirty. A top sheet can help to protect it from getting too dirty. Another way to keep your quilt fresh is by lightly sprinkling baking soda over it and letting it sit for between 45 minutes and an hour before vacuuming it off. This should be repeated on the other side.
Spills or stains should be spot cleaned rather than cleaning the full quilt, and checking the cleaning guidelines is essential.
What size quilt do I need?
The size of the quilt, duvet, and sheets you need will be directly related to how big the master bed or guest bed you are dressing is.
The first thing to remember is that bed and bedding sizes differ in the UK and US. The US would also refer to a bed the size of a UK king-size bed as a Queen bed, with the next size being King and their version of the Super King being the California King.
If you are looking online for information or to buy items, the exact measurements should always be checked first.
The following are considered standard UK quilt sizes;
Cot bed quilt size - 47" x 55" or 120 cm x 140 cm

Single bed quilt size - 53" x 79" or 135 cm x 200 cm

Double bed quilt size - 79" x 70" or 200 cm x 200 cm

King bed quilt size - 89" x 87" or 225 cm x 220 cm

Super king bed quilt size - 102" x 87" or 260 cm x 220 cm
Final Thoughts
There is so much more to a bed than just sleeping in it. Making sure you know all the bedding options available to you is essential to finding the best combination for your needs.
The different elements that make a bed, how often and the way to wash different items, and how you make your bed are just some of the things that need to be considered.
Making your bed can be straightforward for many and as simple as flattening the sheet and repositioning the throw pillows.
Alternatively, you might want to make the master bedroom or guest bed more inviting, and the suggestions provided above are a great way to do it.
You will spend a considerable amount of your life in bed, and when you aren't, it will be a major focal point for your room. Taking the time to properly make a bed can make a huge difference and won't take too long.